Forwarding the News
The greatest female Jewish athlete in a generation retired last night. She left a legacy of pride for young Jewish players.
Are too many Germans converting to Judaism? Plus: Kosher restaurant closes after owner buys non-kosher meat, independent Jews may decide midterms, and the secret Jewish history of Tupac Shakur.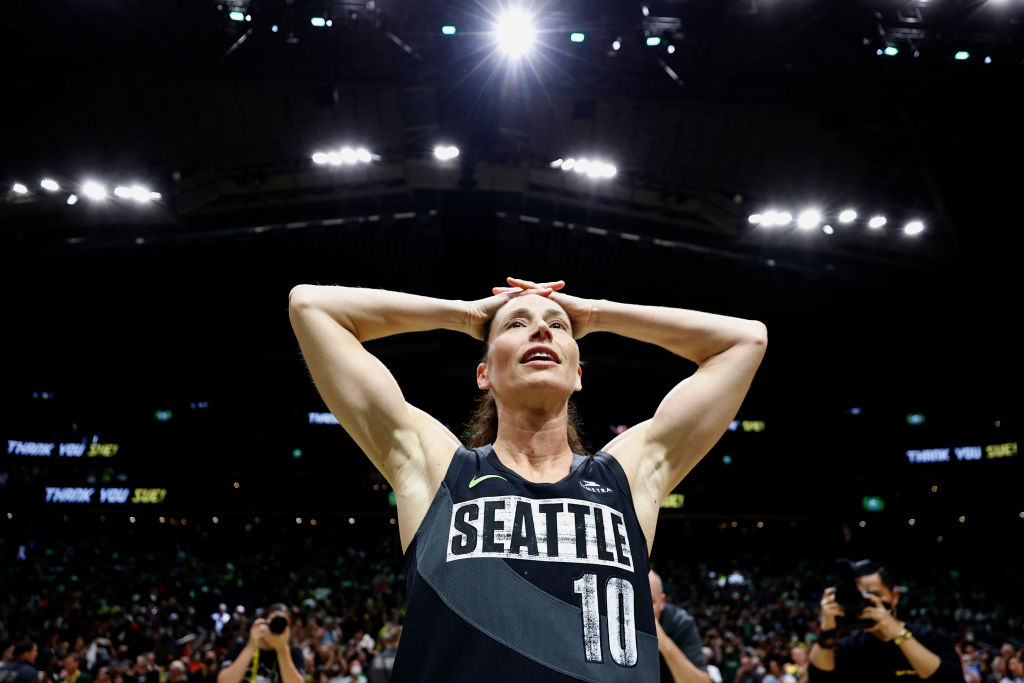 This article is part of our morning briefing. Click here to get it delivered to your inbox each weekday.
The greatest female Jewish athlete in a generation retired Tuesday night: The sports world just said goodbye to a legend on Friday night, when Serena Williams went down swinging in the third round of the U.S. Open. Late Tuesday, Sue Bird, the 41-year-old WNBA star, shot her final basket, as the Seattle Storm ended its season in the semifinals with a loss to the Las Vegas Aces. Our Louis Keene spoke with Jewish girls in the Pacific Northwest about Bird's impact on them. "Sue Bird has shown me what pride means," said one teen. "She seems proud when talking about Judaism, and that inspires me." Read the story ➤

Political group targeting independent Jews in Senate races in Arizona and Georgia: The Jewish Democratic Council of America is rolling out two social media ads today targeted to Jewish independent voters in Senate races in two key swing states. A third of American Jews identify as independent rather than with either political party, according to national surveys. "The Jewish independent vote may actually determine the outcome of the election," said the group's leader. Read the story ➤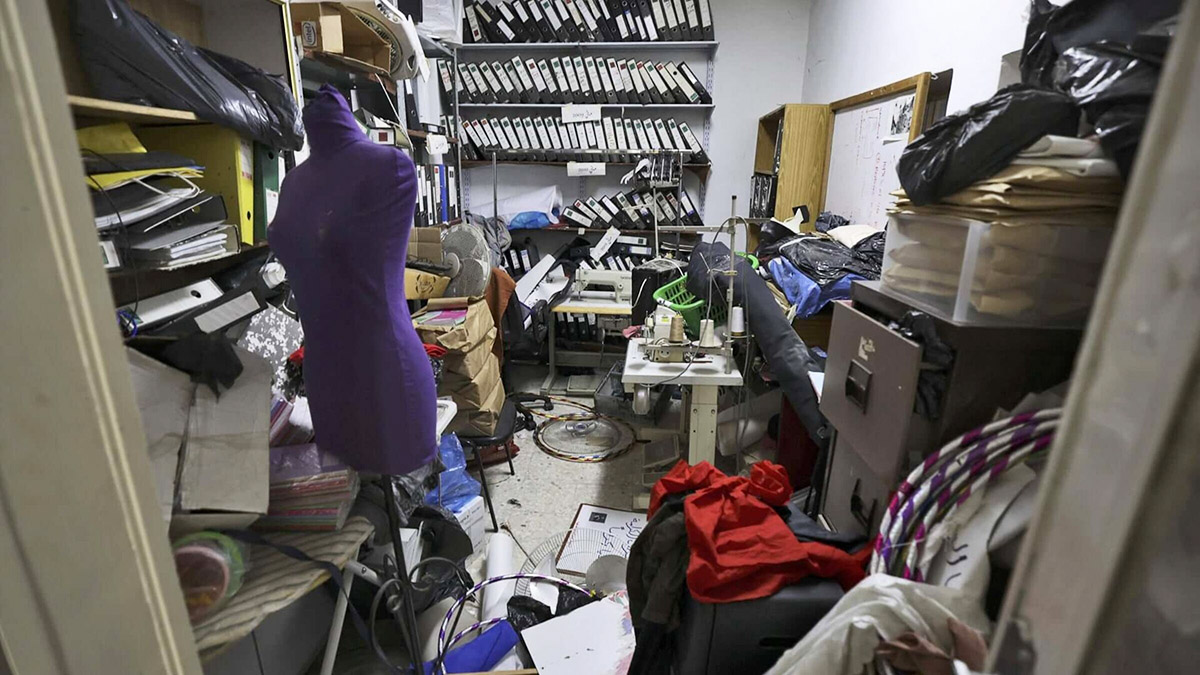 The premises of the Union of Palestinian Women's Committees in the West Bank city of Ramallah, after the August raid by Israeli forces. (AFP)
Forwarding the News is now also available on our website. Click on the blue button below to share it on social media or send to friends.
WHAT ELSE YOU NEED TO KNOW TODAY
Actress Shira Haas (left) will portray Ethel Stark, the Canadian Jewish conductor. (Getty/Wikimedia)
🎬  Shira Haas, the star of Netflix's "Unorthodox" and "Shtisel," will play Ethel Stark, the groundbreaking Jewish conductor who founded the first all-female orchestra in Montreal, in an upcoming film. This follows Haas' role as Golda Meir in a TV series produced by Barbra Streisand. (Kveller)
🇩🇪  German officials apologized for what they called a "lack of protection" that led to the murder of 11 Israeli athletes and coaches at the Olympic Games 50 years ago in Munich. At a ceremony Monday at the air base where most of the victims were slain, the government agreed to establish a new research commission to look more deeply into the attack. Israeli President Isaac Herzog welcomed the apology in a speech to the German Parliament on Tuesday. (JTA)
🇷🇺  A group of Russian rabbis called for an end to the war in Ukraine and expressed concern for Jews in their own country. "Relations between Russia and the rest of the world have rapidly deteriorated since the invasion began in February," they said in a statement, "resulting in economic uncertainty and, of significant concern to the Jewish community in particular, a sense of fear and isolation not felt in decades." (AP)
📈  The New York Police Department tallied 24 attacks against Jews in August — up from 15 in July and more than twice the number reported in August 2021. (Twitter) 
✡️  The headline of the day award goes to this story from our partners at the Jewish Telegraphic Agency: 'Are too many Germans converting to Judaism?' A prominent cantor was dismissed from her synagogue after publishing a column on the topic, asking if Germans might be converting for the wrong reasons, like atoning for their family's Nazi past. (JTA)
🎶  The frontman for the 1990s band Counting Crows said he owes his work ethic to a teenage stint on a kibbutz where he woke up "at the break of dawn every day to work with your hands." The band is set to perform its first-ever concert in Israel next week. (Ynet) 
👋  Applications are now open for The Bronfman Fellowship, a prestigious yearlong program for high school juniors that includes a five-week summer trip to Israel.

Shiva call ➤ Ben Stern, the father of radio personality Howard Stern, died at 99. The younger Stern said on his show Tuesday that Ben ate his favorite meal for his final birthday: Nathan's Hot Dogs.
Was this newsletter forwarded to you or are you reading it on our website?
Receive it in your inbox each morning by clicking the blue button below.
A mural of Tupac Shakur in New York City. (Getty)
On this day in history (1996): Tupac Shakur was shot in the chest in Las Vegas; he died six days later at the age of 25. In a 2019 examination of Shakur's secret Jewish history, Seth Rogovoy wrote that a pivotal moment in the rapper's life and career happened when he was 17 and met Leila Steinberg, the daughter of a Mexican-Turkish activist and a Polish-Jewish criminal defense attorney. They met at the Oakland spoken-word poetry workshop Steinberg ran called the Microphone Sessions, and Shakur eventually moved in with her family. Read the story ➤ 
On the Hebrew calendar, it's the 11th of Elul, when, in 1875, the fifth Lubavitcher Rebbe, Rabbi Sholom Dovber Schneersohn married Shterna Sarah Schneerson, a cousin.

In honor of National New Hampshire Day, check out these 10 Jewish facts about the Granite State.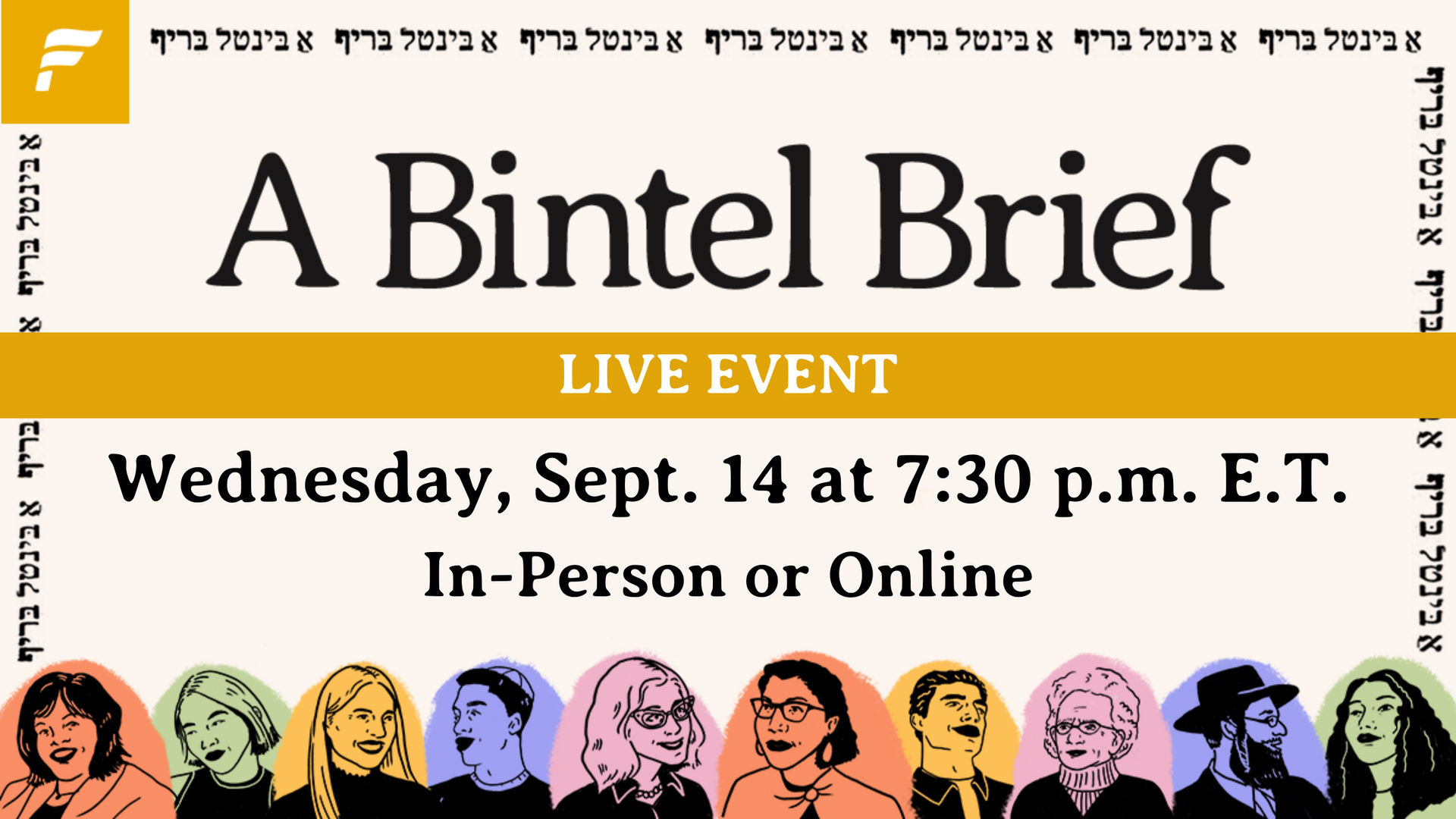 Ever listen to an episode of our "Bintel Brief" advice podcast and wish you could go behind the scenes to see our hosts Ginna Green and Lynn Harris, debating today's dilemmas and Chana Pollack, the Forward's archivist, digging deep to find a relevant letter from the past? Well, now's your chance. Jodi Rudoren, our editor-in-chief, will be hosting "Bintel Live!"

You can join us in person at the Marlene Myerson JCC in Manhattan, or virtually on Zoom, to hear about the history of Bintel, which began as an advice column in our pages in 1906, and about how the podcast gets made. We'll also be dishing some rapid-fire advice. Send your questions to [email protected], leave a voicemail at (201) 540-9728, or show up and ask.
Register now for in-person or virtual ➤
–––
Play today's Vertl puzzle, the Yiddish Wordle
Thanks to Nora Berman, Jordan Greene, PJ Grisar, Louis Keene, Jacob Kornbluh and Talya Zax for contributing to today's newsletter. You can reach the "Forwarding" team at [email protected].