Forwarding the News
🥯 Why a synagogue's lox ban might be smart. Plus: Meet our lox columnist
Former Trump adviser likened MAGA voters to Holocaust victims, queen's death forces British shuls to tweak liturgy, GOP nominee mocks Jewish school, and … fake toes for Orthodox women?!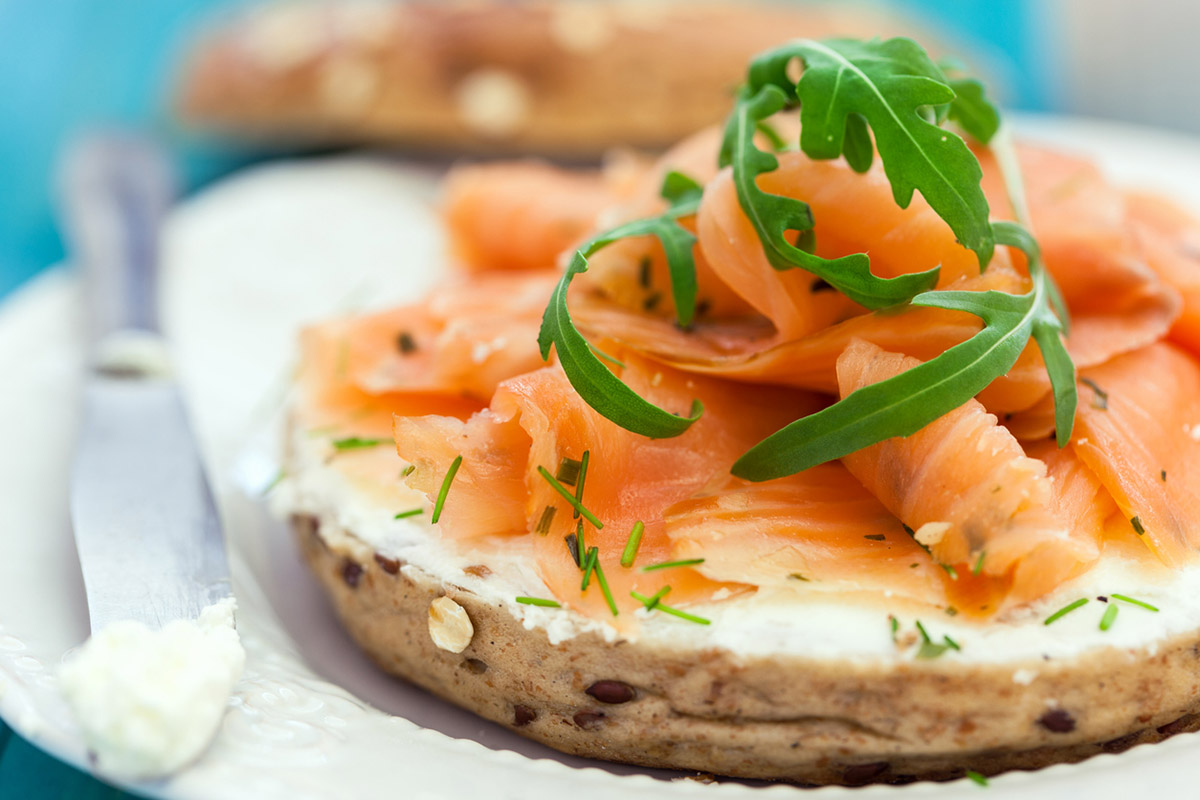 This article is part of our morning briefing. Click here to get it delivered to your inbox each weekday.
Judaism is a religion immersed in the sacred: the ancient wisdom of the Torah, the holy waters of the mikvah, rich traditions that are centuries-old – and lox. Sure, one can reasonably debate plain cream cheese vs. scallion (although we all know which is better), or the benefits of a New York bagel over one from Montreal. But to lox or not to lox, that wasn't a question.
That is, until this week, when a Manhattan synagogue announced it would no longer serve lox after Shabbat services due to concerns about pollution and overfishing. A noble call to arms to be sure, but the Great Lox Elimination of 5782, as our Rob Eshman called it, sparked immediate uproar. The Jewish Chronicle, Rob noted, posted the story just under news of Queen Elizabeth II's death.
Backlash from the kiddush cognoscenti was swift. Within days of the declaration, the shul sent out an update: anyone who wants to sponsor a kiddush that includes lox is free to do so. So maybe the original dictate was about economics as much as environmentalism? 
A foodie who has long advocated for wild salmon over farm-raised, Rob understands the power of smoked fish in a smorgasbord, but thinks the shul's original stance had its merits. "Every meal presents choices on how seriously we take the commandment not to despoil the earth," he writes. "How many Jewish banquets have I been to where the speakers go on about healing the world as the guests dine on feedlot beef or cheaply farmed salmon?" Read his essay ➤   
'We have a lox columnist?'
Len Berk, pre slice. (Martyna Starosta)
When I first started working at the Forward, they introduced me to colleagues in the newsroom: the hard-nosed investigative reporter, our witty and wise culture correspondents – and a guy named Len Berk who, they claimed, was our lox columnist. I thought: they must be joking.
To everyone's delight, Len is real. And if you have yet to partake in his pickled punditry, you're missing out. He's in his 90s and started slicing lox at Zabar's a quarter century ago. He's become somewhat of a celebrity with fawning profiles of him in the New York Post and on CBS News. And when Zabar's temporarily sent him home at the start of the pandemic, he wrote about it in the Forward.
Thus a new side hustle was born. He's written more than 30 columns in the last couple of years, and whichever you choose, you're in for a treat. But why not start where he did? Len's debut piece won first prize for a personal essay from the American Jewish Press Association: The unkindest cut: Last call for a Zabar's lox slicer. 
But wait, there's more…
The Yuval congregation prays together inside a cramped area in a school. (Courtesy)
An Israeli city refuses to provide space to a Reform congregation. So it holds services in a school hallway: The Yuval congregation in Gedera has about 120 members. The hallway where they meet has no heat or air conditioning — and no place for an ark to hold their Torah. The Israeli government generally allocates land for synagogues. But in Gedera, a town of about 30,000 people 25 miles south of Tel Aviv, the government gave it all to 40 Orthodox synagogues. As Rosh Hashanah approaches, the congregants are heading to court for the fifth time in seven years. Read an OpEd by their lawyer ➤
How the Jewish establishment helps Hasidic yeshivas access public money: The UJA-Federation of New York funds a group that advises Jewish schools on how to get state and federal dollars regardless of whether they meet state curriculum standards, our Arno Rosenfeld reports.  After a blockbuster New York Times investigation documented widespread failure in these schools, the federation-funded Jewish Education Project's leader, David Bryfman, said that it's not his job to determine which schools are complying with state rules on teaching English and math. "We leave it to others to determine right, wrong," he said. "We're there to help the kids." Read the story ➤
Also…
Forwarding the News is now also available on our website. Click on the blue button below to share it on social media or send to friends.
WHAT ELSE YOU NEED TO KNOW TODAY
The royal succession required a tweak to long-standing Jewish liturgy in British synagogues. (Getty)
👑  God save the queen king? For more than 70 years, Jews across the United Kingdom recited a prayer on Shabbat for Queen Elizabeth and the rest of her family. Now they're having to tweak the text. Denominations are sending out updated versions of the liturgy to synagogues. (Haaretz)
🗳️  A new survey of 800 Jewish voters shows 82% disapprove of the Supreme Court's decision to overturn Roe v. Wade and 56% say it makes them more motivated to vote for Democrats. (JTA)
🦶  Fake toes for sale? An ad aimed at Orthodox women peddles silicone toes that slip on over human ones. So people who worry that bare feet are immodest can still wear sandals. The seller likened it to women who cover their hair with a wig — sheitel in Yiddish —  for religious reasons and "sprinkle fake dandruff in the sheitel." Apparently that's a thing. (JTA)
📈  The Institute for the Study of Contemporary Antisemitism has published new research showing that antisemitic tweets about Israel were posted almost every five seconds in 2020. (i24News)
👍  At Thursday's anti-hate summit at the White House, President Biden declared: "Evil will not win," and added that "white supremacists will not have the last word." (New York Times)
💰  LA's Holocaust museum has a new lead fundraiser: Omar Sharif Jr. He's a descendant of the famous Egyptian Muslim actor of the same name, as well as the grandson of a Holocaust survivor. He also speaks fluent Yiddish. (eJewishPhilanthropy)
What's in our kitchen ➤  The new 'Modern Jewish Comfort Food' cookbook by Shannon Sarna, editor of The Nosher. It features recipes for mac and cheese kugel, funfetti mandel bread, vegan shakshuka and much more.

Long weekend reads ➤  What it took for one Holocaust survivor to tell her story … Why religious-themed satirical movies and TV shows are so popular right now … In Bucha and other decimated towns near Kyiv, a Jewish group distributes sorely-needed supplies.
Was this newsletter forwarded to you or are you reading it on our website?
Receive it in your inbox each morning by clicking the blue button below.
PRINT OUT OUR SHABBAT PDF
In the new issue of our print magazine: A Hasidic mom says she is not surprised about The Times investigation into the failures of her son's yeshiva; a look at how slugger Hank Greenberg returned from war to win a dramatic pennant race; Supreme Court Justice Elana Kagan warns that others on the court are "undermining their own legitimacy." Plus: reporting from the warfront in Ukraine, and a scoop about Jared Kushner from a forthcoming tell-all. Download your copy now ➤
Richard Kiley and Peter Falk (right) on an episode of 'Columbo.' (Wikimedia)
On this day in history (1927): Actor Peter Falk was born in the Bronx. Falk is best known for his roles as the storytelling grandfather in "The Princess Bride" and the homicide detective on the TV series, "Columbo." As it turns out, a 24-year-old Steven Spielberg directed an early episode of that show, establishing its visual tone for 13 seasons. Our PJ Grisar wrote about how the episode helped shape the rest of Spielberg's career.
Deep within the forests of Poland, Lithuania, Belarus, and Ukraine during World War II, more than 25,000 Jews fought back against the Nazis and their collaborators. "Four Winters," a new film opening today, tells their stories. It "offers an enduring warning amid today's global struggle with authoritarian forces," says a New York Times review. Watch the trailer above and read more about the movie here ➤
–––
Play today's Vertl puzzle, the Yiddish Wordle
Thanks to Arno Rosenfeld, Sarah Nachimson and Talya Zax for contributing to today's newsletter. You can reach the "Forwarding" team at [email protected].