Forwarding the News
Transgender yeshiva teacher asked to leave + Rosh Hashanah in Ukraine
Chabad parts ways with California rabbi, mourning the queen in London's Jewish neighborhoods, New Mexico's Jewish federation on brink of collapse, and ESPN's new Holocaust sports documentary.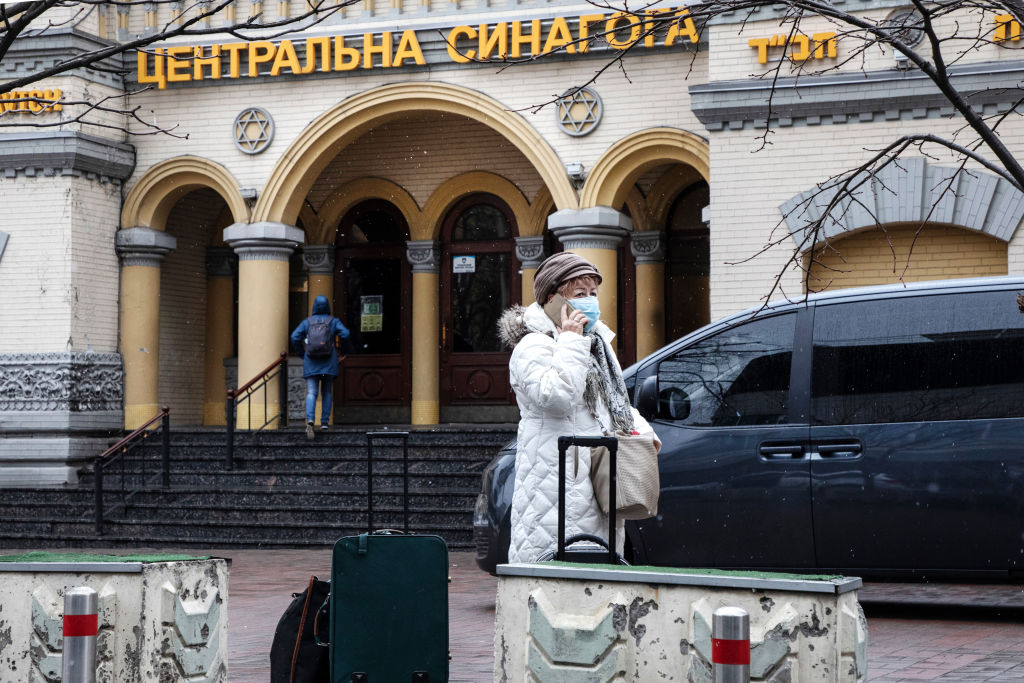 This article is part of our morning briefing. Click here to get it delivered to your inbox each weekday.
Rosh Hashanah in Ukraine | War will both complicate and inspire observances: Despite recent gains against Russia, the fighting continues and families are still separated. But Rabbi Joseph Azman of Kyiv's Brodsky Synagogue still expects a crowd next week. "I think even those people who have never celebrated the High Holidays will come," he said, "because at such a time every person understands that one needs to get closer to God." Read our interview ➤
Opinion | Roe's reversal leaves Jewish IVF couples in a legal and emotional crossfire: Navigating infertility is never an easy experience. The recent reversal of Roe v. Wade has added a new layer of complication for couples using IVF to conceive – an unintended consequence that anti-abortion lawmakers and justices may not have foreseen, according to Elana Frank, of the Jewish Fertility Foundation. "The possibility of abortion cannot exist separately from infertility," Frank writes, calling this a "medical truth" that the Supreme Court "completely ignores." Read her essay ➤

A Jewish baseball slugger's triumphant return from war: Hank Greenberg was in his prime in 1938 when he nearly matched Babe Ruth's single-season home run record. Greenberg was still knocking out homers in 1941 when, mid-season, he became the first baseball star to enter the military. He returned to the Detroit Tigers in 1945, and helped carry the team through an exciting pennant race that came down to the final inning of the final game. "Never was a title won in more dramatic fashion," the Associated Press declared. Read the story ➤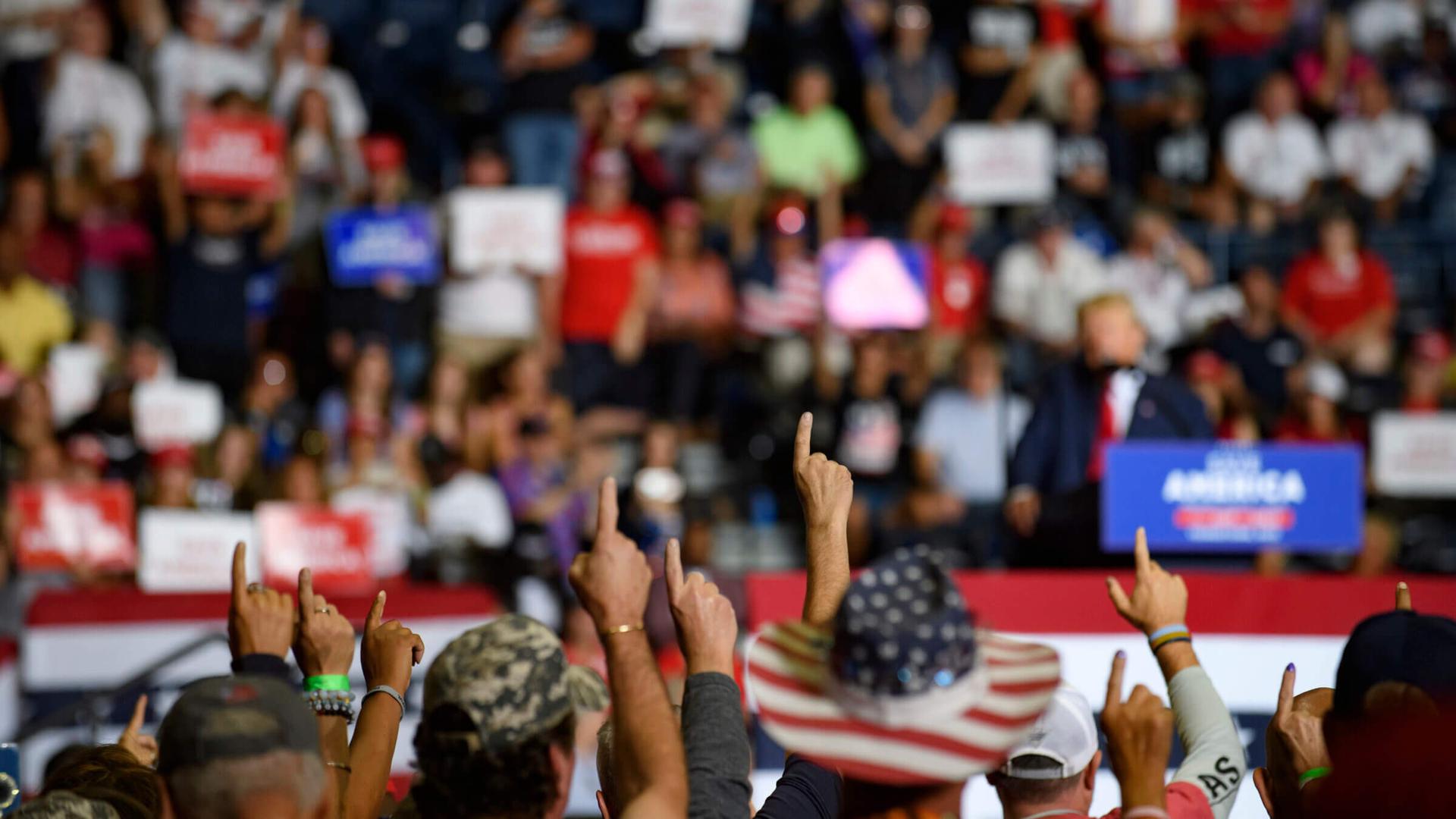 Audience members put their finger up while former President Trump spoke at a rally in Ohio. (Getty)
What people are talking about: At a Trump rally on Saturday in Ohio, thousands of supporters thrust their index fingers into the air as the former president delivered his speech. Some said it looked like the audience was giving a "Sieg Heil" salute, which led our language columnist, Aviya Kushner, to trace the gesture's origin. And our digital culture reporter, Mira Fox, explores how some online white supremacist groups have co-opted the signal. 
New in bookstores today: "The Divider," by veteran political journalists Peter Baker and Susan Glasser, filled with behind-the-scenes anecdotes from the Trump administration. Including: Jared Kushner, the president's son-in-law, offered to personally pay $80,000 to host the signing ceremony for the Abraham Accords on the White House's South Lawn because First Lady Melania Trump was worried about the grass. Read the story ➤
In New York: New York City Mayor Eric Adams told a group of Orthodox journalists on Monday that he's going to "zero in" on hate crimes, including assaults and vandalism targeting Jews, which have been on the rise this year. Read the story ➤
In California: Chabad leadership in San Diego told a synagogue in Poway and its rabbi they could no longer use the name of the movement. The shul was the target of a 2019 shooting that killed a congregant and has been embroiled in an embezzlement scandal for the past two years. Read the story ➤

In England: Our Talya Zax spent time in London's Jewish neighborhoods on Monday as the country gathered for the funeral of Queen Elizabeth II. What she found, amidst the shuttered shuls and kosher cafes, was a meditation on ritual and change – just in time for Rosh Hashanah. Read her essay ➤
L'SHANA TOVA … OR MAYBE NOT?
Rosh Hashanah is … checks calendar … less than a week away. Each year, without fail, there's an article from our archives that shoots to the top of our most-read list. No, it's not a recipe for the world's best chicken soup. It's a story about that perennial phrase, "L'Shana Tova." Turns out, we may all be saying it wrong. Read the story ➤
Forwarding the News is now also available on our website. Click on the blue button below to share it on social media or send to friends.
WHAT ELSE YOU NEED TO KNOW TODAY
The building housing the JCC of Greater Albuquerque and the Jewish Federation of New Mexico. (Courtesy)
💸  New Mexico's Jewish federation is on the brink of collapse, with no staff or funding for programs, our partners at the Jewish Telegraphic Agency report. "I do not know what here is mismanagement and what is fraud," said one member of the board, which has been discussing dissolving the federation entirely. (JTA)
🏫  A transgender teacher at a Brooklyn yeshiva left her position this week after an uproar over her identity. Prior to her departure, the teacher had been harassed online and in the classroom, with strangers filming her family outside her home. "We're getting death threats," said Talia Avrahami, who has a masters degree in Jewish education. (Times of Israel)
🛫  Booking.com is planning on adding this warning to all properties in settlements in the occupied West Bank: "Visiting the area may be accompanied by an increased risk to safety and human rights, or other risks to the local community and visitors." (Haaretz)
🏳️‍🌈  Jewish Queer Youth, an organization that supports LGBTQ Orthodox children and young adults, has offered to fund all undergraduate student activities at Yeshiva University, after the administration suspended all of the clubs on campus in the wake of a court order demanding it recognize one for LGBTQ students. (Y.U. Commentator)
🕍  An Upper West Side synagogue that rented space to a Republican group before the pandemic is refusing to let the group host Dick Morris, a 2020 election denier, for an October event. (The City)
📡  Elon Musk said Monday that he will request an exemption to international sanctions so that his satellite-based internet service provider, Starlink, can operate in Iran. Earlier this year, Starlink provided internet service to Ukraine during the Russian invasion. (Times of Israel)
🚲  Guy Niv, who in 2020 became the first Israeli to compete in the Tour de France, is retiring. "I came to realize that I no longer have the drive and motivation that are essential to reaching the heights I am capable of as a pro cyclist," said Niv, 28. (Facebook) 
What we're watching ➤ This video making the rounds on social media of Turkish President Recep Tayyip Erdoğan strolling through Central Park, stopping to take selfies and talk with locals – including a rabbi who happened to be walking by. Erdoğan is in New York City for the U.N. General Assembly, where he plans to meet with Israeli Prime Minister Yair Lapid. And at a meeting with American Jewish leaders on Monday, Erdoğan said that antisemitism is a "crime against humanity" and that he plans to visit Israel. (Twitter, JTA)
Shiva call ➤ Lily Renée Phillips, who escaped the Nazis to become a pioneering comic book artist, died at 101. One of Phillips' most enduring creations was the heroine Señorita Rio: a Hollywood starlet by day and Nazi-fighting secret agent by night. "I could live out a fantasy," Phillips said. "It was a form of revenge."
What else we're reading ➤  How the ritual of shiva helped a New York Times reporter cover a mass shooting (side note: her dad used to be editor of the Forward) … Ben & Jerry's founders accuse Unilever of breaking deal in Israel, again … A 'pop-up Ellis Island': Hasidic nonprofit brings shoes to greet asylum-seekers arriving in NYC from Texas.
Was this newsletter forwarded to you or are you reading it on our website?
Receive it in your inbox each morning by clicking the blue button below.
Steve Goodman in 1983. (Wikimedia)
On this day in history (1984): Folk singer-songwriter Steve Goodman died at 36. Goodman got his start in Chicago clubs and coffee shops in the 1960s. Music legend Paul Anka invited him to record some demos, and found a fan in Arlo Guthrie, who ended up recording Goodman's song "City of New Orleans," which became a hit in 1972. Goodman is also well known for his Chicago sports anthem "Go, Cubs, Go." Read more about Goodman's life ➤ 
Last year on this day, our colleagues at JTA reported on the death, at 92, of Sheila Bromberg, the Jewish harpist who was the first woman to play on a Beatles album.
On the Hebrew calendar, it's the 24th of Elul, the yahrtzeit of Rabbi Yisrael Meir Kagan, more popularly known as the Chofetz Chaim, who died in 1933. 
In honor of National Pepperoni Pizza Day, may we suggest an alternative: the best kosher pizza in all of New York City.

Today at 5 p.m. ET: Second Gentleman Douglas Emhoff will headline the Jewish Democratic Council of America's virtual kickoff rally for voter outreach in the midterms.
Shaul Ladany survived the Holocaust and the 1972 massacre at the Munich Olympics. The Israeli athlete – he's a competitive speed walker – is now the subject of a documentary, premiering tonight on ESPN and on-demand from ESPN+. Watch the trailer above.
–––
Play today's Vertl puzzle, the Yiddish Wordle
Thanks to Nora Berman, Louis Keene, Jacob Kornbluh, Rina Shamilov and Talya Zax for contributing to today's newsletter. You can reach the "Forwarding" team at [email protected].