Fast Forward
Eric Adams promises to 'zero in' on hate crimes in Orthodox briefing
NYC mayor derides mainstream media and calls on Orthodox leaders to lobby other politicians against bail reform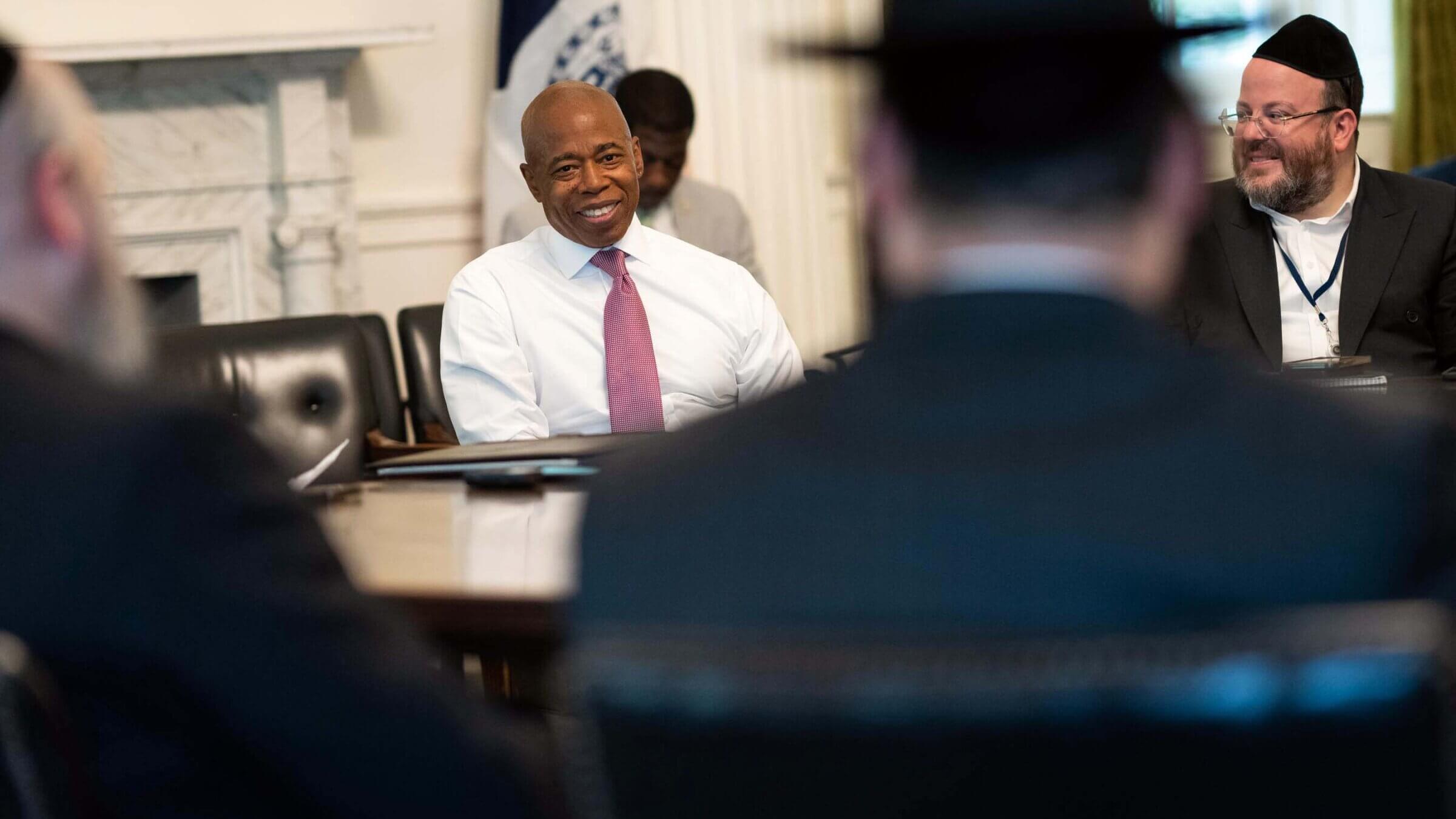 New York City Mayor Eric Adams told Orthodox news outlets that he is facing a "real battle" against the media he accused of "selling hysterics" about rising crime as well as leftist lawmakers pushing for police reform and racial justice, and promised to "turn the corner" on gun violence and other crimes.
"We still have some real work to do around public safety," Adams told a group of journalists at City Hall on Monday in a briefing ahead of the Jewish High Holidays. "We are going to zero in on the hate crimes."
The New York Police Department recently reported a rise in anti-Jewish crimes this year with a total 577 incidents, including 24 reported in August — more than double the number in that month in 2021. Most of these incidents are vandalism, but Adams was speaking after video of two physical assaults on visibly Orthodox Jews in Brooklyn in recent days garnered attention on social media.
The Anti-Defamation League reported that there were 416 reported incidents of antisemitism in New York last year, the most in the nation.
Even as he promised to do more to stop hate crimes, Adams put the blame on state lawmakers, saying they should "stop making these laws that are allowing dangerous people to continue to do dangerous things in our city." He referred to the 2019 bail reform law, which eliminates the need for cash bail for those accused of committing misdemeanors and felonies. The law was tweaked earlier this year to exclude nonviolent hate crimes.
"We have turned into a country that we spend all our energy on protecting people who commit crimes," Adams said. "What about the people who are the victims of crimes? All the laws that are passed, they are passed based on how we make sure we protect those who are doing the crime. There are no laws passed on those who are victims of crimes."
The mayor praised volunteer patrol groups in Orthodox Brooklyn and said he would help other minority communities start similar efforts "because the more the good guys and ladies are on the street, the more the bad guys are going to be detected."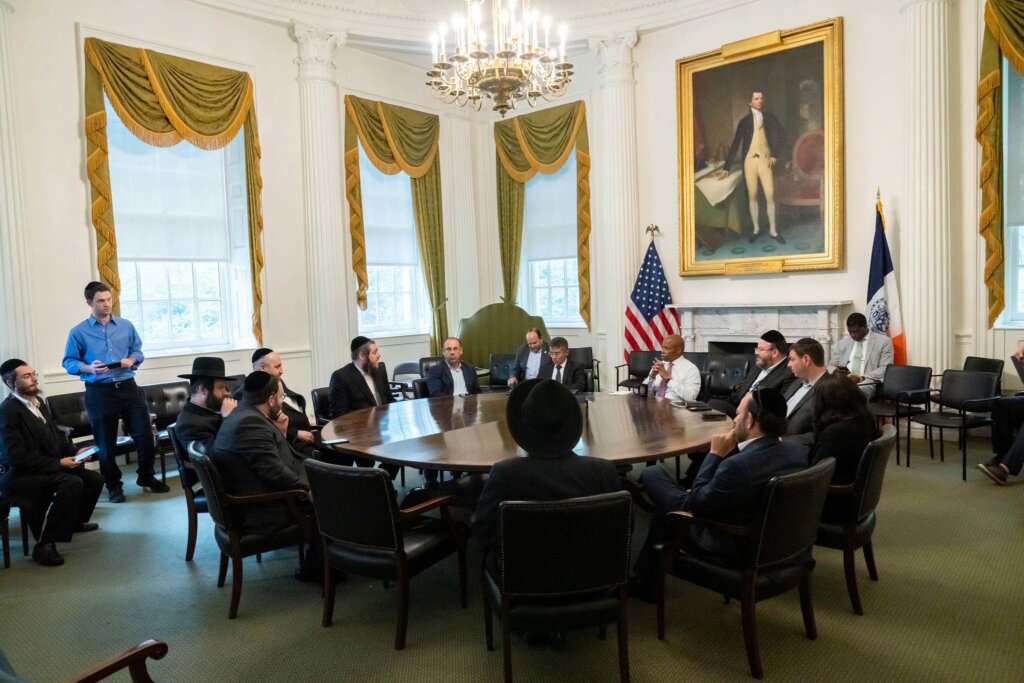 Adams planned to host Jewish communal leaders at City Hall for a pre-High Holidays breakfast.
He had broad support from Orthodox Jews in last year's election, and told the reporters on Monday that he needed similar help from the community to support his agenda now.
"My margin of victory came from those who were part of your community," Adams said, adding: "You have a powerful voting bloc, and you should ask all your city council members, where are you on these issues of people committing crimes and being out."
Adams, who during the campaign had courted Orthodox voters in part by saying he was impressed with the standards at Brooklyn yeshivas, did not mention the issue at the Monday briefing. Just last week, the state Board of Regents voted to crack down on monitoring of secular studies at private schools, and The New York Times published a devastating investigation documenting the system's failures.
"I believe that the traditional media in the city is not in alignment with what everyday New Yorkers want," he told the group from Orthodox news outlets. "What we read in traditional papers is not what I'm hearing on the ground. When I move around communities like yours, I hear people in the community saying, 'Eric, we support what you're doing.'"