Forwarding the News
Abortion laws a new consideration as Jewish students choose colleges
Most Republicans support making U.S. a Christian nation, Hasidic pilgrims land in Ukraine for Rosh Hashanah, David Beckham inspired by his zayde, and the secret Jewish history of 'Dumbo.'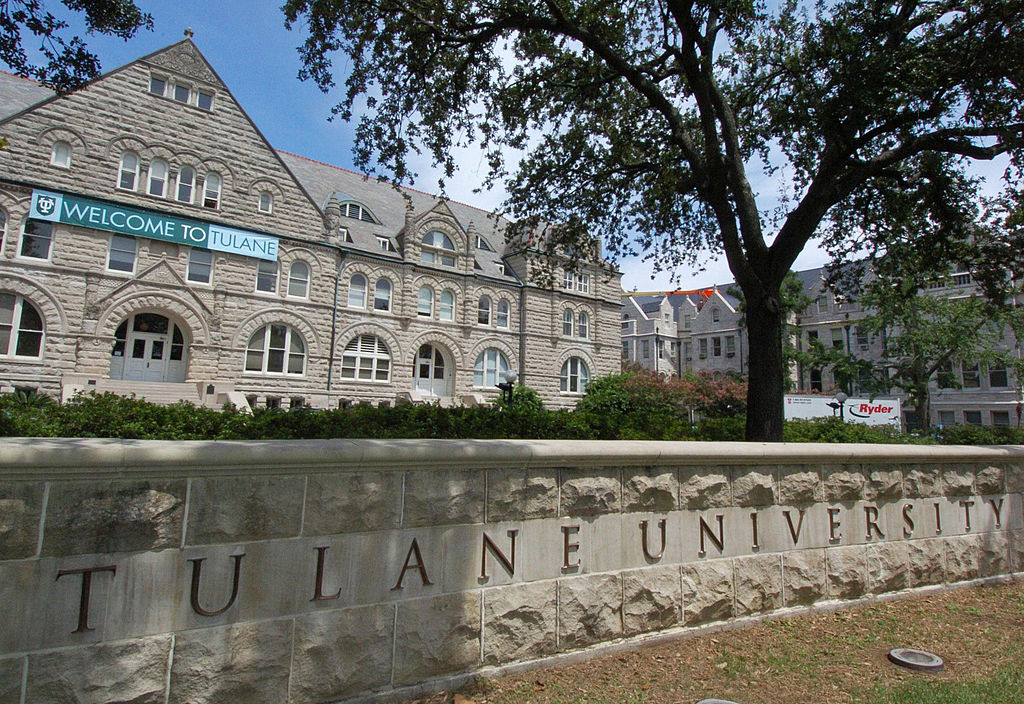 This article is part of our morning briefing. Click here to get it delivered to your inbox each weekday.
Abortion laws becoming new factor in Jewish students' college choices
There are, of course, many factors that go into college decisions — location, sports, academic programs and the quality of Jewish life on campus, to name a few. Now, after the Supreme Court overturned Roe v. Wade, some students are also surveying the nation's new patchwork landscape of abortion laws as they navigate both applications and life on campus.
The right to choose: Danny Tal, a high school senior in northern California, crossed the University of Charleston off her application list because South Carolina has a ban on abortion after six weeks (though it is currently blocked in the courts). "I don't want to go somewhere where I definitely can't have all my rights when I need them," she said. " I can't imagine not having access to abortion if I were to get pregnant."
Looking at the stats: A review of Hillel's list of the 120 public and private colleges with the largest Jewish populations shows that a third are in states where access to abortion has been severely restricted or may be soon. That includes Tulane University in Louisiana, where Hillel says 41% of the undergraduates are Jewish; Washington University in St. Louis (26% Jewish) and several schools in Florida, Indiana, Michigan, Ohio and Tennessee.
Transferring out: In Ohio, where a ban on abortion after six weeks is pending in court, Zoe Levine, manager of Jewish student experiences at Oberlin College, said the school's move last year to use a Catholic health provider was already preventing students from getting Plan B abortion bills. Now, Levine said that she has started to hear students talk about transferring from Oberlin, whose population is 23% Jewish, to schools in states where access to abortion is not under threat.
'Being able to create unity in a community is what this is all about,' said Imani Jackson. (Courtesy Chopped & Served)
Black and Jewish ('Blewish') cuisine comes to George Floyd Square: "This is exactly where I'm supposed to be," said Imani Jackson, a chef and recent graduate of the University of Minnesota, where she studied human rights and social justice. Jackson's new eatery has a healthy, fresh fusion of soul food with Jewish-inspired ingredients on the menu. The space will also serve as a public kitchen where she can teach the community how to cook Blewish food. Read the story ➤
First person | How I rustled up a minyan to say kaddish on Capitol Hill: Avi Dresner wrote a powerful personal essay for the Forward last fall about taking his rabbi father, after an end-stage cancer diagnosis, to Katz's Deli for a final pastrami on rye. Now, Dresner is making a documentary about his dad's relationship with the Rev. Martin Luther King Jr. He spent a recent day on Capitol Hill interviewing members of Congress for the film, and found himself without a minyan to say kaddish. Luckily, one of his interview subjects was Rep. Debbie Wasserman Schultz, who as the Democrats' chief deputy whip is responsible for herding colleagues for votes. Surely she could help him find the nine people he needed? Read what happened next ➤
But wait, there's more…
A small Jewish museum located in a senior living facility in the Bronx is seeking to rescue a group of mid-to-late-20th century artists from obscurity. Our Beth Harpaz went for a visit.


David Strathairn, the Oscar-nominated actor, is starring in a new one-man play as Jan Karski, the real-life member of the Polish Underground who warned the Allies of the Holocaust in progress. The play "offers a sobering, if inadvertent, meditation on the limits of bearing witness," writes our Irene Katz Connelly.


A Jewish teenager came back from summer camp with a Yiddish melody stuck in his head. He got in touch with an Atlanta rapper, who turned it into a chart-topping hit and recently performed it at the MTV Video Music Awards. Here's the bizarre backstory.
The final episode of season two of our Bintel Brief advice podcast went live this morning. In this episode, we answer a letter from a CEO who has discovered a photo of a beloved employee 40 years ago — in blackface. What sort of punishment is appropriate? Hosts Ginna and Lynn, with a little help from Forward archivist Chana Pollack, respond with lessons from King David that resonate with the themes of atonement just in time for the High Holidays. Listen wherever you get your podcasts, or on our site ➤
WHAT ELSE YOU NEED TO KNOW TODAY
Hasidic pilgrims visited Uman, Ukraine, before Rosh Hashanah despite the war. (David Saveliev)
🇺🇦  Defying wartime warnings from Ukraine and Israel, thousands of Hasidic pilgrims have made it to Uman for Rosh Hashanah. "The Ukrainians are using all of their efforts to fight the war," said Michael Brodsky, Israel's ambassador to Ukraine, "and they don't have the bandwidth to deal with the problems of tourists coming." (JTA)
🇺🇸  Most Republicans support declaring the United States a Christian nation, a new poll by University of Maryland researchers found, even though the respondents believe it would be unconstitutional. (Politico)
🕯️  Arnold Schwarzenegger plans to visit the Auschwitz and Birkenau concentration camps next Wednesday, the day after Rosh Hashanah. "I am witness to the ruins of a country broken by the Nazis," said Schwarzenegger, who grew up in Austria. "I saw first-hand how this hatred spun out of control and I share these painful memories with the world in the hopes of preventing future tragedies." (Auschwitz Jewish Center Foundation)
👎  Rabbi Shmuley Boteach says the Senate campaign of his longtime friend, Dr. Mehmet Oz, is a "tragedy for the Jewish people." Boteach, who ran for Congress as a Republican in 2012, told Rolling Stone magazine that Oz, who was endorsed by the Republican Jewish Coalition, has become an "election-denying, genocide-denying caricature of an extremist." (JTA)
👑  The soccer star David Beckham spent 12 hours in line waiting to see the coffin of Queen Elizabeth II rather than taking advantage of VIP access. He said that act of humility was inspired by his Jewish grandfather, a British soldier who served during World War II. (Jewish Chronicle)
🤷  A group of Orthodox journalists and activists are complaining that they were not invited to last week's White House summit tackling hate crimes. They suggested they were denied entry because they support former President Donald Trump. Ambassador Susan Rice, a policy advisor in the Biden administration, called the allegations "scurrilous and false," citing other Orthodox Jewish leaders who were at the event. (NY Post, Twitter)
✡️  A new Netflix teen comedy is drawing criticism from Jews on social media because its villain, a rich high school student with a politically connected father, wears a Star of David pendant. (Times of Israel)
🏅  JJ Harel, a 14-year-old track and field prodigy in Los Angeles, last month won three gold medals at the Junior Olympics, breaking a 42-year-old record in the high jump. JJ's dad, Oren, has a quip at the ready as jaws dropped: "I tell them his grandfather worked for NASA, maybe that's how he learned the secret on how to defy gravity." (JTA)

What else we're reading ➤  New security measures for Orthodox synagogues will alert them to threats, even on Shabbat … New museum exhibit seeks to show Samaritans are more than a biblical parable … Israeli Prime Minister Yair Lapid is expected to call for a two-state solution in his speech today at the United Nations.
Was this newsletter forwarded to you or are you reading it on our website?
Receive it in your inbox each morning by clicking the blue button below.
On this day in history (1921): The Music Box Theater opened on Manhattan's 45th Street, as a home for Irving Berlin's "Music Box Revue." Berlin's father worked as a synagogue cantor. Young Irving began to belt tunes on the street for money, then transitioned to writing and producing music, and eventually became one of the greatest composers in musical theater. Today, the theater includes an exhibition dedicated to Berlin. Read more about Irving Berlin ➤
Last year on this day, our editor-in-chief, Jodi Rudoren, asked in her column: Can climate change cancel Sukkot? (Yes, dear reader, the holidays are later this year; Sukkot begins Oct. 9.)
In honor of Elephant Appreciation Day, check out our secret Jewish history of 'Dumbo.' 

First in Forwarding: Second Gentleman Doug Emhoff plans to host a roundtable today with 13 college students in the D.C. area to discuss the meaning of Rosh Hashanah and how they can combat hate on their campuses. Following the discussion at the vice president's residence, the White House said, Emhoff will hang a mezuzah on the door of the residence that was designed by a German Jew who escaped the Nazis and is on loan from the Magnes Collection of Jewish Art and Life.
Postcard from Ukraine: On the left, a displaced Jewish artist makes decorations that will be used for a Rosh Hashanah gathering for senior citizens. And at right, volunteers from the Joint Distribution Committee prep thousands of holiday aid packages for needy Jews in the country. 
–––
Play today's Vertl puzzle, the Yiddish Wordle
Thanks to Jacob Kornbluh, Rina Shamilov, Jake Wasserman and Talya Zax for contributing to today's newsletter. You can reach the "Forwarding" team at [email protected].