Forwarding the News
Why Christian politicians blow the shofar + Rosh Hashanah in hurricane-ravaged Puerto Rico
Facebook admits violating rights of Palestinian users, ADL finds vast network of white supremacists in Florida, Harvard Chabad gets $5 million gift, and the secret Jewish history of Bruce Springsteen.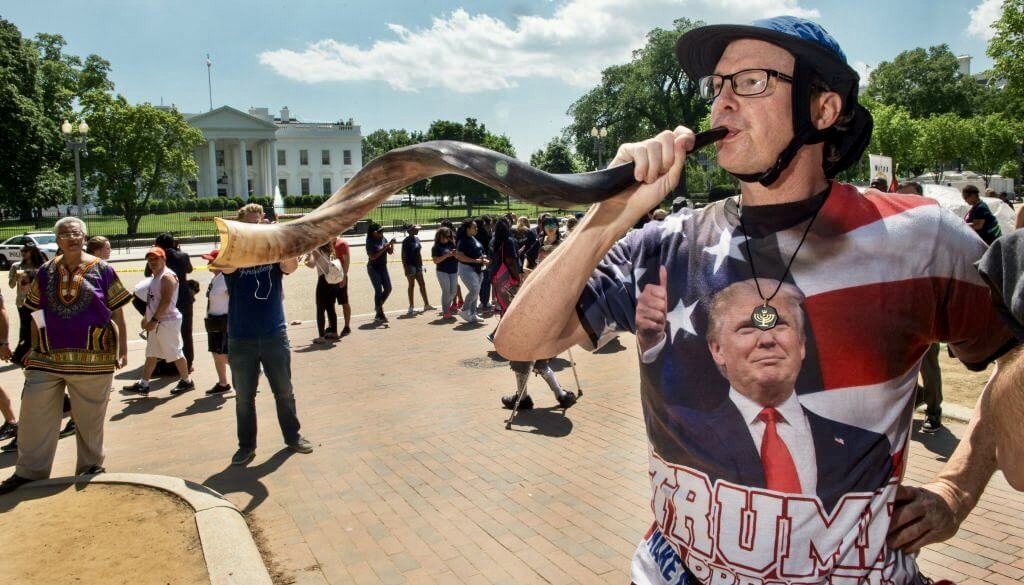 This article is part of our morning briefing. Click here to get it delivered to your inbox each weekday.
Why right wing Christian politicians are blowing the shofar: The tekiah you're used to hearing on Rosh Hashanah was recently blasted at a far-right rally in a Virginia megachurch. A Christian nationalist running for governor of Pennsylvania kicked off his campaign with a pastor blowing a shofar. The practice has become increasingly common in recent years, and is criticized by those who consider the misappropriation of Jewish ritual as a political prop. Especially at this time of year. Read the story ➤
A hurricane knocked out power to Puerto Rico. Here's how the island's two shuls are prepping for Rosh Hashanah: High Holiday services can be a long haul even in the best of circumstances. Now imagine hosting them in 88-degree weather with no air conditioning or plumbing. "It's going to be uncomfortable," said Vevio Schnitzer of Temple Beth Shalom in San Juan. Rabbi Mendel Zarchi of the local Chabad, noting that the community has survived historic hurricanes and earthquakes before, said: "These are resilient people." Read the story ➤

Opinion | Just in time for Rosh Hashanah, a new reason to feel guilty: Our Rob Eshman writes that his favorite Jewish ritual is tashlich, the symbolic casting away of our sins by tossing bread crumbs into a body of water. But now, citing concerns over animal welfare and food waste, people are saying it's irresponsible. Rob is an ardent environmentalist yet offers up a litany of rationalizations. It's "exactly how I wrestle with my own personal flaws in these days of reflection and atonement." Read his column ➤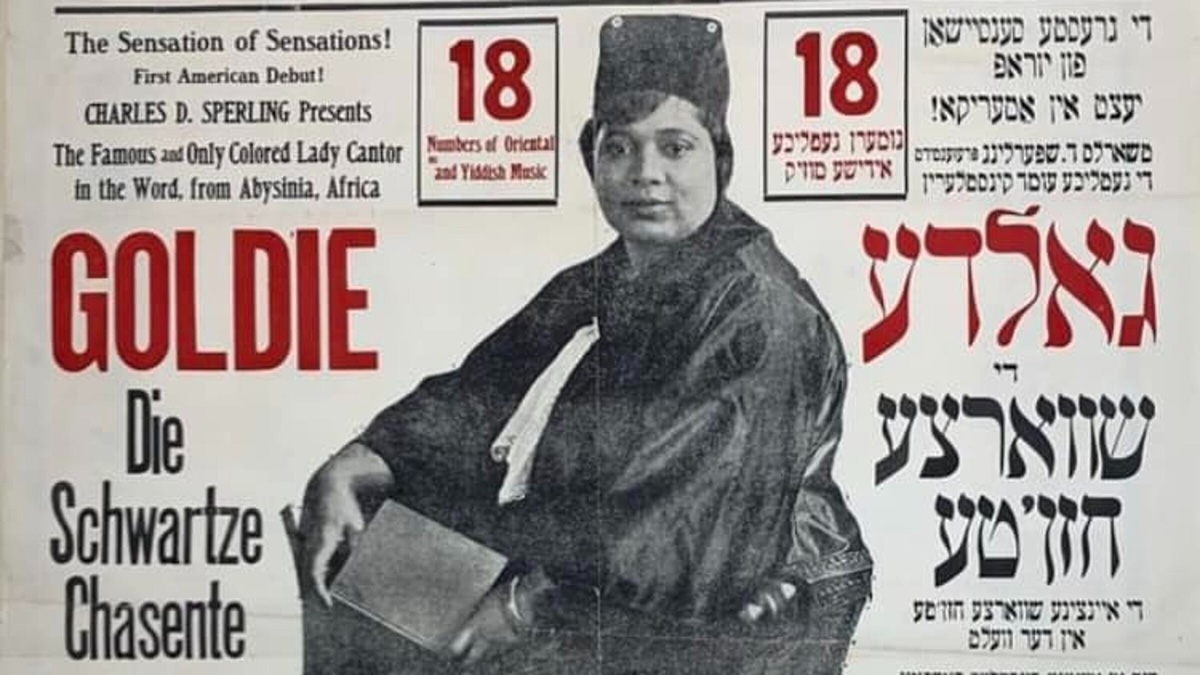 An ad from the early 1900s featuring Goldye Steiner. (Courtesy Pittsburgh Jewish Criterion)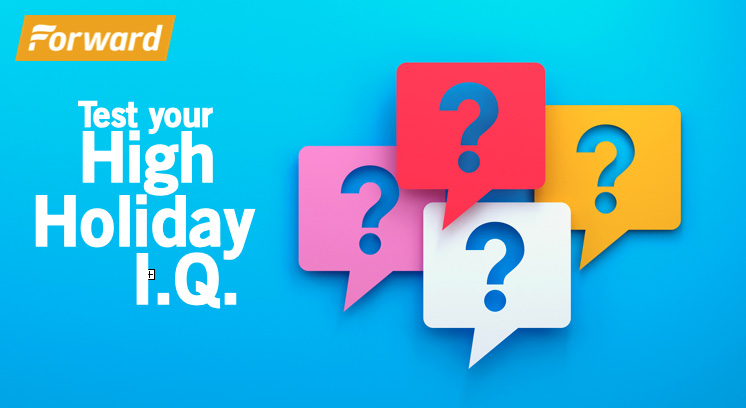 You know you're not supposed to tell people "Happy Yom Kippur," but do you know the proper greeting? Maybe you get Sukkot and Shavuot confused — which one has the huts? Can you name all the fruits and vegetables that get special blessings at a Rosh Hashanah seder? 

Not to show off, but our Mira Fox has a master's degree from Harvard Divinity School, and she's put together not one but three quizzes to help you bone up on the basics — and beyond. There's one overview of the holiday season, one on the traditional greetings for each day and, a bit more advanced, one on the symbolism behind the Rosh Hashanah seder plate. We won't tell your parents how you do.
WHAT ELSE YOU NEED TO KNOW TODAY
Timothy Hale-Cusanelli was sentenced to four years in prison. (Courtesy the Department of Justice)
⚖️  A military veteran and Nazi sympathizer was sentenced to four years in prison for participating in the Jan 6. attack on the U.S. Capitol. The man wore a "Hitler mustache" and was known to talk of killing and eating Jews; the judge cited his "sexist, racist and antisemitic comments" for the "significant sentence." (JTA)
📈  Speaking of which … a new ADL report says Florida has an "extensive" network of white supremacists and other far-right extremists. The report also says that Florida is home to the most people charged in connection with the Jan. 6 insurrection. (CNN)
📱  The widow of Jamal Khashoggi, the Saudi journalist who was killed and dismembered in a plot approved by the Saudi Crown Prince, is preparing a lawsuit against the NSO Group, an Israeli spyware company she claims hacked her phone in the months leading up to her husband's death. (The Guardian) 
📺  The Lincoln Project, a super PAC launched by a group of "never Trump" Republicans in 2019, has a new TV ad attacking Pennsylvania's Republican gubernatorial nominee, State Sen. Doug Mastriano. The ad highlights Mastriano's embrace of antisemites and association with Gab, a social media platform that was used by the man who killed 11 Jews at the Tree of Life synagogue in Pittsburgh. (YouTube)
🇵🇸  An independent report commissioned by Facebook and its parent company Meta found that they "violated Palestinian users' rights to free expression and assembly, political participation and non-discrimination" during the 2021 war between Israel and Gaza. The report did not find evidence of intentional bias by the company or individual workers. (AP)
🎬  A new Hollywood production company, Leviathan, will make Jewish stories for film and TV. The initial slate includes projects about King David and Rosalind Franklin, the Jewish scientist who discovered the structure of DNA. Leviathan is co-founded by Ben Cosgrove, a film producer, and Josh Foer, an author and the chairman of both Atlas Obscura and Sefaria, the online Jewish text repository. (Deadline, JTA)
💰  The Harvard Chabad announced a $5 million gift Thursday to endow its campus rabbi's position and fund a fellowship for students. "It's a historic moment," Rabbi Hirschy Zarchi, the group's founder and president, said of the gift by Omri Dahan, a tech executive who went to Harvard Business School, and his wife, Jackie Fine Dahan. (COL Live)
Shiva calls ➤  Edward Mosberg, a Holocaust survivor, died at 96. Earlier this year, our Nora Berman saw Mosberg speak at Auschwitz during the annual March of the Living. Watch his speech here …. Donald Blinken, a former diplomat and the father of Secretary of State Antony Blinken, died at 96.

Long weekend reads ➤  Pennsylvania's Josh Shapiro could be our first Jewish president, but first he needs to beat a Christian nationalist … How two British opera fans saved Jewish refugees from Hitler's camps … This clothing brand is tapping into the nostalgia and resilience of Yiddish.
Was this newsletter forwarded to you or are you reading it on our website?
Receive it in your inbox each morning by clicking the blue button below.
In the new issue of our print magazine: Many synagogues are no longer charging for High Holiday tickets, but some congregants still won't attend for fear of COVID; After an Israeli city refused to give space for a Reform synagogue to have services, a lawyer explains why he's suing; A stuttering cantor reveals how he embraced his speech disorder; and the Jewish establishment helps Hasidic yeshivas get public money even if they ignore state curriculum rules.
Ralph Bunche (left) with Israeli Prime Minister Levi Eshkol in 1966. (Wikimedia)
On this day in history (1950): Ralph Bunche was the first African-American to win the Nobel Peace Prize — "for his work as mediator in Palestine." Bunche had worked to resolve the Israeli-Palestinian conflict through a United Nations committee, and received the Nobel for his role in negotiating the 1949 Armistice Agreements.
Last year on this day, our colleagues at JTA reported that a Jewish aide to Ukrainian President Volodymyr Zelenskyy survived an assassination attempt.  

In honor of the 73rd birthday of Bruce Springsteen, check out our secret Jewish history of "The Boss."
Impress your friends this Rosh Hashanah with 10 High Holiday phrases in Yiddish, courtesy of Rukhl Schaechter, the Forward's Yiddish editor.
–––
And now, time to play! Take our Jewish news quiz to see how well you've been following the headlines this week.
Take today's Vertl puzzle, the Yiddish Wordle
Thanks to Samuel Breslow, Mira Fox, Jacob Kornbluh, Rina Shamilov, Robin Washington and Talya Zax for contributing to today's newsletter. You can reach the "Forwarding" team at [email protected].