Forwarding the News
The man who escaped Auschwitz to warn the world
Trump disparages Jewish Americans in new video, why Kanye shouldn't visit a Holocaust museum, Twitter purges accounts meddling in Israeli election, and the NBA eyes a Shabbat-observant player.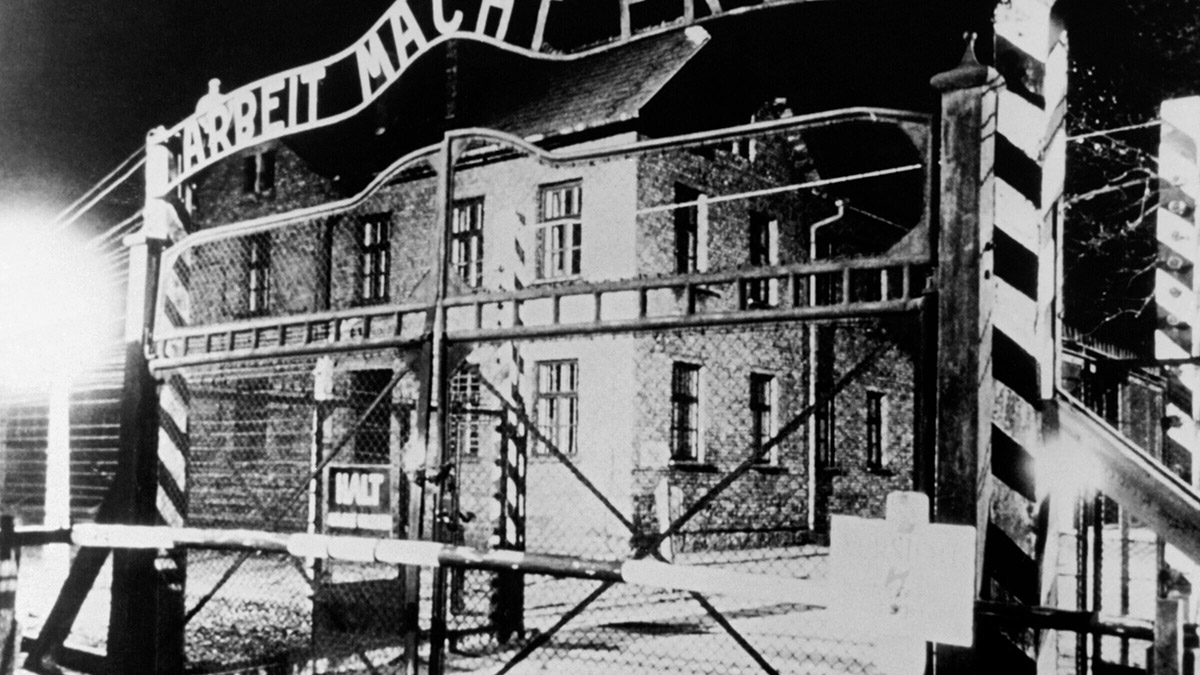 This article is part of our morning briefing. Click here to get it delivered to your inbox each weekday.
'The Escape Artist' who broke out of Auschwitz to warn the world
In April 1944 — after around 1.75 million Jews had been slaughtered in front of their eyes — Walter Rosenberg and Alfred Wetzler were among the first people to escape Auschwitz. Rosenberg's life story is told in a new book out this week from journalist Jonathan Freedland.

Man on a mission: Rosenberg – who took the identity of an Aryan Czech, Rudolf Vrba, and kept that name for the remainder of his life – didn't just escape to save himself: he wanted to bring truth to the world. "It was clear to him," writes Freedland, "that the Jews destined for destruction could defy their fate here only if they knew of it." He needed to "warn the world" — and specifically the half million Hungarian Jews who were yet to be transported to Auschwitz at the time of his escape.
Jonathan Freedland is the author of 'The Escape Artist.' (Philippa Gedge)
High praise: "It's a weighty but sharp tale that should become one of the most stunning texts on required high school reading lists of the future," Dan Friedman writes in a review.
Context: The book's publication comes on the heels of Ken Burns' PBS documentary, "The U.S. and the Holocaust," which also covered the warnings – and often tepid response – of those who were witnessing the genocide firsthand.
Postscript: Vrba went on to have a career as a biochemist in the U.K. and Canada, but he was always more famous as a Holocaust witness. Oscar-winner Aaron Schneider announced this summer that he will be directing a movie about Vrba.
Ben Shapiro, former President Donald Trump and Kanye West share a view of what the right kind of Jew looks like. (Getty/Montage by Laura E. Adkins)
We've got three stories tracking the continuing fallout from recent antisemitic comments made by former President Donald Trump and rapper Kanye West…
Opinion | Hey, Kanye West defenders, critiquing 'secular elites' is actually still antisemitism: In the wake of West's recent tirades, conservative commentators chimed in to say that the rapper's remarks were not directed at "religious Jews," but "secular elites," and thus not terribly problematic. Emily Tamkin dismantles this argument, noting that antisemites have long weaponized the distinction between observant and secular Jews. She cites as examples Trump and rightwing podcaster Ben Shapiro. "The complicated reality," Tamkin writes, "is that all American Jews are inheritors of American Jewish tradition and history." Read her essay ➤
New video leaks of Trump disparaging Jewish Americans, repeating antisemitic tropes: A documentary filmmaker who interviewed the former preisdent last year released a clip that shows Trump asking whether the filmmaker was a "good Jewish character," describing Persians as "very good salesmen" and complaining that Israeli Jews favored him more than Jews in the United States. Trump also talked about commuting the sentence of "the rabbi" from Iowa, referring to Sholom Rubashkin, who ran a kosher meat packing plant and was not in fact a rabbi. The video comes on the heels of Trump's recent social media post warning American Jews to "get their act together… before it is too late!" Read the story ➤
Would going to a Holocaust museum actually cure Kanye's antisemitism? The cycle has become familiar: celebrity makes antisemitic statement, Jewish leader invites them to visit a Holocaust museum or attend a Shabbat dinner. But West, who has legally changed his name to Ye, rejected an invitation from the Holocaust Museum LA aimed at helping him understand the harm of his statements. Our Mira Fox says that might be for the best. "The Holocaust museum stunt not only gives antisemitic figures a chance to show contrition, but also allows them to claim ignorance," she writes. "It makes one wonder why, exactly, Jewish organizations are so eager to participate." Read her take ➤
And in other news…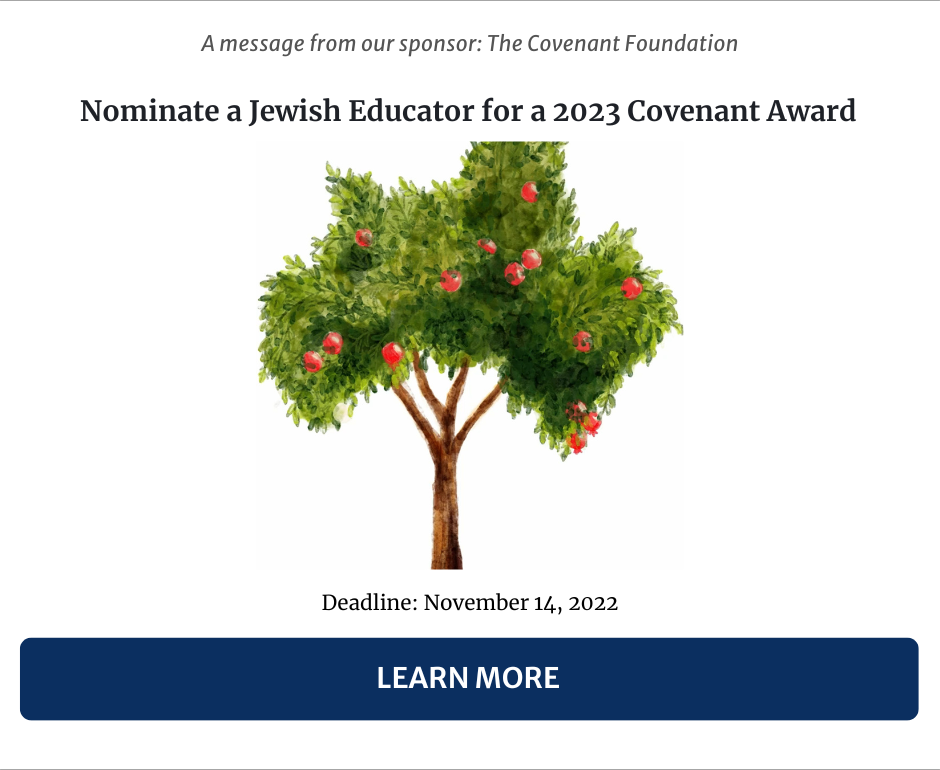 Forwarding the News is now also available on our website. Click on the blue button below to share it on social media or send to friends.
WHAT ELSE YOU NEED TO KNOW TODAY
A man walks by a display of fallen Ukrainian soldiers on Wednesday in Kyiv. (Getty)
🇺🇦  The Ukrainian government sent Israel an official request for the Iron Dome and other defense systems that will allow it to counter any Iranian ballistic missiles and Iranian attack drones used by Russia in Ukraine. Israeli Defense Minister Benny Gantz said his country would be open to providing early-warning defense systems, but not weapons. (Axios, Times of Israel)
🇮🇱  And speaking of Israel … Twitter removed more than 40 fake accounts run by foreign entities trying to increase tension among right-wing voters ahead of the country's Nov. 1 election. (Times of Israel)
😲  Three weeks after a prominent pro-Israel activist accused the University of California, Berkeley of creating "Jew-free zones," two trucks rolled into town to address the controversy. One displayed a massive picture of Adolf Hitler. "All in favor of banning Jews, raise your right hand," read the billboard on the side of the truck. (JTA)
✍️  Meanwhile, a group of Jewish law school students at Berkeley penned an OpEd saying that while "Jew-free zones" were fake news, there is "an unacceptable tolerance for excluding and demonizing Zionist identities" on campus. (Daily Beast)
🧕  The story of a New Jersey second-grader who told her mother that her teacher tried to pull off her hijab went viral on social media. Now, it's spawned multiple lawsuits – including one involving an Olympic medalist. (New York Times)
📺  Two Jewish women – Lizzy Savetsky and Erin Lichy – will join the cast of "The Real Housewives of New York" for its next season. Savetsky did not attend the Sunday event announcing the news because she was observing Sukkot. (NY Jewish Week)
Shiva call ➤  Robert Gordon, a musician best known for leading the revival of rockabilly in the 1970s, died at 75.

What else we're reading ➤  Israeli soldier arrested for joining settler attack on IDF unit in occupied West Bank … Former Trump adviser goes grassroots to spread Christian nationalism … Synagogues tap into mobile apps like Venmo for collecting charity.
Was this newsletter forwarded to you or are you reading it on our website?
Receive it in your inbox each morning by clicking the blue button below.
Nelly Sachs and S. Y. Agnon shared the Nobel Prize in Literature in 1966. (Wikimedia)
On this day in history (1966): The Nobel Prize for Literature was jointly awarded to Shmuel Yosef Agnon and Nelly Sachs. Agnon, who was born in Eastern Europe before emigrating to Mandatory Palestine, famously wrote short stories inspired by the Jewish people's plight as they reconciled their identities in the modern world. Upon receiving the Nobel, he introduced himself in Hebrew, saying: "I was born in one of the cities of the exile. But I always regarded myself as one born in Jerusalem." Sachs, who was born in Berlin and escaped to Sweden just as World War II began, started her career as a poet and a playwright. Contrary to how Agnon saw himself — as part of a literary movement of the Jewish future — she saw herself as the representative of "the tragedy of the Jewish people."
Last year on this day, our colleagues at JTA reported that Rachel Levine became the most senior transgender person in the uniformed services when she was sworn in as the admiral of the U.S. Public Health Service Commissioned Corps.

On the Hebrew calendar, it's the 25th of Tishrei, the yahrtzeit of Rabbi Levi Yitzchak of Berditchev, a Hasidic leader in Poland and Ukraine, who died in 1809.
Representatives of the Jewish Agency for Israel had a court date in Moscow Wednesday over the government's effort to liquidate its Russian branch — or so they thought. Anticlimactically, upon arrival parties were notified that the hearing over the motion, which is widely seen as retaliation for Israel's stance on the war in Ukraine, had been postponed for a third time, until December. 
–––
Thanks to Laura E. Adkins, Nora Berman, Mira Fox and Talya Zax for contributing to today's newsletter. You can reach the "Forwarding" team at [email protected].