Forwarding the News
'The world will never be the same': Four Ukrainian Jews reflect on a year at war
DeSantis takes credit for embassy move to Jerusalem, nearly $12 million shortfall at Yad Vashem leads to layoffs, rabbi's torn trousers up for auction, and the secret Jewish history of Tootsie Rolls.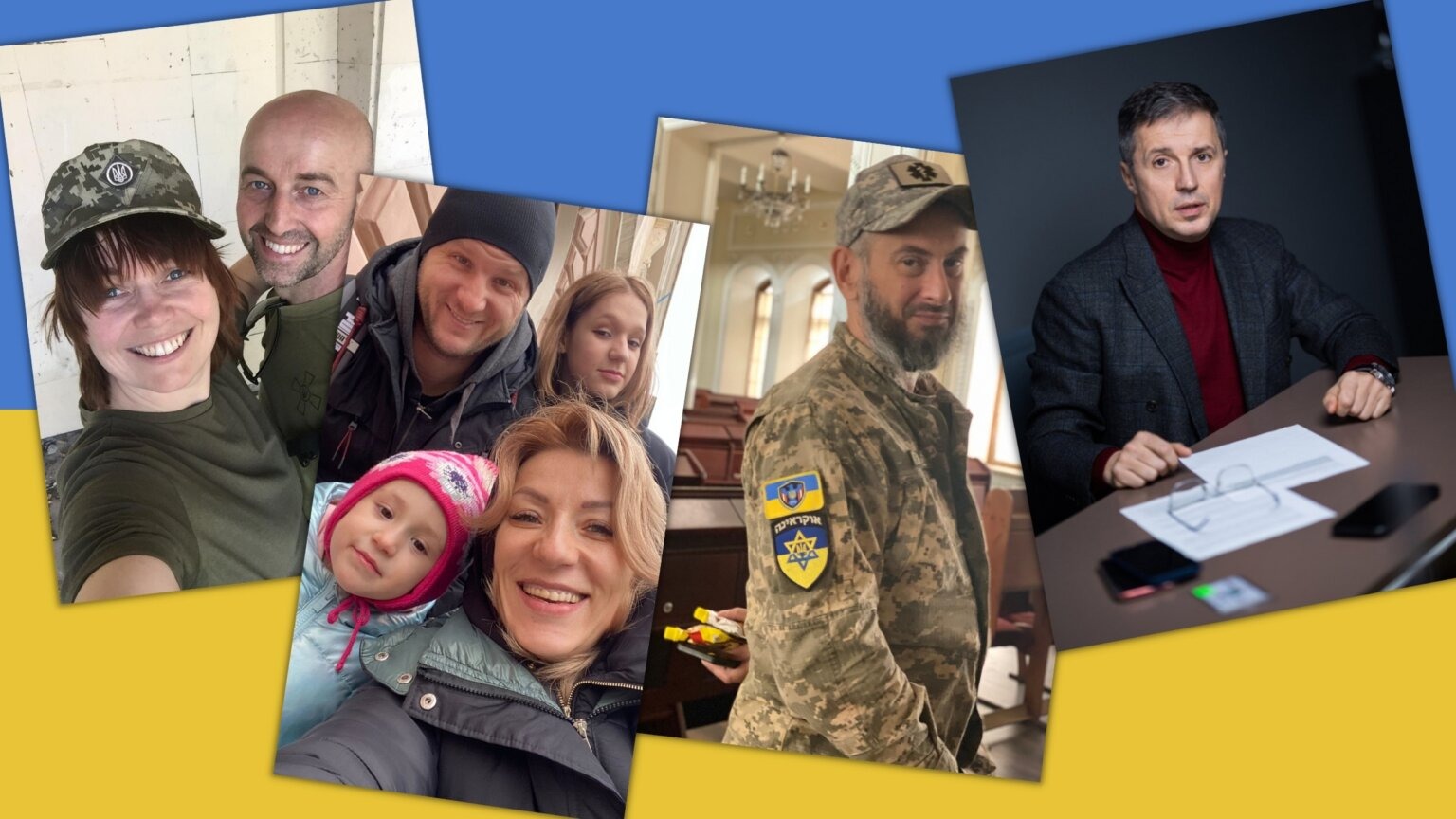 This article is part of our morning briefing. Click here to get it delivered to your inbox each weekday.
'How fragile human life is': Four Ukrainian Jews reflect on a year at war
Daily life for Helen Chervitz, who has filed several dispatches for us from Ukraine, is at once mundane and surreal. She works out regularly at her gym and enjoys watching Netflix with her husband. Assuming, of course, there's electricity in their apartment. If there's not, she uses emergency portable power stations and space heaters donated by American synagogues; when there is no running water, she melts ice from the balcony.
Helen has spent the past year chronicling the experiences of the Kyiv Jewish community – reporting on how they celebrated Passover and the High Holidays and Sukkot and Hanukkah amid the constant threat of bombs.
To mark Friday's one-year anniversary since the war began, Helen interviewed four Ukrainian Jews who have been separated from their children, been injured and seen death. They have each relied on their faith.
Asked what their hopes are from a year from now, one replied, "I expect a revival."

Tune into our YouTube channel at 11:15 a.m. ET today for a live conversation from Ukraine with Helen, and read our collection of essays reflecting on a year of war.
Walter Mosley at a red carpet premiere earlier this month in Los Angeles. (Getty)
Walter Mosley talks about his latest book — and his Jewish mother: The themes in Mosley's 60 books often reflect his experience as a Black man in America. But Mosley is also a Jewish man whose mother had a profound influence on the complicated stories he tells about love and loyalty, race and power, wealth and capitalism. In a wide-ranging conversation with our Beth Harpaz, Mosley talked about racism, antisemitism, and his Uncle Chaim. Read the story ➤

In this new play, all unhappy Jewish families are alike — and some look suspiciously familiar: The Wanderers, now showing off-Broadway, features two Jewish couples in Brooklyn that couldn't be more distinct: Hasidic newlyweds and secular authors. Plus: Katie Holmes portraying a famous actress who drives a wedge into one of the relationships. The play "embraces a deep skepticism of marriage," our Irene Katz Connelly writes in a review. "The hope seems to be that by acknowledging the institution's limits, we can salvage the intimate bonds that continue to draw people toward it." Read the story ➤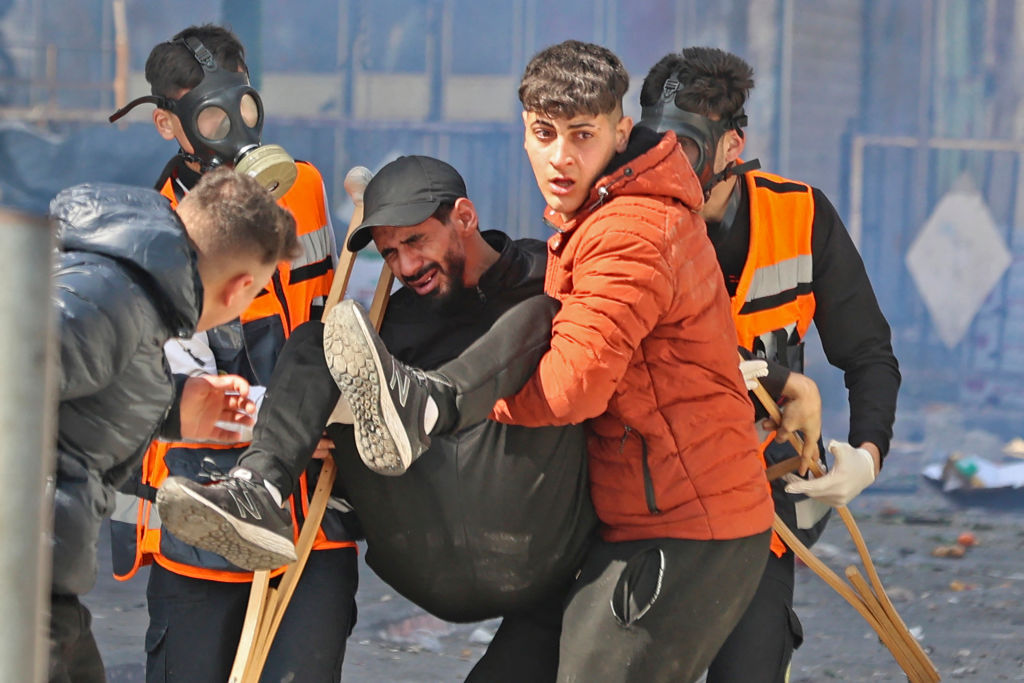 Palestinians carry away a wounded man on Wednesday during an Israeli raid in the occupied West Bank city of Nablus. (Getty)
Opinion | Extremists in Israel's government won't rest until all of the land is in flames: Wednesday's deadly Israeli raid in Nablus, which killed at least 10 Palestinians and injured more than 100, was part of an orchestrated provocation by Israel's new far-right government, argues Muhammad Shehada, our contributing columnist from Gaza. "Escalation is exactly the point," he writes. For Itamar Ben-Gvir, Israel's security minister, Shehada says, "the ugliness of the raid is a success, because it will fuel the surge of violence that got him into office, and allow him leverage and pretext to pass more of his extreme policies." Read the story ➤

And one more: In a forthcoming book, an early copy of which was obtained by the Forward, Florida Gov. Ron DeSantis claims to have laid the groundwork for the 2018 relocation of the U.S. embassy from Tel Aviv to Jerusalem. DeSantis is one of several outspoken supporters of Israel considering a bid for the Republican presidential nomination next year.
Spread the word! Invite someone
to sign up for this newsletter.👇
WHAT ELSE YOU NEED TO KNOW TODAY
Visitors toured Yad Vashem last month in honor of International Holocaust Remembrance Day. (Getty)
💸 Yad Vashem, Israel's Holocaust museum, is facing a financial crisis: The organization relies on private donations for about 60% of its budget, and is expected to have a nearly $12 million shortfall in 2023. Senior management at the museum has blamed the downturn in the global economy and has warned its 500-member staff of impending layoffs and forced early retirements. (Jerusalem Post)
🤦 After House Republicans removed Rep. Ilhan Omar, Democrat of Minnesota, from its Foreign Affairs committee over her past criticism of Israel, one of her Jewish staffers, Jeremy Slevin, came to her defense on Twitter. He promptly received a torrent of antisemitic harassment, with some calling him a "Jew in name only" and part of "Team Hitler." (Roll Call) … Related: Abe Silberstein, a contributing columnist, argues that if House Republicans were truly concerned about antisemitism, they would be dealing with their own members' remarks.
👖 A rabbi's torn trousers are going up for auction. Described as "holy pants" by a New Jersey auction house, they belonged to Rabbi Chaim Kanievsky, an Orthodox leader whose funeral last year was the largest in Israel's history. Starting bid: $3,200. (JTA)
😲 Authorities in New Hampshire are investigating a wave of vandalism attacks early Tuesday morning, including a swastika and a cross painted on a synagogue. Officials counted at least 14 acts of vandalism at Jewish and minority-affiliated institutions in Portsmouth, N.H., in the pre-dawn spree. (JTA)
✝️ A 10-by-19-foot painting of Jesus at the U.S. Merchant Marine Academy in New York was covered with a curtain after complaints from Jewish midshipmen. It's now being moved from an administrative building to a chapel on the Long Island campus. (JTA)
🎥 With his semi-autobiographical film The Fabelmans up for seven Academy Awards including Best Picture next month, director Steven Spielberg says he has "no idea" what movie to make next. Spielberg said he's "been on a bullet train making film after film after film for so many decades," and that not working on a new one is "kind of a nice feeling, and it's also a horrible feeling." (Vulture)
Shiva calls ➤ Simone Segouin, a member of the French resistance who fought the Nazis and became famous for appearing in Life magazine holding a submachine gun, died at 97 … Rick Newman, whose famed New York comedy club helped launch the careers of Billy Crystal and Robin Williams, died at 81.

What else we're reading ➤ The founder of Peru's only Jewish bakery looks to educate non-Jews through food — and Instagram stories … Why so many Latter-day Saints fall for Ponzi schemes … A stink bug was renamed after Hitler because of the unusual design on its back.
On this day in history (1896): Leo Hirshfield, an Austrian Jewish immigrant, sold the first Tootsie Rolls out of his Brooklyn candy shop. Hirshfield revolutionized the candy industry by individually wrapping his chewy chocolate candies, thus preventing them from sticking together. They're named for his daughter, Clara, whose nickname was "Tootsie."
Last year on this day, our colleagues at JTA reported that a court fined a Jewish school in Britain approximately $40,000 for taking 10 students on a hike during an ice storm.

Check out this recipe in honor of National Banana Bread Day.
Jewish theater professionals gathered Wednesday afternoon in a rehearsal studio overlooking Times Square to reflect on the neo-Nazi rally outside the Broadway performance of Parade, a musical about Leo Frank, the Jewish man lynched in Georgia in the early 20th century. The meeting, which began with a shehecheyanu blessing, ended in attendees trading email addresses in hopes of forming a Jewish advocacy coalition for the theater industry.
—
Thanks to Rebecca Salzhauer and Talya Zax for contributing to today's newsletter.
You can reach the "Forwarding" team at [email protected].