Forwarding the News
Photos: A year of being a Ukrainian refugee
Synagogues brace for 'Day of Hate' this Shabbat, Jewish family dies in fire, former prime minister warns of Israeli dictatorship, Netflix removing 'Shtisel,' and the Talmud's warning about 'Cocaine Bear.'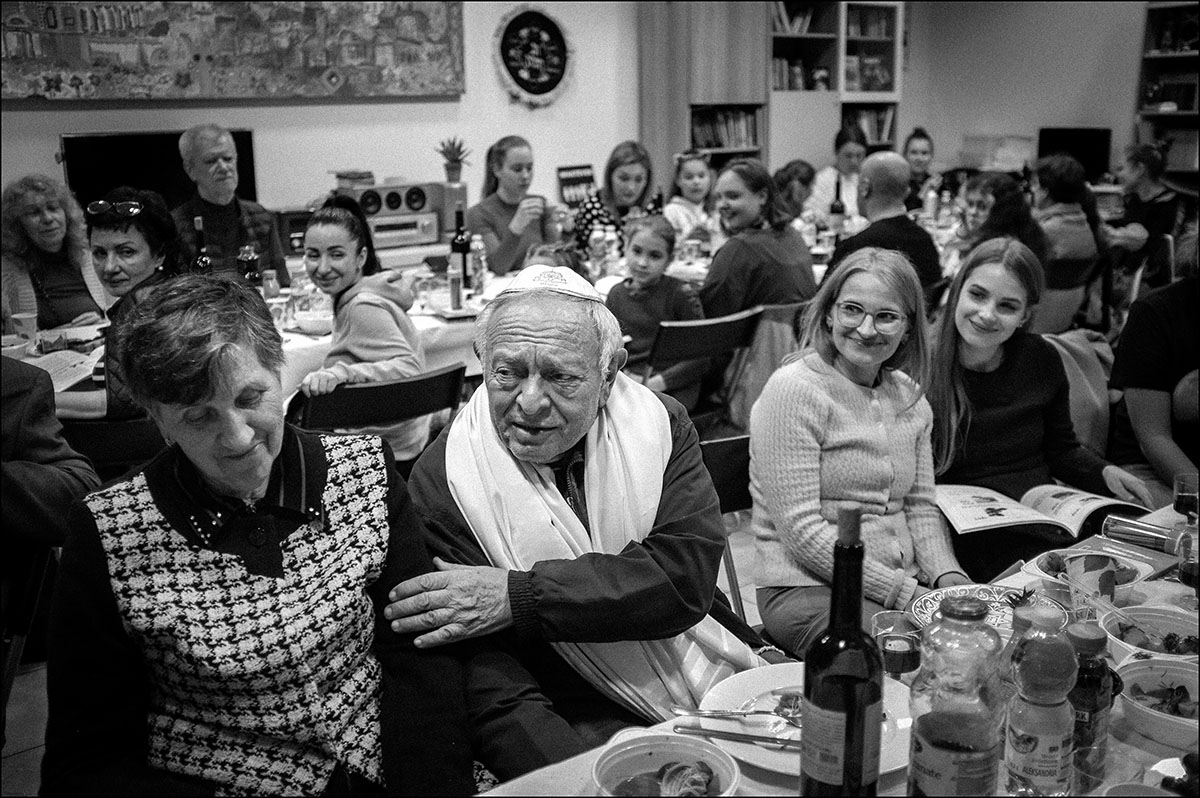 This article is part of our morning briefing. Click here to get it delivered to your inbox each weekday.
Since the Russian invasion one year ago today, 8 million Ukrainians have become refugees. Photographer Chuck Fishman has been chronicling their journey – sleepless nights in refugee centers, makeshift Passover seders at the JCC in Krakow, and a surreal stay at a 19th century castle. See his photo collection ➤

Ukrainians continue to seek a sense of normalcy as they attempt to rebuild their communities and embrace the unknown. One such group – young Jewish adults from around the region – gathered in Israel in November for a retreat, a distraction from the realities of war. Another hosts regular Shabbat dinners in Ukraine. See photos from their year ➤
Michael Waxman, a professor of natural sciences in Wisconsin, tutoring Ukrainian teenagers. (Courtesy)
Jewish professor who fled Soviet Union runs program tutoring 3,000 Ukrainian high schoolers: When the war broke out, Michael Waxman recalled thinking "that the only way that I could help was to do what I do my whole life, and that is teaching." So Waxman, who teaches chemistry and physics at the University of Wisconsin-Superior, posted on Ukrainian social media offering to tutor high schoolers virtually. Within a few months, more than 1,000 professors from around the world had joined him in Tutoring Without Borders, which now serves 3,000 Ukrainians — both refugees and those who remain in the country — online and for free. Read the story ➤
These Jewish orphans were rescued from Ukraine and sent to Berlin. So why are they headed back to Ukraine now? The war is not over, but the cost of keeping the more than 100 kids fed, housed and educated in Germany is about $800,000 a month. An online fundraiser fell far short of its goal, so the Chabad rabbi who helped with the original rescue will escort the orphans back home on Monday. Read the story ➤
Audiogram: "I'm sorry for crying," Masha Shumiatska wrote last March. "I don't remember what it feels like not having the war." One year later, Shumiatska sent us an audio postcard from Lviv, where she's been living since fleeing her home in Kharkiv. Listen to it here ➤

Read the essays that our opinion editors, Laura E. Adkins and Nora Berman, have collected reflecting on a year of war.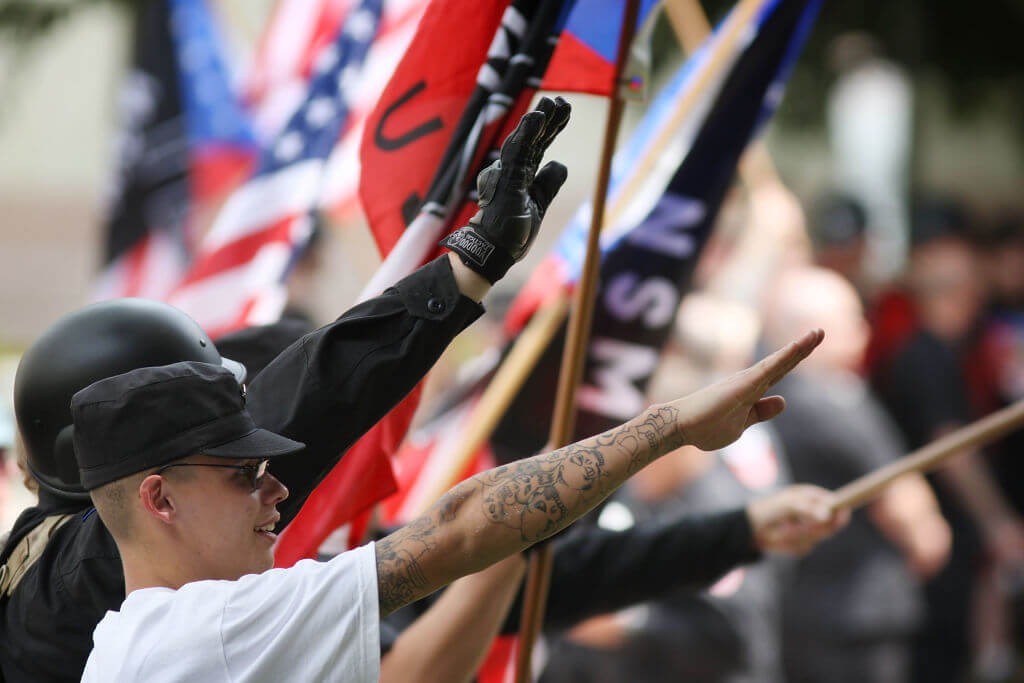 Jewish communities brace as white supremacists plan 'Day of Hate' this Shabbat: Police departments in New York, Chicago, Denver and other cities across the United States warned local synagogues that extremist groups are calling on supporters to harass Jews with antisemitic banners, flyers and graffiti on Saturday. The Anti-Defamation League said it has been hearing online chatter about the event for a few weeks. An NYPD spokesperson said that "out of an abundance of caution, the department will deploy additional resources to sensitive locations, including houses of worship." Read the story ➤

'I had to form a minyan' | Broadway's Jews gather to grapple with neo-Nazi incident: After antisemitic protesters harassed theatergoers attending Parade, a musical about the lynching of Leo Frank, about 50 Jews who work in New York theater met up for what they compared to "Jewish AA." They shared their fears and ideas for increasing security, and floated ideas for counterprotests, educational initiatives and an industry group focused on fighting antisemitism. "If you listen to the room, it is an energized hum, and it's not a funeral-like dirge," said Ari Axelrod, the actor who organized the gathering. Read the story ➤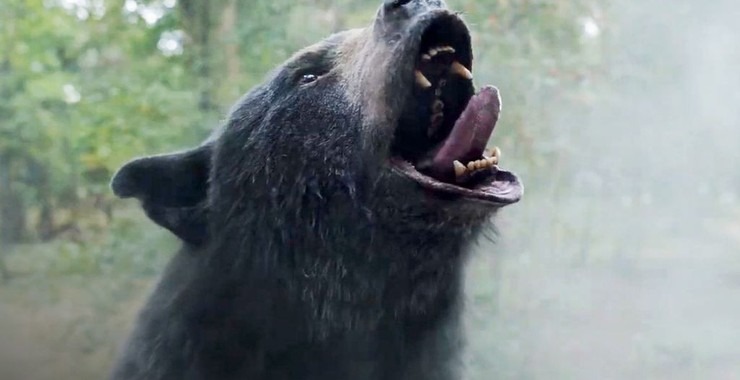 Is there a Jewish connection to 'Cocaine Bear'? Yes, yes there is. (Universal Pictures)
Did the Talmud warn us about Cocaine Bear? The much-buzzed about horror movie arrives in theaters today. It's based on the wild true story of a bear that accidentally stumbled upon some drugs and went on a killing spree in Georgia. What would the Talmud say about whether the bear or its owner should be liable for the damages — or tried for a crime? Our PJ Grisar spoke with a professor of Jewish law to find out. Read the story ➤
Opinion | I led two Birthright trips. Here's why I won't lead a third: "Facilitating a promotional tour financed by Bibi and his band of bigots does not sit right with me," writes Jamie DeLine, who has led tours that included LGBTQ Jews, Jews from interfaith families and converts. These are groups, she argues, that "would be legally discriminated against within Israel's borders should this new government's agenda succeed." Read her essay ➤

And one more: Liberal Israelis are terrified of Netanyahu's judicial reforms, a law professor and senior fellow at the Israel Democracy Institute writes in a new OpEd.
In this weekend's edition of our print magazine: You may have seen the ads on TV imploring viewers to "Shine a light on antisemitism." The multimillion dollar project is the brainchild of the Kirsh family, led by 92-year-old patriarch Natie, a billionaire who built and lost a fortune in apartheid South Africa and has maintained strong ties to Israel for decades — experiences that may provide clues to the campaign's approach. Our investigative reporter Arno Rosenfeld took a closer look at the organization. Plus: Stuart Eizenstat, a Jewish diplomat who served in the Carter administration, writes in a new essay that the former president should be remembered as a champion of the Jewish people. Download your copy now ➤
Spread the word! Invite someone
to sign up for this newsletter.👇
WHAT ELSE YOU NEED TO KNOW TODAY
Former Prime Minister Ehud Barak said Israel is facing 'the gravest' national crisis since 1948. (Getty)
🇮🇱 Former Israeli Prime Minister Ehud Barak said on Thursday that the government's push to overhaul the judiciary put the country weeks away from becoming a "de facto dictatorship," and that citizens may need to disobey what he called "an illegitimate regime." Meanwhile, a middle school teacher in a Tel Aviv suburb was fired for "incitement" after leading a class discussion about the government's planned judicial overhauls. (Times of Israel, Haaretz)
💰 The Washington Post reviewed nearly 50,000 records of a reputation-management company that promises it can secretly remake anyone's online image. Among the findings: The company was hired to suppress articles criticizing the compensation the nonprofit International Fellowship of Christians and Jews paid its founding rabbi and his daughter. (Washington Post, JTA)
🔥 A Jewish couple and their 7-year-old daughter died in a house fire Wednesday night in Monroe, New York, near the Hasidic village of Kiryas Joel. Funerals were held on Thursday. (ABC 7)
🖼️ A German Jew was forced to sell Edvard Munch's "Dance on the Beach" to a Norwegian shipowner shortly after Hitler rose to power. Thanks to an agreement with the heirs of both families, the expressionist masterpiece is going up for auction next Wednesday, and is expected to fetch $15-$25 million. (Times of Israel)
🧕 A bill allowing religious student athletes to wear modest clothing during games passed unanimously in the Utah Senate, after the legislature heard from a pair of Muslim students who said they had felt uncomfortable wearing their hijab on the court. The bill is now headed to the governor's desk. (Deseret News)
✝️ An Orthodox synagogue in Arizona hosted the Catholic wedding of its maintenance manager. One of the congregants brought a special gift: a blessing from the pope. (Wall Street Journal)
😲 Time is running out to stream Shtisel, the popular TV series that follows the multigenerational drama of a religious family in Jerusalem, on Netflix. The company, which licenses the show from an Israeli studio, plans to remove all three seasons of Shtisel after March 24 as part of company-wide cost-cutting measures. (What's on Netflix)

Long weekend reads ➤ Tomb raiders, crooked art dealers, and museum curators fed billionaire Michael Steinhardt's addiction to stolen antiquities … How American Jews' relationship with Israel went from 'Exodus' to anguish … The American heiress who risked everything to resist the Nazis.
On this day in history (2012): Jan Berenstain, co-creator of The Berenstain Bears, died at 88. Jan Grant, who grew up Episcopalian, met Stan Berenstain, who was Jewish, on the first day of a drawing class they both took at the Philadelphia Museum School of Industrial Art. They were married for 59 years and wrote and illustrated scores of books together. Their eponymous grizzly bear family seemed Jew-y to some, but their son Mike took the series in what our reporter called a "decidedly goyish direction" in 2010.
Laura E. Adkins, our opinion editor, joined me to discuss this week's headlines — including the latest lies from Rep. George Santos and the strange story of a famous rabbi's pants that are going up for auction. Plus, we talked with Helen Chervitz, a freelancer in Kyiv, about the one-year anniversary of the war in Ukraine. Watch the video ➤
—
Thanks to Nora Berman, Rebecca Salzhauer and Talya Zax for contributing to today's newsletter. You can reach the "Forwarding" team at [email protected].