Forwarding the News
Why was this Florida town vandalized with laser swastikas?
Six Palestinians killed in raid, Biden officials decline event invite over Smotrich, White House to host Jewish women's forum and lawmaker named Esther passes antisemitism bill on eve of Purim.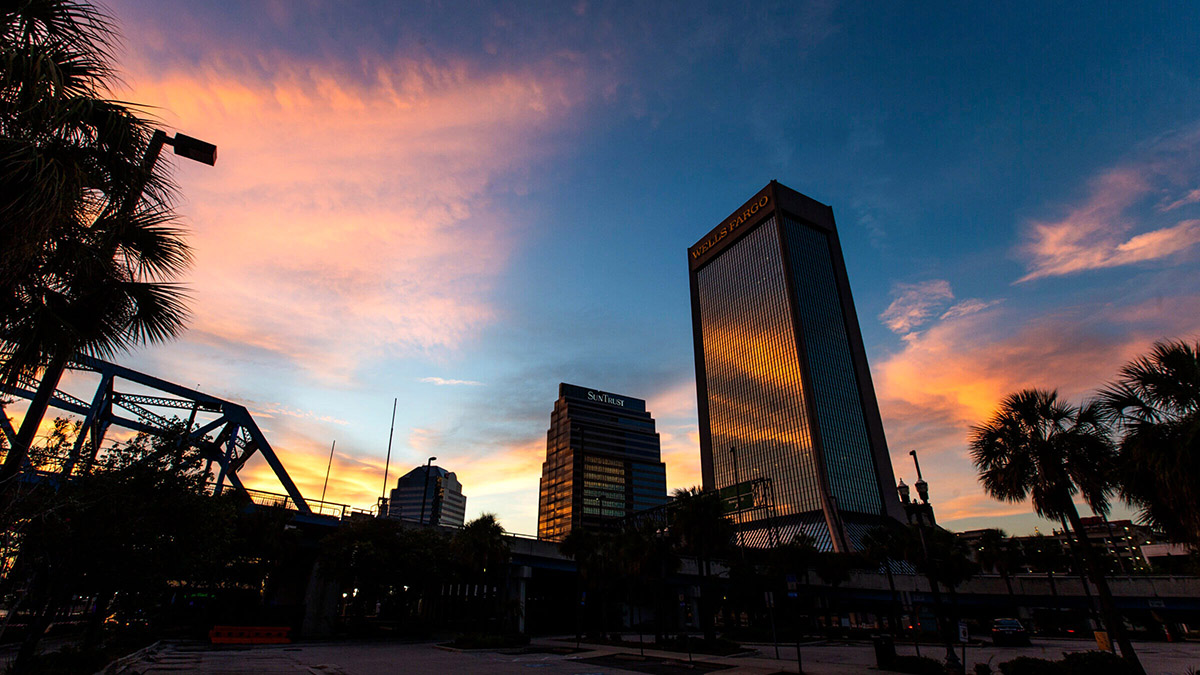 This article is part of our morning briefing. Click here to get it delivered to your inbox each weekday.
What do you do when neo-Nazis start projecting swastikas across your city?
Two white supremacist groups picked Jacksonville, Florida, to launch a campaign projecting antisemitic messages on landmarks. Why did they choose this city as a proving ground for their new technology? Was it evidence of a deep antisemitic vein in the region? Our investigative reporter, Arno Rosenfeld, spoke to the city's Jewish leaders in search of answers.
New stunt: For years, Jew-haters have painted public places with swastikas, held offensive banners on freeway overpasses and placed antisemitic stickers on light posts. But in October, they unveiled a new technique — using lasers to project "Kanye is right about the Jews" onto the stadium at a college football game.
New trend: "Tom Brady got Jew'd" appeared, again via laser-projection, on a parking garage the following month. In December, projections showed up on a downtown bridge and on a former Navy ship docked in the St. Johns River. A towering symbol that combined a swastika and cross was projected in January onto the headquarters of the railroad company CSX, one of Jacksonville's largest employers.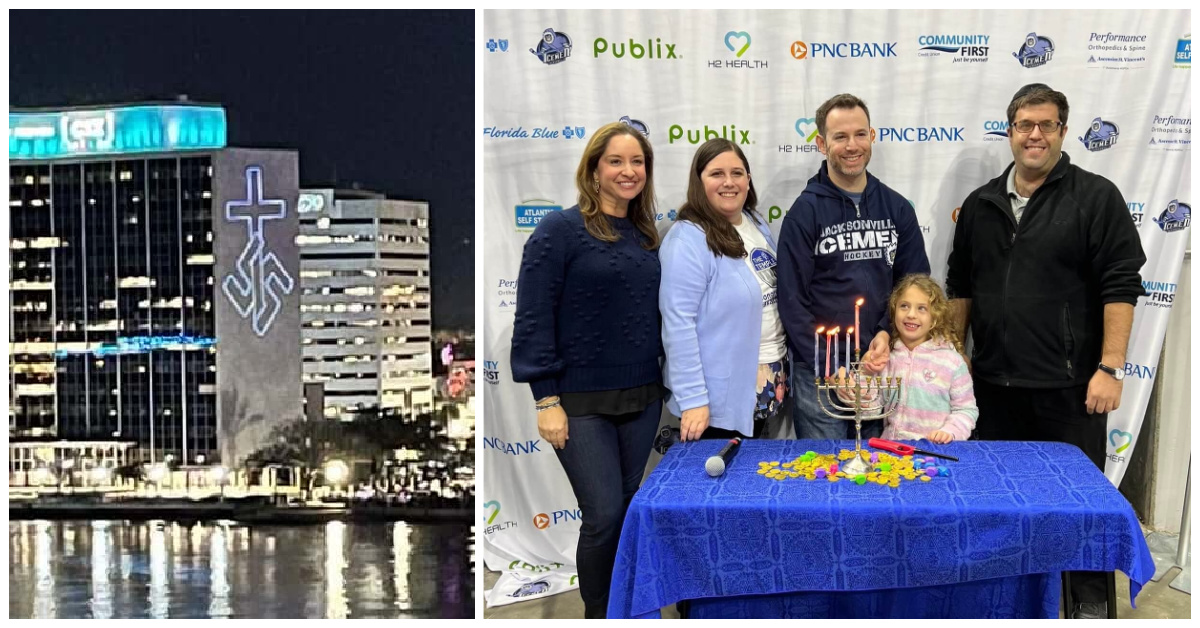 A swastika and cross was projected onto the headquarters of one of Jacksonville's biggest companies in January. Rabbi Maya Glasser, second from left, participates in a menorah lighting at a hockey game in 2021.
State of play: Jacksonville has between 10,000 and 15,000 Jews, four synagogues and two Chabads. It is also where the leader of the Goyim Defense League relocated from the Bay Area last fall. That group, which has blanketed communities across the country with antisemitic fliers, among other stunts, spearheaded the laser projections alongside another local group, according to the Anti-Defamation League.
Combating hate: Jacksonville's city council made it illegal to project images on a building without the owner's permission in late January. Meanwhile, local civic leaders and businesses contributed $1.7 million to a fund to combat antisemitism. Among its projects is adding a security director to the local Jewish federation.
Progress, but how much? There have also been complaints about antisemitic bullying in the city's schools, though some say the situation is better than it used to be. "Jacksonville's come a long way," said Susan Datz Edelman, an active member of Congregation Ahavath Chesed, who has spent most of her life in the city. "But there's part of it that's very provincial."
You only have a couple more weeks to stream 'Shtisel' on Netflix. (Yes Studios)
Will the streaming wars destroy the golden age of Jewish TV? For years, streaming services like Netflix and HBO Max produced copious amounts of content. The panoply of shows and algorithmic targeting enabled greater range and experimentation, including series like Shtisel that gave a nuanced, in-depth representation of Judaism. But in the past few months, the financial tides have turned. Streaming companies are raising subscription prices, removing content from their libraries and ending the international licensing deals that brought us shows like Shtisel. Our culture writer Mira Fox wonders: Is American TV about to become straight, white and Christian again? Read the story ➤
Disability rights advocate Judy Heumann transformed my sons' lives — and mine: Michelle Buzgon has many memories of Heumann, whose funeral is this morning: seeing her around shul and dining with her two weeks ago have been top of mind since the legendary disability-rights advocate died this weekend at 75. But it was the connection that Judy had with Judah, Michelle's disabled son, that she will forever remember. "She pushed my thinking forward in so many ways," Michelle writes. Read her essay ➤
But wait, there's more…
Spread the word! Invite someone
to sign up for this newsletter.👇
WHAT ELSE YOU NEED TO KNOW TODAY
Relatives of Ziad al-Zaraini, a Palestinian killed Tuesday, react as mourners gathered outside their home. (Getty)
🇮🇱 Israeli troops raided the city of Jenin Tuesday, killing six Palestinians, including the man believed to have killed Israeli brothers ages 19 and 21 in late February as they drove near the settlement where they lived in the occupied West Bank. Early Wednesday morning, a rocket launched from Gaza sent residents of southern Israel scrambling for shelter. (Haaretz, Times of Israel)
♀️ The White House will host its first-ever Jewish women's forum tomorrow. Second Gentleman Douglas Emhoff and Anne Neuberger, the deputy national security adviser, are among the administration officials slated to speak to 70-plus invitees. (Twitter, The 19th)
💉 Nearly 10,000 federal employees have filed a lawsuit against the Biden administration saying its COVID vaccine mandate infringes upon their religious freedom. They argue that the mandate — which is currently on hold — resulted in a hostile work environment and adverse professional ramifications despite its medical and religious exemptions. (Government Executive)
🇺🇸 As part of a series of "focus groups," The New York Times asked 13 American Jews "of different ages and political affiliations" about their hopes and fears. "I want to be proud to wear a Jewish star around my neck," said a Democrat who lives in North Carolina, "but I'm afraid of the attention that might draw and how that could adversely affect my family." (NYT)
🙏 The Supreme Court opted not to take a case involving a prayer vigil backed by the local government in a central Florida city. Two atheists sued the city of Ocala over the 2014 vigil, saying government officials' involvement in it violated the First Amendment principle separating church and state. The lawsuit may continue in a lower court. (USA Today)
📚 Franz Kafka was a devotee of Yiddish theater, fell in love with his Hebrew teacher and once encountered the owner of a brothel he frequented in synagogue on Yom Kippur. These broad strokes of Kafka's biography have long been known, but a new English translation of his diaries gives readers a much fuller picture of his complex, contradictory relationship with Judaism. (JTA)
📺 A new comedy series offers a humorous take on Jews living in New Zealand, a country that has five times as many sheep as people. The show centers around an unmarried 29-year-old living with her Orthodox parents, a fictitious boyfriend and a real pregnancy. Watch the trailer. (Haaretz)

What else we're reading ➤ Israeli artist on the connection between her anorexia and religion and why she sees "hospitals as a holy place" … South Carolina lawmakers pave way to fund religious schools with public money … Henry Winkler, aka the Fonz, has a new memoir.
Brothers Joel and Ethan Coen have together made 18 (chai!) movies. (Getty)
On this day in history (1996): Fargo, directed and written by Joel and Ethan Coen, was released in the U.S. The Coen brothers won the Oscar for best screenplay, and Frances McDormand, Joel's wife, won best actress. Writing for the Forward in 2014, Gabe Friedman said that one of the film's most famous scenes was the best in the Coen brothers' careers.
Last year on this day, we wrote about songwriter Diane Warren, who was nominated for 13 Oscars – but never won. She's nominated again this year. #FingersCrossed
It's International Women's Day. Ellen Cassedy, a founder of the 9-5 movement, says in a new OpEd that her lifetime of fighting for working women was inspired by the stories she heard about Yiddish-speaking women and girls in the garment industry who went on strike for better wages and hours. Bonus: Watch a Yiddish rendition of Dolly Parton's song, "9 to 5."

It's also National Oregon Day, so why not read about the 19th century Jews who traversed the Oregon Trail.
A new album of traditional Hasidic nigunim, melodies without words, features 22 women from different denominations blending prayers with elements of Yiddish folk and klezmer music. In the video above, watch their rendition of a song that originated in a shtetl in Russia. Read more about the band ➤
—
Thanks to Mira Fox, Beth Harpaz, Tani Levitt, Arno Rosenfeld and Talya Zax for contributing to today's newsletter. You can reach the "Forwarding" team at [email protected].