Forwarding the News
'Fiddler' star Topol dies + Conservative movement finds 'highly sexualized culture' in youth groups
'Day of Resistance' underway in Israel, synagogue shooter says he was praying for bird, Jewish women of Congress tackle antisemitism, and racial Purim costume causes controversy.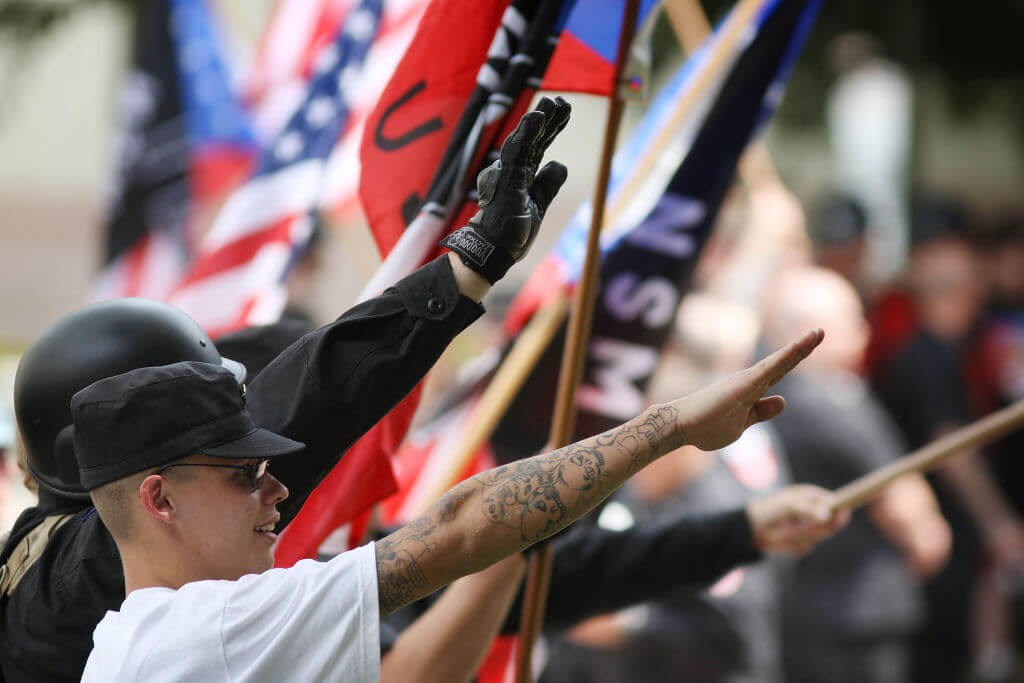 This article is part of our morning briefing. Click here to get it delivered to your inbox each weekday.
White supremacists passed out more propaganda than ever in 2022: That's according to a new Anti-Defamation League report out this morning. The group found 6,751 incidents of white supremacist propaganda, a 38% increase from the previous year and the highest number since the ADL began tracking it. Among those propaganda incidents, according to the ADL, 852 — about 13% — were antisemitic, more than double the number in 2021. Carla Hill of the ADL said a "a small number of people" were responsible for large numbers of incidents, adding: "One person can literally make a town feel like it's inundated with antisemites." Read the story ➤

Conservative movement finds 'highly sexualized culture' in youth programming: The group released a report Wednesday identifying 40 victims of sexual abuse or misconduct over more than seven decades. No adult accused in the report is currently associated with the movement. "We are heartbroken by these accounts," said Rabbi Jacob Blumenthal, CEO of the movement's umbrella groups for both synagogues and rabbis, "and feel deep sorrow that any individual may have suffered." Read the story ➤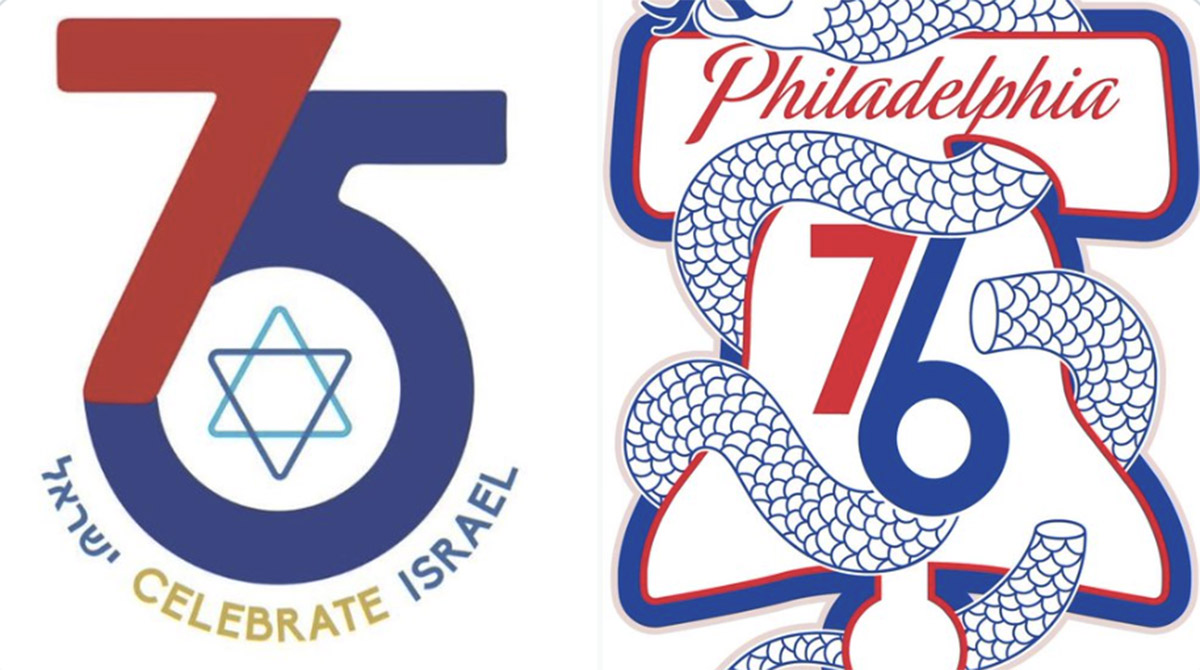 Why does this logo for Israel's 75th anniversary look like a Philadelphia 76ers knockoff? The two designs share a color scheme, a nearly identical font for the numbers and – who knows – perhaps even a geographic brotherhood. "I'm glad you're noticing the logo," Herbert Block of the American Zionist Movement, told our sports reporter, Louis Keene. "Maybe people will celebrate more in Philadelphia, because of the logo." Read the story ➤

A Purim costume spoofing police brutality triggers concerns about racism and insensitivity: The photo of two girls dressed as cop and prisoner posted to the Instagram account @OnlySimchas received nearly 300 likes Wednesday before it was taken down amid complaints. Some commenters noted previous costume controversies like a 2021 incident in which Haredi Jews in in Lakewood, New Jersey, wore blackface, wigs and Black Lives Matter sweatshirts. And this was not the only dicey costume on the OnlySimchas page this Purim — another post featured someone dressed as the QAnon Shaman from the Jan. 6 attack on the Capitol, complete with white supremacist symbols. Read the story ➤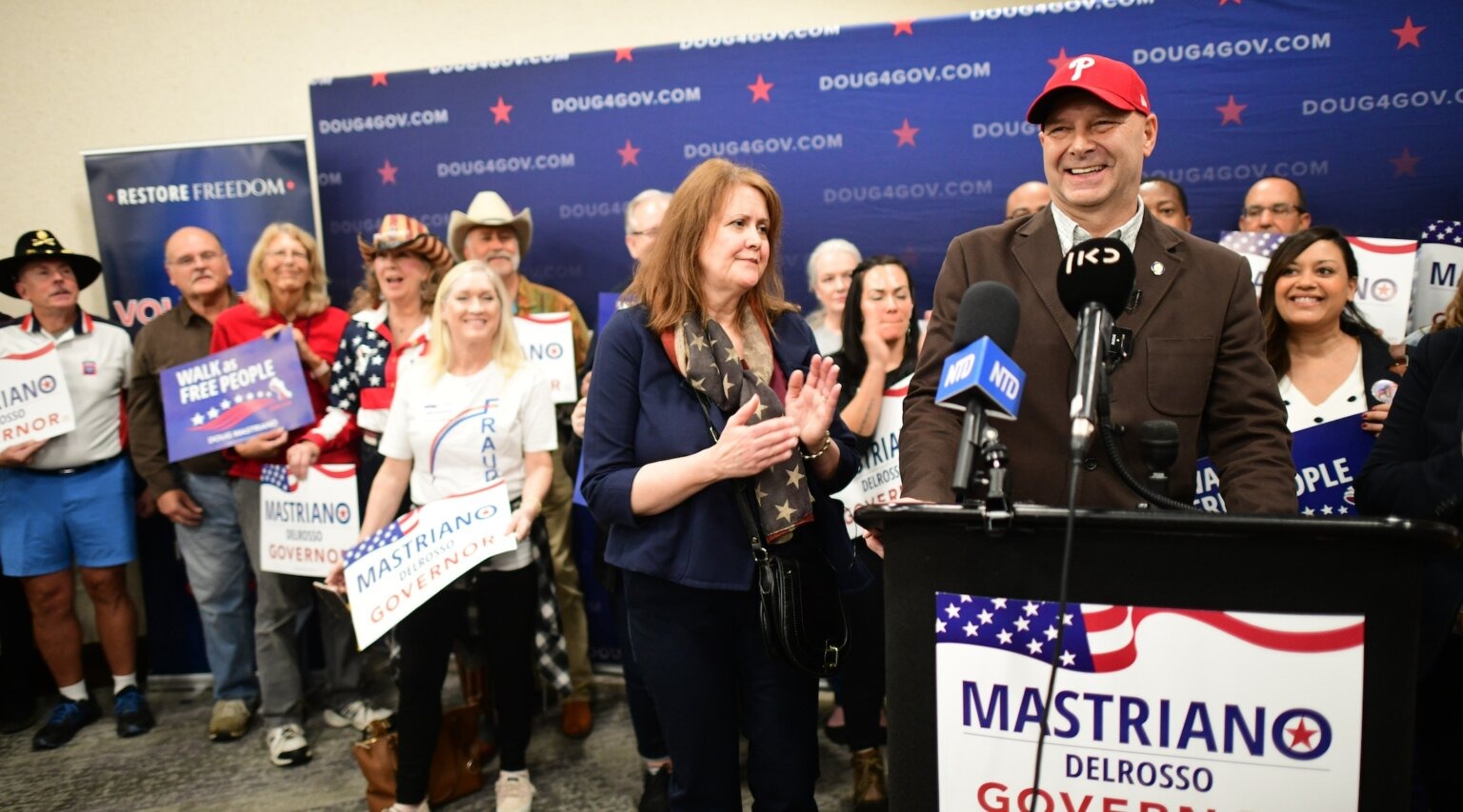 Doug Mastriano, a Pennsylvania Republican, with his wife, Rebecca. (Getty)
Chaim Topol, left, and director Norman Jewison on the set of the film version of 'Fiddler on the Roof.' (Zeitgeist Films)
Chaim Topol, the star of Fiddler on the Roof on screen and stage, died at 87. Topol, an Israeli native, won two Golden Globe awards and was nominated for both the Tony Award and a best actor Oscar, for playing Tevye and for his leading role in the film Sallah Shabati. His death was announced this morning by President Isaac Herzog of Israel. Once described by the Jerusalem Post as "Israel's most famous export since the Jaffa orange," Topol was awarded the prestigious Israel Prize in 2015. In his later years, he was chairman of the board of Jordan River Village, a camp serving children with life-threatening diseases. Read his obituary from our partners at Haaretz➤

Lea Szlanger, a Yiddish actress and former radio correspondent for the Forward, died at 91. She reported on various topics in Jewish culture, and made aliyah from Poland in 1957. Rukhl Schaechter, our Yiddish editor, penned an obituary in Yiddish.
Spread the word! Invite someone
to sign up for this newsletter.👇
WHAT ELSE YOU NEED TO KNOW TODAY
Protesters in Tel Aviv faced off against mounted police on Thursday. (Getty)
✈️ A planned "Day of Resistance" is underway Thursday in Israel as tens of thousands of protesters took to the streets to protest what they called the "government's plan to neuter the judicial system." A convoy of cars blocked roads around Ben Gurion International Airport, where Prime Minister Benjamin Netanyahu was departing for an official trip to Italy. (Times of Israel)
🇮🇹 An Israeli translator turned down a request to join Netanyahu on the trip. "His leadership is extremely dangerous to democracy," she wrote on Facebook. "If I agree to cooperate in translating his remarks, my children won't forgive me." (Times of Israel)
🇮🇱🇺🇸 The New York Times was driving a lot of conversation Wednesday with a lengthy article exploring how the current upheaval in Israel is splitting American Jewry like never before. "American Jewish leaders now have no choice but to choose sides," OpEd columnist Tom Friedman, a former Jerusalem bureau chief of The Times and author of From Beirut to Jerusalem, wrote in a separate piece. "The sound you hear is the start of a huge paradigm shift." (News article, Friedman column)
🐦 The man charged with shooting blanks inside a San Francisco Jewish center last month told the police the attack was his way of praying for a friend's bird, according to court testimony this week. He also said he lives on a submarine and regularly talks with North Korean dictators. The suspect's mother says he has Jewish heritage. (San Francisco Standard, J. The Jewish News of Northern California)
🗳️ Four states have presidential primaries that coincide with the first day of Passover next year. Lawmakers in two of them – Pennsylvania and Maryland – have already introduced legislation to change the dates. The other two states are Rhode Island and Delaware. (JTA)
🤦 Republican lawmakers in Florida are pushing legislation to require that speakers representing "multiple, divergent and opposing" viewpoints appear on college campuses. Which could lead to some unintended consequences. "Some speakers might be speaking out against antisemitism," noted state Rep. Anna Eskamani, a Democrat from Orlando. "Are we then forcing universities to identify someone who is an antisemite to speak to a college campus?" (Florida Politics)
🎒 And speaking of college campuses, George Washington University's student council established an antisemitism task force this week. The school has been condemned as a "hotspot" for antisemitism and anti-Zionisim. Our Arno Rosenfeld spent a year talking to Jewish student leaders on campus about what it's really like. (Algemeiner, Forward)

What else we're reading ➤ Orthodox NBA prospect Ryan Turell returned to New York for a game on Purim … In North Idaho, religious and secular activists work to fight Christian nationalism … Landlord becomes legal guardian of 93-year-old Holocaust survivor after saving her life.
President Jimmy Carter and Prime Minister Menachem Begin at the White House in March, 1979. (Robert A. Cumins)
On this day in history (1992): Menachem Begin, the sixth Prime Minister of Israel, and founder of Israel's Likud party, died at 78. Begin survived the Holocaust and escaped to the Soviet Union, only to endure years in a Soviet Gulag. As prime minister, he oversaw the crafting of a landmark peace treaty with Egypt, which earned him the 1978 Nobel Peace Prize. Writing for the Forward in 2021, PJ Grisar noted that "with the rise of Israeli nationalism and the historic Abraham Accords, Begin's ideas survive him both in war and peace — but there will never be another leader like him." And our editor-in-chief wrote a column about Upheaval, a Begin documentary released in 2021 that revealed a lot about the man — via his wife.
Also on this day, in 1959, Barbie made her debut at the International Toy Fair in New York. "The doll itself looked pretty goyish, even if her namesake wasn't," PJ wrote in an appreciation when she turned 62.

Last year on this day, I eulogized Charles Edward Entenmann, who helped turn his family's New York bakery into a national brand (and my childhood sweet).
More than a dozen Israeli women dressed as characters from A Handmaid's Tale marched Wednesday evening in front of the offices of the Tikvah foundation on Manhattan's Upper East Side. The organization backs the principles of the Israeli government's judicial overhaul plan, which the women and a broader protest movement see as undermining core democratic principles of the Jewish state. Staged on International Women's Day, the march is part of a worldwide trend of protesters donning the red cloaks and white hats from the dystopian show.
Rep. Kathy Manning at the Jewish Women in Congress reception Wednesday night. (Courtesy NCJW)
Meanwhile on Capitol Hill, Reps. Debbie Wasserman Schultz and Elissa Slotkin were among the speakers at a reception honoring Jewish women in Congress. Ambassador Deborah Lipstadt, the U.S. antisemitism envoy, also made an appearance.
Rep. Kathy Manning, a Michigan Democrat, said that she will work with Doug Emhoff, the second gentleman, to improve data collection about antisemitic incidents on college campuses and elsewhere. "It is the obligation of the government, not the Jewish community, to combat antisemitism," she said, adding that "most of our students do not go to college to be warriors."
—
Thanks to Laura E. Adkins, Nora Berman, Zach Golden, Jacob Kornbluh, Tani Levitt, Matthew Litman, Lauren Markoe, Arno Rosenfeld, Jodi Rudoren and Talya Zax for contributing to today's newsletter. You can reach the "Forwarding" team at [email protected].