Forwarding the News
Israel admits killing Palestinian journalist + Trump attends fundraiser in Jewish neighborhood
Orthodox group criticized for ad invoking 9/11 attack, Jewish veteran gets murder-for-hire threat, new Israeli films headed to U.S., and the seven-year journey to translate the Torah into Romanian.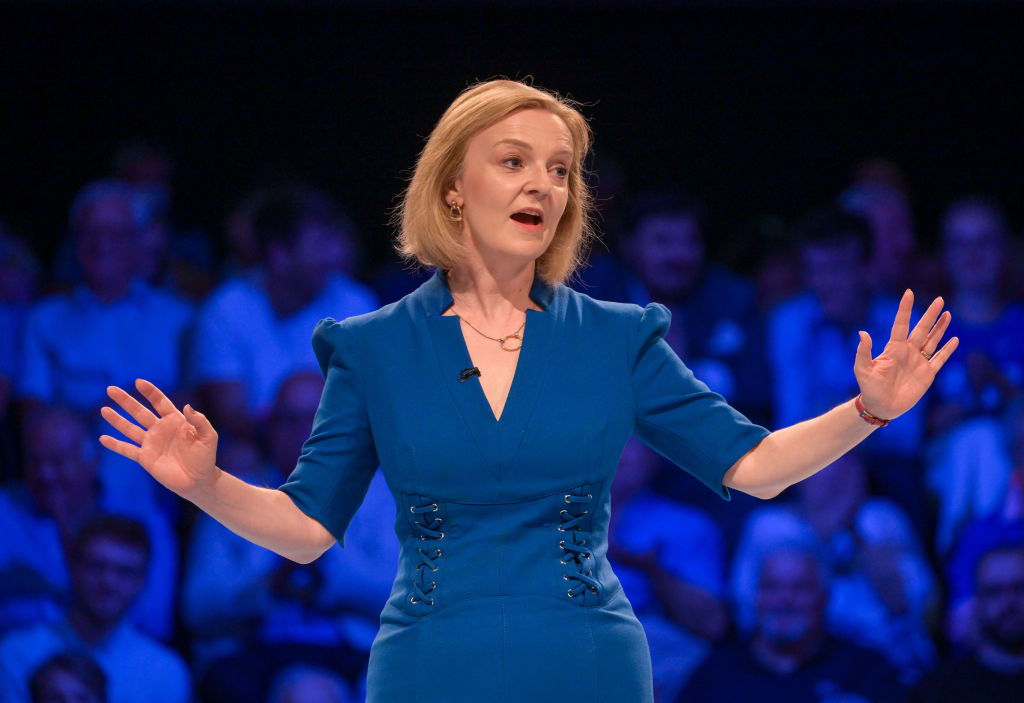 This article is part of our morning briefing. Click here to get it delivered to your inbox each weekday.
Our senior political reporter, Jacob Kornbluh, shares what's in his notebook…
Liz Truss could be the most pro-Israel British prime minister ever
Truss, who has been the U.K.'s top diplomat since last year, is expected to appoint her cabinet today after the queen officially appoints her to succeed Boris Johnson as the country's leader. Israeli Prime Minister Yair Lapid, who established a working relationship with Truss while he was foreign minister and hosted her on her first trip to Israel last November, called his new counterpart "a true friend."  
During her campaign for the premiership, Truss pledged to consider moving the British embassy to Jerusalem from Tel Aviv; expressed support for Israeli military action against Iran if Tehran refuses to return to the 2015 nuclear deal; and promised to advance legislation to prevent local councils from supporting the Boycott, Divestment and Sanctions movement against Israel. But Truss also drew criticism for exploiting Jews to make a political point when she pledged to fight  "creeping antisemitism and wokeism" in the civil service.

James Cleverly, who served as a minister for the Middle East in Johnson's cabinet, is expected to become Truss's foreign secretary. He strongly defended U.K. arm sales to Israel during a parliamentary debate after last year's flareup between Israel and Hamas in Gaza. Read the story ➤
A Palestinian artist paints a mural in Gaza of slain journalist Shireen Abu Akleh. (Getty)
The Israeli military admitted on Monday that it is "highly probable" that an Israeli soldier mistakenly killed Palestinian-American journalist Shireen Abu Akleh while she was reporting on a raid in the occupied West Bank for Al Jazeera in May. The Biden administration had been pressuring Israel to release the findings of its investigation into the incident, while some members of Congress called for an expanded probe. 
Sen. Bob Menendez, chair of the Senate Foreign Relations Committee, said at a news conference in Jerusalem on Monday that the Biden administration has committed to put any nuclear deal with Iran to a congressional vote.
New Jersey Republicans have agreed to advance the confirmation of Rachel Wainer Apter as associate justice of the state Supreme Court after an 18-month delay. Apter, who is Orthodox, said in an interview following her appointment that learning about the Holocaust at a young age drew her to advocating for civil rights and social justice.
U.S. Rep. Lee Zeldin, New York's Republican gubernatorial candidate, at a rally. (Getty)
Former President Donald Trump helped raise $1.5 million for Rep. Lee Zeldin, the Republican candidate for governor of New York at a Sunday event in the heavily Syrian Jewish town of Deal, N.J. On Friday in the Orthodox Brooklyn neighborhood of Crown Heights, Zeldin issued a strident call for a stronger governmental response to antisemitic assaults. His campaign, meanwhile, touted a new poll that showed him closing the gap against incumbent Gov. Kathy Hochul. 
Meanwhile in Pennsylvania's closely watched race for governor, Trump stumped for the GOP nominee, State Sen, Doug Mastriano, on Saturday, praising him as a "fearless warrior" with a "base that is so powerful and so strong." Mastriano also received the backing of Rep. Marjorie Taylor Greene, who last week compared Biden to Hitler, and touted an endorsement from an Orthodox rabbi, Joseph Kolakowski, who defended the Jan. 6 Capitol riots and believes Hitler was part lizard. 

We rely on our colleagues at Haaretz for some of our on-the-ground reporting from Israel. Sign up for their free daily newsletter.
An Orthodox nonprofit invoked the 9/11 attack in an ad bashing public school education.
Orthodox group uses burning Twin Towers photo in ad to slam public schools: The full-page ad, warning that Jewish children "are in danger of being burned this September if they enter public school," appeared on the back cover of a recent edition of Hamodia, a Haredi newspaper. It implores readers to contribute to Nechomas Yisroel, a Brooklyn-based nonprofit, so that more Jewish children can attend yeshivas. "It attempts to draw a parallel between terrorism and the school system," said one critic of the ad, "which in the absence of prophecy, is an absurd thing to portray." Read the story ➤
Imagine publishing a book of Yiddish short stories in July 1939, mere weeks before World War II began – and having it survive. Our language columnist, Aviya Kushner, explores the incredible backstory of "Fear and Other Stories" by Chana Blankshteyn, newly translated into English.

Here are seven new films from Israel coming to a (big or small) screen near you – including one directed by Gwyneth Paltrow's brother.
Forwarding the News is now also available on our website. Click on the blue button below to share it on social media or send to friends.
WHAT ELSE YOU NEED TO KNOW TODAY
Mikey Weinstein, whose house has been vandalized, said this latest threat 'crossed a Rubicon.' (MRFF)
😲  A commenter on the website of the Military Religious Freedom Foundation offered $5,000 to anyone who murdered a member of the group, $6,000 "if they are a kike." The organization was founded in 2005 to ensure U.S. soldiers can freely practice their religion and is run by a Jewish veteran, Mikey Weinstein. Weinstein's son Casey served in the Air Force and is a state lawmaker in Ohio who has faced harassment from the religious right. (JTA)
📕  An Orthodox rabbi spent seven years translating the Torah into Romanian and raised money through GoFundMe to print 700 copies. It's believed to be the first Hebrew-to-Romanian translation of the Bible from a Jewish lens, and includes roughly 4,000 annotations and explanations from classical commentators. The book was unveiled Sunday at a ceremony at Bucharest's Choral Temple. (JTA)
📸  Polish police arrested an American tourist after he posted photos on the social media platform Gab of himself smiling at Auschwitz and holding a sign attacking the Anti-Defamation League. He was released shortly afterwards. Separately, a picture of a group of masked men performing a Nazi salute in front of the Adelaide Holocaust Museum in Australia went viral on Nazi chat groups; experts believe it was used to recruit new members. "Their aim is to be intimidating," said a museum spokeswoman. "We're not fearful of them." (J Weekly, 7 News)
🕍  Two months after failing to push out the rabbi of the Chabad of Poway, regional Chabad leaders in San Diego have recognized a breakaway shul started by members of the troubled synagogue. (Twitter)
🏫  A student at Sacramento State University reported finding a swastika on a classroom wall Thursday morning. The next morning, an employee reported seeing another near the entrance to the campus. (ABC 10)
🇲🇦  Israel recalled its envoy to Morocco over sexual harassment allegations and financial irregularities, including charges that a senior official at the newly reopened Israeli mission sexually exploited several local women. (Times of Israel)
🍺  Qatar has agreed to sell beer at stadiums before and after (but not during) soccer games at the upcoming World Cup. The sale of alcohol in the country, where Islam is the state religion, is usually illegal to consume outside hotel restaurants and bars. (AP)

What we're listening to ➤ This new podcast episode from The Guardian about a tin baron who saved thousands of Jewish refugees from the Nazis.
Margaret Sanger, seated, established groups that evolved into the Planned Parenthood Federation of America. (Getty)
On this day in history (1966): Margaret Sanger, a nurse and birth control activist, died. Sanger and her sister Ethel Byrne, who both grew up Irish-Catholic, collaborated with a young Jewish immigrant, Fania Mindell, to open the country's first birth control clinic in a tenement in Brooklyn. One of the moments that inspired Sanger was her experience of trying and failing to help a Jewish woman named Sadie Sachs survive the complications of a self-induced abortion. Sanger also was married to a Jew and hired many Jewish women doctors and social workers who could not find jobs elsewhere. 
On the Hebrew calendar, it's the 10th of Elul when, according to the Bible, Noah dispatched a raven to see if the flood waters had started to recede.

In honor of National Read a Book Day, check out this new novel by our executive editor, Adam Langer, about a high school production of "The Diary of Anne Frank" in the 1980s. Plus: Subscribe to our monthly books newsletter for news about Jewish authors and reading recommendations. 
For those of you feeling grumpy that the holiday weekend is over, we've got you covered. In the latest installment of our Yiddish Word of the Day video series, the Forward's Yiddish editor, Rukhl Schaechter, teaches us all how to complain in the mameloshn. Watch the video ➤
–––
Play today's Vertl puzzle, the Yiddish Wordle
Thanks to Jordan Greene, Louis Keene, Jacob Kornbluh and Talya Zax for contributing to today's newsletter. You can reach the "Forwarding" team at [email protected].