Forwarding the News
Republicans keep comparing abortion to the Holocaust + Shooting outside Rep. Lee Zeldin's home
Today: Kanye West pivots to antisemitism, a portrait of Hitler in a 7th grade classroom and a moment of long-awaited joy for a small New Mexico Jewish community.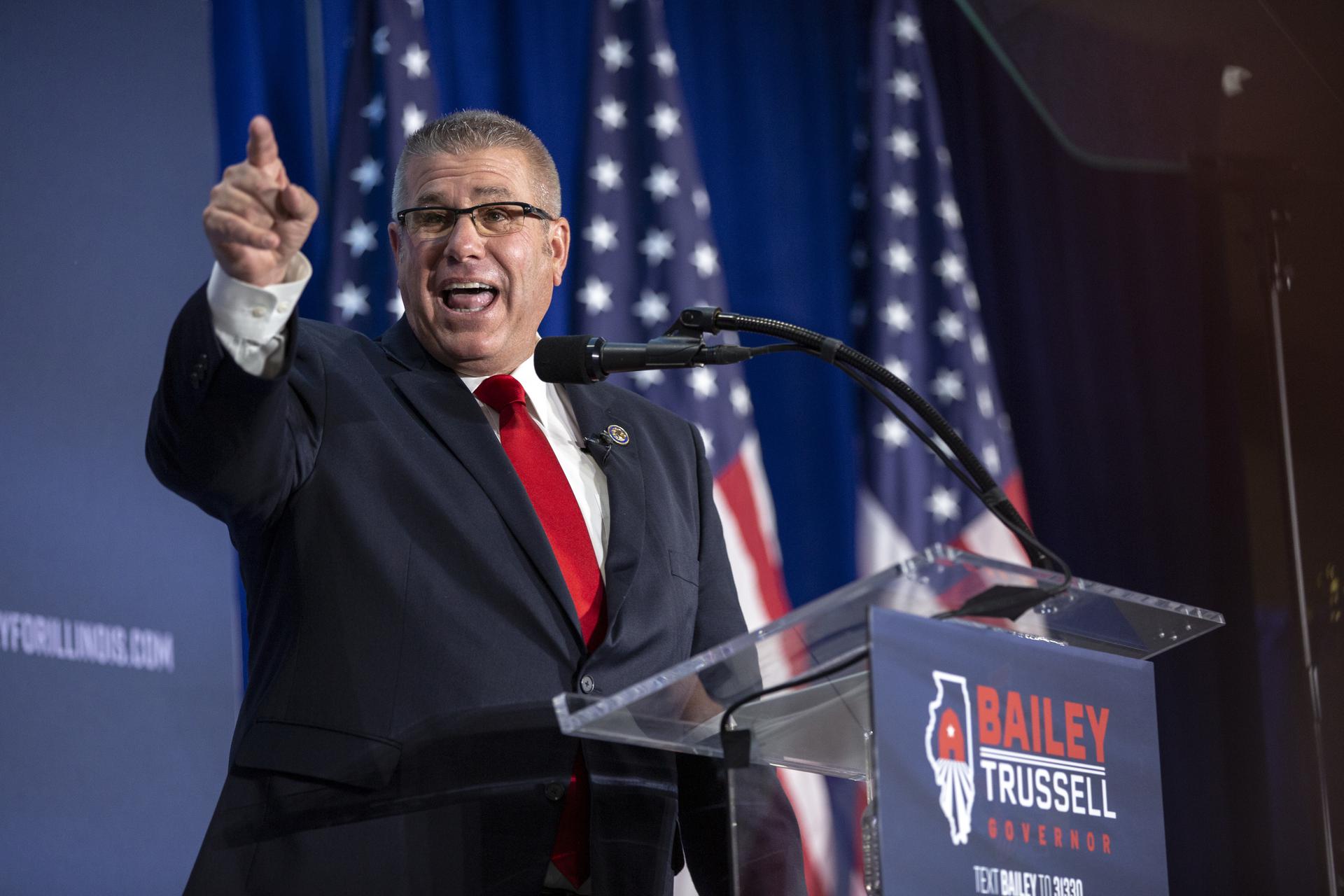 This article is part of our morning briefing. Click here to get it delivered to your inbox each weekday.
It's four weeks until the midterms. Our senior political correspondent, Jacob Kornbluh, sent this dispatch before Sukkot starting Sunday at sundown…
A Georgia Republican compared corporations that help employees access abortion to Nazis. Jason Shepherd, a member of the GOP state committee, said at an August event that just as the Nazis decided Jews "were not people and they did not have a right to life," companies with benefits that include abortion care are saying unborn fetuses "are not people and they don't have a right to life." Someone at the event shared audio of Shepherd's comments with us — and with Mike Wilensky, the only Jewish member of Georgia's state legislature, who called the statements "ignorant, harmful and wrong." Read more ➤ 
Meanwhile, Darren Bailey, the Republican nominee for Illinois governor, defended his own past statements comparing abortion to the Holocaust during a debate Thursday night. "The atrocity of the Holocaust is beyond parallel," Bailey said, but "the facts are true when you compare the numbers." Bailey previously claimed that Jewish leaders had backed his analogy, but refused to name them. 
And the National Republican Senatorial Committee defended the use of Adolf Hitler's limousine as a backdrop for a fundraiser for Dr. Mehmet Oz, the party's nominee in Pennsylvania. The event was at the Lyon Air Museum in Santa Ana, California, whose collection of World War II vehicles "is shown to exhibit America's victory," said a party spokesman, who noted that Jewish weddings and b'nai mitzvah have been held in the same space.
Moving west, former President Donald Trump held a rally Sunday in Mesa, Arizona, to support the state's Republican midterm candidates. The GOP nominee for attorney general, Abraham Hamadeh, has refused to apologize for past antisemitic posts and his repeated attacks on billionaire George Soros, long the target of antisemitic tropes by the far right. Hamadeh's Democratic opponent, Kris Mayes, called this "outrageous" and "deeply troubling" in a recent interview. Read more ➤ 
And here's one thing not related to the midterms: New York City Councilwoman Inna Vernikov said on Friday that the chancellor of City University of New York is allocating $750,000 to counter antisemitism amid repeated complaints from Jewish students. CUNY has also agreed to adopt the International Holocaust Remembrance Alliance (IHRA) working definition of antisemitism in its diversity training. 
Kanye West, whose antisemitic social media posts drew widespread criticism over the weekend. (Getty Images)
Kanye West threatens to go 'death con 3 on Jewish people.' West, who is legally known as Ye and is known to have struggled with mental health issues in recent years, took to social media over the weekend to spread a number of antisemitic libels, including the idea that shadowy Jewish powers shut down "anyone whoever opposes your agenda." The posts on Instagram and Twitter were removed, and Meta, which owns Instagram, temporarily restricted West's account. Read the story ➤ 

How that 'Yentl' joke wound up in the year's biggest gay rom-com. A wisecrack about the iconic Barbra Streisand film punctuates the final act of the new Billy Eichner-led film "Bros," which has made waves for its queer spin on the classic rom-com. Guy Branum, the comedian who wrote the quip, spoke about it with our Louis Keene. "My mom did not respect Streisand and I always identified as more of a Bette Midler man," Branum said as part of a wide-ranging conversation about queer Jewish identity. But Streisand, he said, "is a fundamental force of our world." Read the story ➤
CAN WE ASK A SMALL FAVOR?
WHAT ELSE YOU NEED TO KNOW TODAY
A wounded Ukrainian seeks care after Russian strikes on cities including Kyiv. (Ed Ram/Getty Images)
😨  A 66-year-old Russian Jew who shared social media posts critical of the war faces sentencing today on charges of organizing an illegal protest; prosecutors have requested four years in a penal colony. The sentencing comes after Russia launched a series of deadly strikes on civilian targets in Ukrainian cities. "On the 229th day" of the war, said Ukrainian President Volodymyr Zelenskyy, "they are trying to destroy us and wipe us off the face of the earth."
😟  Two teenagers were wounded Sunday in a drive-by shooting outside the Long Island home of U.S. Rep. Lee Zeldin, New York's Republican nominee for New York governor. The police said they are unaware of a connection between the shooting and the residence. Zeldin said he and his wife were on their way home from a parade in the Bronx at the time, but that his 16-year-old daughters were in the kitchen doing homework and heard gunshots and screaming. "Like so many New Yorkers, crime has literally made its way to our front door," he said at a news conference. (ABC)
😡  A 7th grade teacher displayed a portrait of Hitler in her California classroom. It was hung at Carmel Valley Middle School alongside portraits of Mahatma Gandhi, the Rev, Martin Luther King Jr. and President John F. Kennedy, each with inspirational quotes. After a Jewish student and his father complained, the teacher responded that "Hitler may have done some bad things but he had leadership qualities," according to the dad, whose grandparents survived the Holocaust. The principal has apologized, and the portrait has been removed. (CBS8)
🏎️  ADL chief Jonathan Greenblatt said he was "flat-out wrong" to praise Elon Musk by comparing him to Henry Ford, saying "I certainly was not trying to praise Ford and didn't intend to minimize his contemptible antisemitism in any way."
🙄  A vegan Jewish deli in Portland was vandalized over the weekend, with a swastika painted over a photo of the owner's grandparents displayed on the building. Separately, New Jersey police are investigating a swastika painted on a field at a Hackettstown high school. (Portland Tribune, lehighvalleylive.com)
😒  And Tufts University is looking into allegations of antisemitism against a club sports team. Details are scant, but the team has been suspended after an incident that occurred when members traveled to another campus for a match during the High Holidays. "The alleged conduct is appalling and goes against our values as an institution," Tuft's president wrote in an email to the university community Friday evening. (Tufts Daily)
🎉  A New Mexico Jewish community has successfully bought back its historic synagogue from the local Catholic archdiocese after a rapid fundraising effort. "The only way we're going to fight antisemitism is through education," a leader of the community told the Forward in September, "and that's part of our goal in wanting to have this building back." (Albuquerque Journal, Forward)
👀  An Orthodox synagogue in Brooklyn is suing New York State over a ban on carrying concealed guns in houses of worship. The challenge was filed with assistance from the New York State Jewish Gun Club; a representative said the ban was making congregants "sitting ducks" for hate-based attacks. (New York Post)

What else we're reading ➤  The all-too-timely story of how democracy unraveled in Nazi Germany … "It wasn't until recently that I had to come to terms with being a Black, gay, Jewish man in America" … The secret Jewish history of Glasgow.
A scene from the Metropolitan Opera's 2019 "Porgy and Bess." (Jack Vartoogian/Getty Images)
On this day in history (1935): The opera "Porgy and Bess," with music by George Gershwin and a libretto co-written by the lyricist Ira Gershwin, premiered on Broadway. A sometimes-controversial classic of the modern opera repertoire, it launched a number of stand-alone jazz classics, including the iconic song "Summertime," most famously recorded by Billie Holiday in 1936. That song shares notable similarities with Jewish folk music: As J. Hoberman wrote in the Forward in 2019, "'Summertime' has been said to draw on the Yiddish lullaby 'Lulinke lu-lu,'" and George Gershwin expressed concerns that the tune sounded "too Jewish."
It's also the first day of Sukkot, the week-long harvest festival when we recall our years of wandering in the desert by eating in makeshift huts. Here are some recipes and reflections from four Jewish chefs. 

In honor of World Mental Health Day, check out this essay by a Jewish teen who asks "Why do I face a stigma?"
Did we mention it's Sukkot, that favorite holiday for we who love cozy fall vibes? Here's how to talk about the festival sensibly — and humorously! — in Yiddish.
–––
Thanks to Jacob Kornbluh for contributing to today's newsletter. You can reach the "Forwarding" team at [email protected].
Support Independent Jewish Journalism
The Forward is a non-profit 501(c)3 so our journalism depends on support from readers like you. You can support our work today by donating or subscribing. All donations are tax-deductible to the full extent of US law.
"America's most prominent Jewish newspaper" — The New York Times, 2021