Forwarding the News
Netanyahu defends Trump, Trump defends Kanye
Former Democrat compares Biden to Hitler, the artist behind the new Hanukkah stamp, Kevin Spacey reveals dad was neo-Nazi, Amy Schumer on antisemitism, and the Yankees' Jewish home-run king.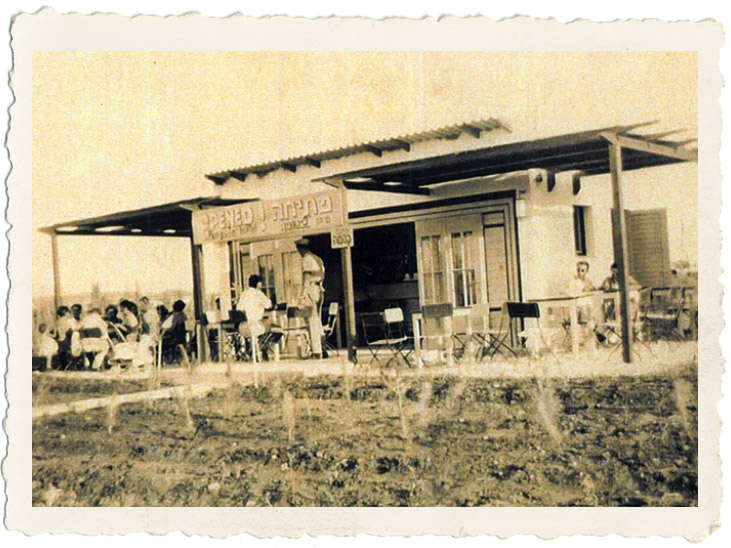 This article is part of our morning briefing. Click here to get it delivered to your inbox each weekday.
The last schnitzel | After 82 years, end of an era for a famed Israeli restaurant
Setting the scene: The backyard of the Penguin restaurant in Nahariya once hosted fashion shows, weddings and concerts by Israel's leading singers. On its patio, British Mandate-era soldiers drank cold beer, unaware that the young women making conversation were sent to distract them from nearby ships that were discharging arriving Jews. Out front, horse-drawn carriages ferried summer tourists to their hotels.
Changing times: But come Jan. 1, the Penguin will exist only in sweet memories; its property in the coastal town is slated to become a nine-story residential building. Not because of changing tastes or declining business – the restaurant never seems to be empty – but because its second-generation owner, 75-year-old Ilan Oppenheimer, is ready to retire.
Ups and downs: Occasional missile strikes, terrorist attacks and flash floods killed several Nahariya residents over the years. People fled the area in 2006 during the Second Lebanon War. Except for certain holidays, though, the Penguin never closed. Even during the pandemic, it offered a full menu for pick-up or delivery.
Quotable: "People are angry I'm closing," Oppenheimer said. "Someone told me, 'You're lucky. They're eulogizing you while you're still alive.'"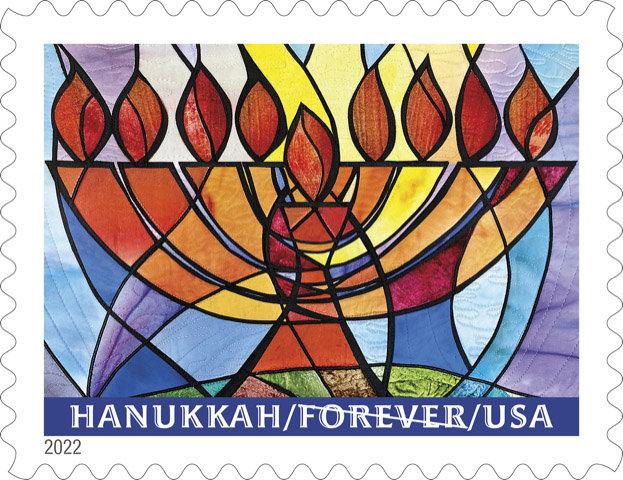 Meet the artist behind the new Hanukkah postage stamp: Seasonal stamps make every holiday card just that much more festive. But Hanukkah designs are only released every few years — this one will be officially unveiled on Thursday. The design features a vibrant menorah made out of hand-dyed silks, and was assembled using paper cutting techniques. Culture writer Mira Fox spoke with the artist, Jeanette Kuvin Oren, about her lifelong dreams of creating a stamp. Read the story ➤
Joshua Malina on Donald Trump, Mel Gibson, and being Twitter's most outspoken Jew: You likely know Malina, an actor, for his role on "The West Wing," or his Torah-themed podcast, or for calling out Hollywood and the Republican Jewish Coalition for not calling out antisemites in their midst. Malina is starring in Nathan Englander's new play, "What We Talk About When We Talk About Anne Frank," his most Jewish role yet. "If I could only play one role for the rest of my life," he said, "this would be the one." Read our interview ➤
But wait, there's more…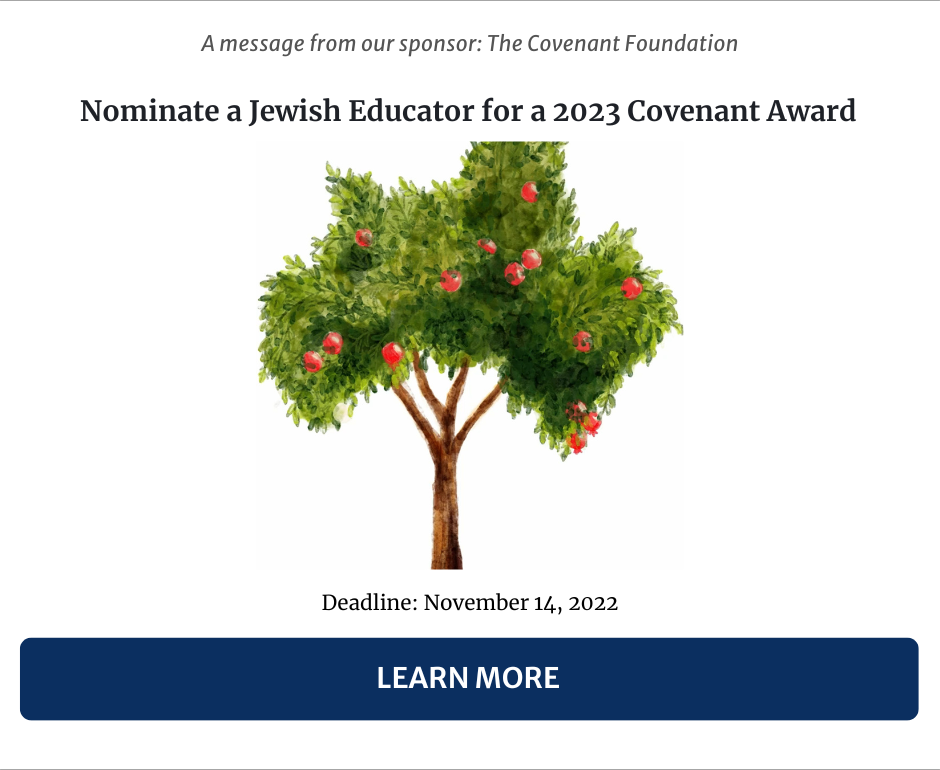 Forwarding the News is now also available on our website. Click on the blue button below to share it on social media or send to friends.
WHAT ELSE YOU NEED TO KNOW TODAY
Rescuers carry a woman, 84, after Russian drones attacked Kyiv on Monday. (Getty)
🇺🇦  Both Benjamin Netanyahu and Benny Gantz said they would continue Israel's policy of not selling weapons to Ukraine if they become prime minister after the Nov. 1 election. Meanwhile, Natan Sharansky, the famous Soviet refusenik-turned-Israeli politician, chided Israel for being "the last country in the free world which is still afraid to irritate Putin." (Times of Israel, Haaretz)
🤔  While testifying this week in a civil sexual misconduct trial, actor Kevin Spacey revealed that his father "was a white supremacist and a neo-Nazi" and that he and his siblings had to listen to him "lecturing us for hours and hours and hours about his beliefs and his ideas." (Vulture)
🇦🇷  Argentina's justice department has asked Qatar to arrest a top Iranian official it believes was involved in the 1994 attack on a Jewish community center in Buenos Aires that killed 85 people. Argentina does not have an extradition treaty with Qatar, where the suspect has been visiting this week. (Buenos Aires Times)
😲  Former Congresswoman Tulsi Gabbard, who quit the Democratic Party last week, said President Joe Biden and Adolf Hitler "shared a mindset." The comment came while Gabbard was campaigning for New Hampshire's Republican nominee for U.S. Senate, a 2020 election denier. (The Daily Beast)
⚖️  Danny Masterson, an actor on "That '70s Show," is on trial this week on charges that he raped three women who were, like him, members of the Church of Scientology. The prosecutor said in his opening statement that the women were initially reluctant to come forward for fear of becoming "an enemy of the church." The trial is taking place in a Los Angeles courtroom … just down the hall from Harvey Weinstein's second rape and sexual assault trial (he was already convicted in New York). (AP)
🥯  A Pittsburgh native is making bagels in a remote city in Israel's Negev desert. It's part of a local co-op she launched during the pandemic, and has become an unlikely tourist destination. (Haaretz) 
💃  Doctors for Selma Blair, the Jewish actress battling multiple sclerosis, pulled her from "Dancing With the Stars" a month into the competition after new MRIs showed potential damage to her body. Blair, 50, performed one final waltz, which led to the first perfect score of the season. (People)
What else we're reading ➤  Why young Israelis should go on reverse Birthright trips to the U.S. … Explaining Doug Mastriano's militant and influential brand of Christian nationalism … Juju Brener, a Jewish actress starring in 'Hocus Pocus 2,' is a rising star at only 10 years old.
Was this newsletter forwarded to you or are you reading it on our website?
Receive it in your inbox each morning by clicking the blue button below.
A short documentary about the life of Moses Asch. (YouTube)
On this day in history (1986): Moses Asch, a well-known record executive, died of a heart attack at 81. Asch, son of the Yiddish writer Sholem Asch, emigrated with his family to New York to escape antisemitism in 1912. In the late 1930s, the Forward commissioned the younger Asch to build a transmitter for its famous Yiddish radio station, WEVD — named for Eugene V. Debs. That job led him to establish Asch Recordings, through which he published music and sold Yiddish records. His second label, Folkways Records, signed famous artists such as Woody Guthrie and Pete Seeger, and, as Asch's New York Times obituary noted, "established an invaluable library — one that was hugely influential during the folk and blues revivals of the 1960's as well as a continuing resource for musicians and listeners."
Last year on this day, our colleagues at the Jewish Telegraphic Agency reported that Alta Fixsler, a 2-year-old British Jew, was taken off life support despite her parents' objections.

In honor of National Kentucky Day, check out our interview with local Chabadnik Chaim Litvin, known as the Bourbon Rabbi.
Amy Schumer is gearing up for the new season of her sketch comedy series, which returns Thursday after a six-year hiatus. In a video posted to Twitter, Schumer shared a sketch of a workplace harassment seminar in which antisemitic insults are hurled at her – and none of her co-workers realize what they're doing. She concluded her tweet with a link to the website of the U.S. Holocaust Memorial Museum.
–––
Thanks to Mira Fox, Rina Shamilov and Talya Zax for contributing to today's newsletter. You can reach the "Forwarding" team at [email protected].