Forwarding the News
The secret Jewish history of the World Series + What Elon Musk's Twitter takeover means for antisemitism on the platform
Kanye wanted to name an album after Hitler, 45% of Americans say U.S. should be Christian nation, DeSantis campaign embraces Jews and antisemites, and Anthony Hopkins plays zayde in new film.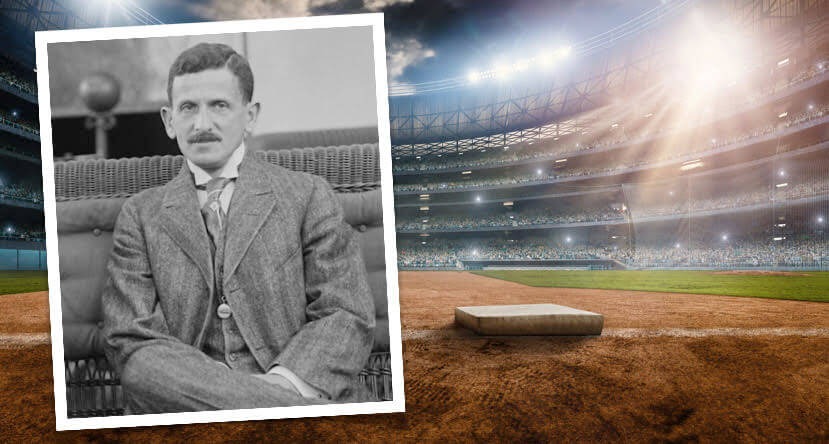 This article is part of our morning briefing. Click here to get it delivered to your inbox each weekday.
It's Houston vs. Philadelphia as the World Series begins tonight. Here's all you need to know about its secret Jewish history — and present. 
The World Series? Invented by a Jewish guy: Sure, baseball has been America's pastime for time immemorial. But it was only at the turn of the 20th century that its grand annual event, the World Series, came into being — all thanks to Barney Dreyfuss, the immigrant owner of the Pittsburgh Pirates. Dreyfuss conceived the series as a way to show off his team's talents (and make more profit from them), and the Pirates won two World Series under his ownership. Alas, the Dreyfuss magic hasn't quite extended to today's Pirates: They finished last in their National League division. Read the story ➤
Meet the Orthodox Jewish artist designing custom cleats for MLB stars: If Dreyfuss was the head behind the World Series, another notable Jew is now a guiding influence on its feet. Ari Solomon, 23, is responsible for the custom cleats sported by players on both teams. It's an unusual side hustle for a ninth grade teacher at the Torah Academy of Bergen County. Because people in the baseball world are not generally familiar with Orthodox Jews, Solomon said, he sees it as an opportunity "to show people what we're about." Read the story ➤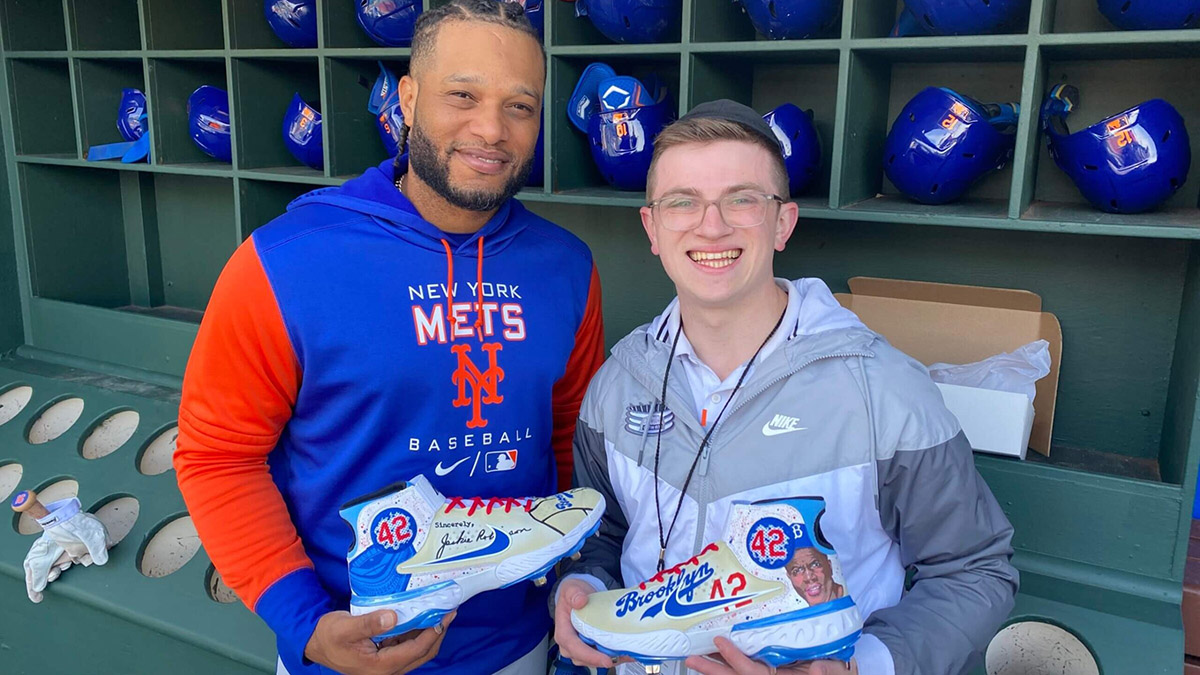 Ari Solomon, right, and Robinson Cano, second baseman on the Mets, in April. (Danny Field)
Rabbi Sholom Lipskar listens as Florida Gov. Ron DeSantis speaks at the Shul of Bal Harbour. (Getty)
Does DeSantis support Jews or go easy on antisemites? Some Florida Jews say Gov. Ron DeSantis, who is seeking a second term and perhaps the presidency, has been too slow to call out his antisemitic supporters and, more broadly, white nationslism in his state. His campaign has also trafficked in antisemitic tropes. Meanwhile, Florida is also home to a growing population of Orthodox Jews who are fans of DeSantis. Read the story ➤  
In other news…
Elon Musk closed his deal to to take over Twitter today. Our columnist, Elad Nehorai, writes that Musk's vision for the social media platform endangers Jews and other minorities.


The Jewish Democratic Council of America invoked Nazi imagery in a new ad encouraging voters to support Democrats. The ADL was not thrilled.


Did you know there was once an Adolf Hitler Street on Long Island? A new Broadway play about a pro-Nazi, Hitler Youth-esque summer camp in the 1930s, revisits a dark period in American history.
And in Kanye news…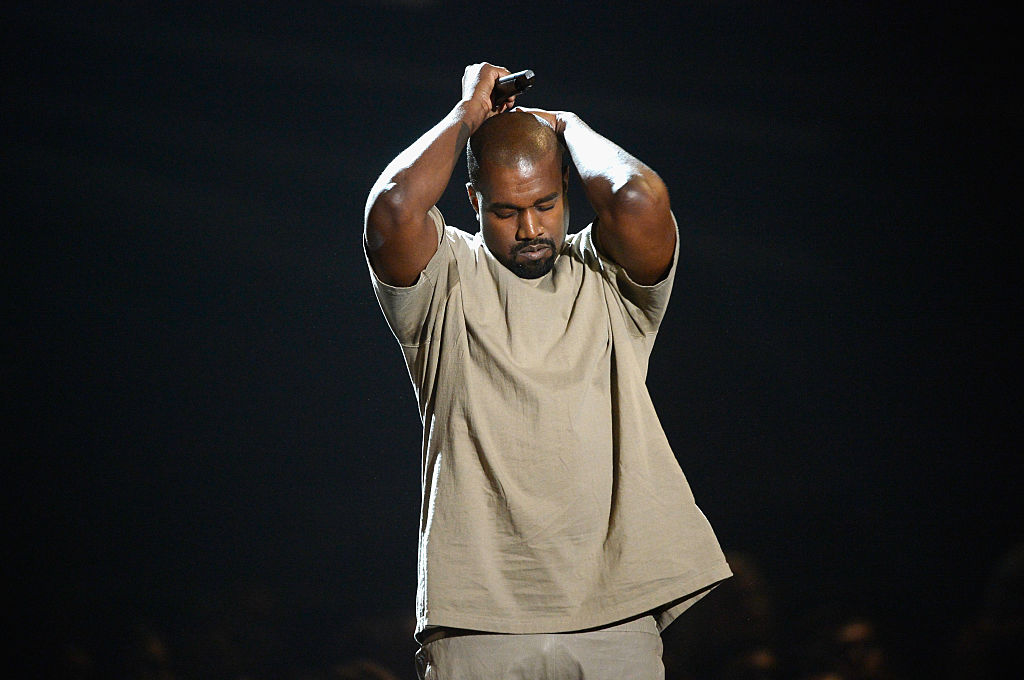 Kanye West at the 2015 MTV Video Music Awards. (Getty)
Kanye West's private Christian school, the Donda Academy, announced Thursday it would shut down for the rest of the academic year, with plans to reopen in the fall of 2023. Plus…
Several people who were once close to West, whose legal name is now Ye, told CNN that he has long been fascinated by Adolf Hitler — and once wanted to name an album after the Nazi leader.


The rapper was spotted at a bagel shop in California this week. "He shouldn't be allowed to eat bagels anymore, right?" joked Jimmy Kimmel. "At the very least," he added, "lox him up!"


Black and Jewish solidarity is even more crucial now, argues Megan Black, a civil rights organizer, in a new OpEd. "Anti-Blackness and antisemitism," she writes, "are distinct expressions of racist hate that are working toward the same end: the permanence of white supremacist power."
Forwarding the News is now also available on our website. Click on the blue button below to share it on social media or send to friends.
WHAT ELSE YOU NEED TO KNOW TODAY
Natan Sharansky met this week with Ukrainian President Volodymyr Zelenskyy. (Courtesy)
✝️  Nearly half of U.S. adults say America should be a "Christian nation," according to a new Pew Research poll, but they hold differing opinions about what that phrase means. The same survey found a majority wants churches to stay out of politics and think that Supreme Court Justices should not allow their religious beliefs to influence their decision-making. (JTA)
🇮🇱  A United Nations commission announced Thursday that it will investigate whether Israel is an "apartheid state," eliciting worry among pro-Israel groups that the country will be labeled with the toxic term. (Times of Israel)
🇺🇦  Natan Sharansky, who has been critical of Israel's handling of the war in Ukraine, went there this week to meet with President Volodymyr Zelenskyy. Sharansky, the world's most famous Soviet refusenik, warned that the iron curtain is coming back in Russia and said that, despite the war, there is more hope for Jews in Ukraine. (Haaretz)
🕍  The Taliban approved conservation work on a historic Afghan synagogue. The $500,000 project, funded by a Swiss group that protects heritage sites in conflict zones, aims to prevent the structure's collapse (JTA)
🔌  Asher Bennett, the brother of former Israeli Prime Minister Naftali Bennett and founder of a company that makes zero-emission electric trucks, was in the oil-rich country of Saudi Arabia this week to promote his product. He's already raised $90 million in investments. (The Circuit)
🎬  Anthony Hopkins plays an immigrant zayde from Ukraine who escaped the Holocaust in the new movie "Armageddon Time," which opens today. He said the role allowed him to channel memories of his own Welsh grandfather. "He wanted me to go for lunch up to his house," Hopkins recalled of a day in 1961. "I was too busy, too young. I said, 'I've got to go now, see you soon.' He turned around and waved and he was dead within two months. I always remember that. It's a bit of a sword in my chest, that memory." (AP, JTA)
🇺🇸  CNN is airing a documentary Saturday night about the first Second Gentleman, Doug Emhoff. It was filmed at his official residence, the Naval Observatory, and we're told Emhoff opened up about his Judaism and his blended family. (CNN)

Long weekend reads ➤  After sitting in a drawer for a century, a lost great Yiddish play about abortion has been discovered … An exploration of the groundbreaking (literally) work of Arab archeologists in Israel … Documentary tells of a secret love story that began in a concentration camp.
Was this newsletter forwarded to you or are you reading it on our website?
Receive it in your inbox each morning by clicking the blue button below.
In this weekend's edition of our print magazine: Our investigative reporter, Arno Rosenfeld, spent a year tracking antisemitism on the campus of George Washington University. What we discovered may surprise you. Plus: On the ground in Pittsburgh as they marked four years since the attack at the Tree of Life synagogue, a Netflix dating series draws critics of Israel and, for Halloween, the story of a real-life corpse bride reveals much about Jewish history, traditions and folklore. Download your copy now ➤
The Arch under construction in June 1965. (Wikimedia)
On this day in history (1965): The Gateway Arch was completed in downtown St. Louis. The Arch grounds include the intersection where the first synagogue services in the city took place. A minyan met for Rosh Hashanah above Max's Grocery and Restaurant on 2nd and Spruce Streets on Sept. 11, 1836; eventually, it morphed into the United Hebrew Congregation — the first synagogue established west of the Mississippi River. It still operates today.
Last year on this day, our colleagues at the JTA reported that Sen. Ted Cruz defended the use of a Nazi salute to protest COVID-19 public health measures.
On the Hebrew calendar, it's the third of Cheshvan, the yahrtzeit of Rabbi Ovadia Yosef, a Sephardic chief rabbi of Israel, who died in 2013.

In honor of Frankenstein Friday (the last Friday in October), check out our secret Jewish history of the Golem-inspired monster.
It's spooky season in our Yiddish Word of the Day studio! If you're heading to a Halloween party this weekend or want to sound like the most heimish host when kids coming knocking at your door, our Yiddish editor, Rukhl Schaechter, has you covered. Learn how to say witch, sorcerer, ghosts, and haunted house.
–––
Thanks to Talya Zax for contributing to today's newsletter.
You can reach the "Forwarding" team at [email protected].