Forwarding the News
Israeli elections, Kanye news, Musk's Twitter takeover and a Jewish Halloween
Wife of Penn. gubernatorial candidate say they love Israel 'more than a lot of Jews do.' Plus: NBA star promotes antisemitic film, 7 Jewish essays about Halloween, and King Charles the Shabbos goy.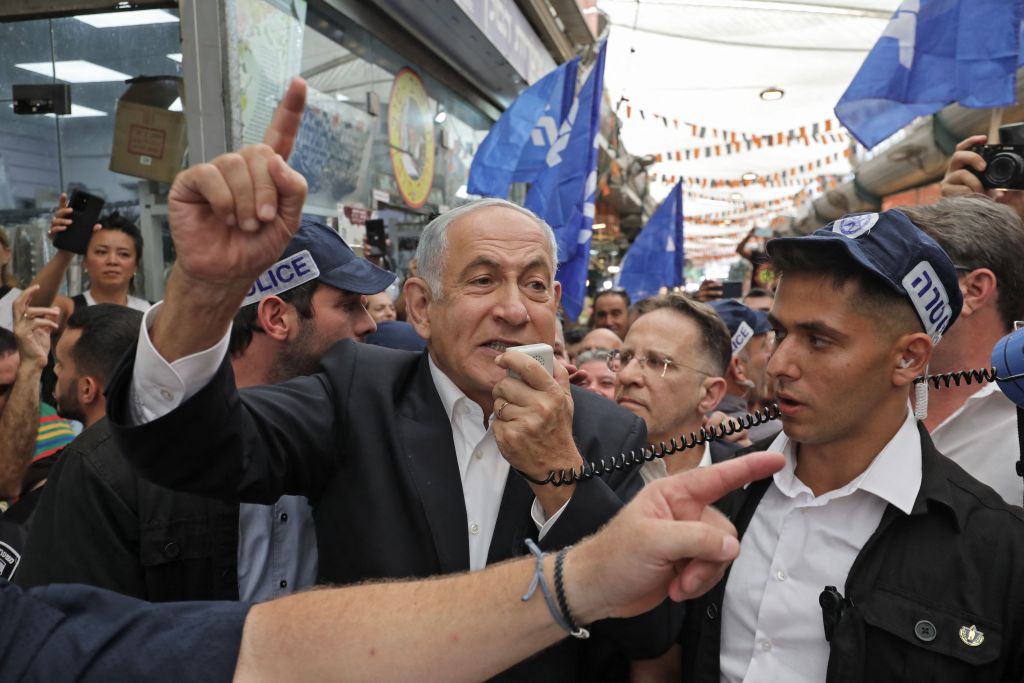 This article is part of our morning briefing. Click here to get it delivered to your inbox each weekday.
With less than 36 hours to go before the polls close in Israel and eight days until the midterms in the U.S., our senior political correspondent, Jacob Kornbluh, shares what's in his notebook…
Final polls suggest former Prime Minister Benjamin Netanyahu has the edge heading into Israel's election tomorrow, with the right-wing bloc likely to win at least 60 of Parliament's 120 seats. But it comes at a cost: the extremist nationalist Itamar Ben-Gvir is poised to peel off votes from Netanyahu's Likud Party with a tough-on-crime message. 
Ben-Gvir's increasing popularity has sparked anxiety among American Jews and U.S. administration officials, who worry that a Netanyahu-led government that includes Ben Gvir as a minister would weaken Israel internationally. A Haaretz editorial blames Likud for legitimizing him and embracing his anti-democratic positions on the legal system and opposition to liberal values. Yair Lapid, the incumbent caretaker prime minister who warned that Netanyahu would be held hostage by Ben-Gvir, said a vote for him is "a vote against IDF soldiers," and pledged to form a government backed by Arab parties.
What to watch: Arab turnout. Alon Pinkas writes in Haaretz that if it's below 45%, Netanyahu is likely to return to the premiership, and if it's above 50% he won't; of course it could be between 45% and 50%….

Follow Jacob on Twitter throughout the week for the latest scoops about Israel's fifth election in four years. Share your take on the situation by emailing [email protected]. And keep up with the latest election news from our partners at Haaretz.
Rep. Lee Zeldin last week at the Beth Gavriel Center of Bukharian Jews in Queens. (Jacob Kornbluh)
U.S. Rep. Lee Zeldin, the Republican nominee for governor of New York, rallied Orthodox voters on Sunday, with stops in the Brooklyn neighborhoods of Borough Park and Williamsburg. Zeldin, one of two Jewish Republicans in Congress, has courted these Haredi communities, an influential voting bloc, with his tough-on-crime message and defense of the yeshiva education system. Hasidic interest in the election, evident on the streets and in public WhatsApp groups, is reminiscent of the enthusiasm for Donald Trump ahead of the 2016 presidential election. 
In a recent interview with the Forward, Zeldin spoke about his great-grandfather, an Orthodox rabbi and a pioneer in the Zionist movement. He also said he disagreed with Trump's recent tirade against American Jews. "The Jewish people aren't monolithic," Zeldin said. "Everyone out there is free to vote for whoever they want to vote for." Read the story ➤
Stumping for Zeldin on Long Island Saturday night, Florida Gov. Ron DeSantis invoked Jewish billionaire George Soros, the Holocaust survivor who's been the target of antisemitic tropes.

Meanwhile Gov. Kathy Hochul, the Democratic incumbent, visited the grave of the Lubavitcher rebbe in Queens Sunday afternoon. "May God help me be a messenger on behalf of the Jewish community in New York and protect them from all evil and hate," the governor wrote in a note.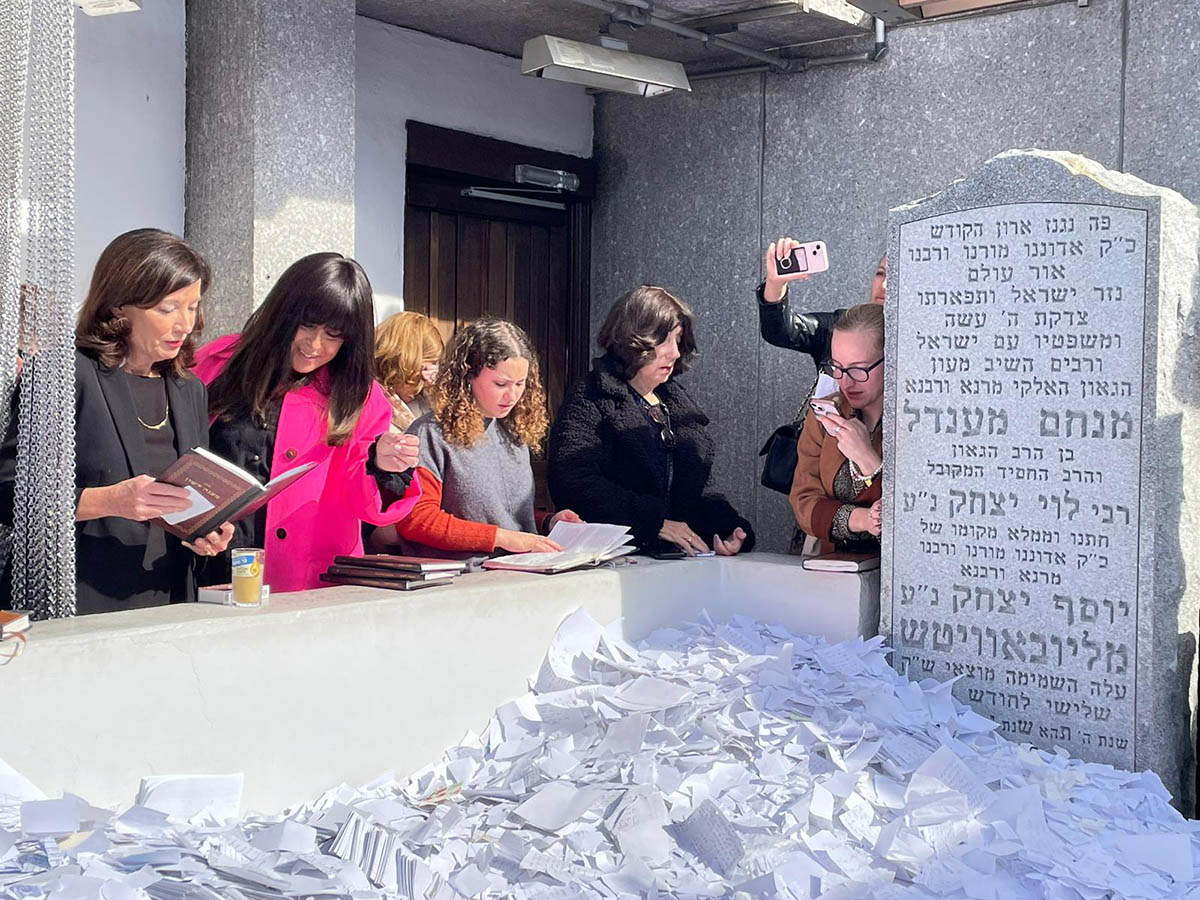 N.Y. Governor Kathy Hochul, left, at the tomb of the Lubavitcher rebbe in Brooklyn. (Jacob Kornbluh)
Kanye West at a fashion show in Paris earlier this month. (Getty)
Kanye West suggests Jewish doctor may have wanted to kill him: The rapper told paparazzi on Friday night that his mental health issues were "misdiagnosed" by a Jewish doctor. "At a time like this, if I was on medication right now, then one pill could've been swapped out and it would be Michael Jackson and Prince all over again," said West, whose legal name is now Ye, referring to two legendary Black singers who both died because of  overdoses to prescription medicine. Separately, antisemitic messages appeared throughout Jacksonville, Florida, over the weekend – including one at a college football game declaring "Kanye is right about the Jews." Read the story ➤
But wait, there's more…
WHAT ELSE YOU NEED TO KNOW TODAY
Elon Musk is now in charge of Twitter. (Getty/iStock)
🐦  The Anti-Defamation League said it has already "identified a coordinated effort" to spread antisemitic content on Twitter "explicitly drawing inspiration" from the takeover by Elon Musk on Friday. Musk has promised to loosen content moderation on the platform. (New York Times, JTA) (Related: Elon Musk has a Hebrew first name. Is he Jewish?)
🏀  Kyrie Irving, a point guard for the Brooklyn Nets, defended his support of a conspiratorial antisemitic documentary. "I'm not going to stand down on anything that I believe in," he said. (Forward)
🇬🇧  King Charles, Shabbos goy? Britain's Chief Rabbi, Ephraim Mirvis, will stay with the king the night before his coronation so that Mirvis can observe Shabbat and not travel by car. The Saturday event – on May 6, 2023 – will take place at Westminster Abbey, a one-mile walk from the royal residence. (Telegraph, Jewish Chronicle)
🤦  A Texas candidate named Wayne Christian said he would stop campaigning with the slogan that he is the "only Christian on the ballot" after his Democratic opponent, who is Jewish, called it "bigoted." (Texas Tribune)
⛪  For nearly 70 years, federal law has barred churches from direct involvement in politics, but the IRS has largely abdicated enforcement of this ban as churches have become more brazen about publicly backing candidates. (ProPublica)
👻  Many Americans believe that their homes are inhabited by ghosts, which researchers attribute to the rise of paranormal-related media, a decline in religious beliefs and the pandemic. (New York Times)
Shiva calls ➤  Roz Wyman, a Los Angeles City Council member who helped bring the Dodgers to town, died at 92 … Gerald Stern, winner of the National Book Award and the first poet laureate of New Jersey, died at 97.

What else we're reading ➤  In the Israeli election, is Netanyahu preparing a "stop the steal" campaign? … In Pennsylvania's governor's race, faith surfaces in contrasting ways … The secret Jewish history of "Tár," the new Cate Blanchett movie that's garnering awards buzz.
"Saturday Night Live" addressed the Kanye West controversy with a parody commercial from Skechers, the shoe company that wants you to know they kicked the rapper out of their headquarters immediately, while it took their competitor, Adidas, 10 days to sever its contract with West. "And I noticed we haven't heard anything from Crocs," said one Skechers employee in the ad. "I'm not saying Crocs is antisemitic. I just think it's interesting we haven't heard from them."
–––
Thanks to Jacob Kornbluh, Sarah Nachimson, Gary Rudoren and Talya Zax for contributing to today's newsletter. You can reach the "Forwarding" team at [email protected].