Forwarding the News
Five years after 'Jews will not replace us' in Charlottesville + 72 years after Julius and Ethel Rosenberg trial
An interview with 'Koshersoul' author Michael Twitty, NY signs Holocaust education bill, and World Series champion to lead Israeli baseball team. Plus: Did Justin Bieber give a Nazi salute at a concert?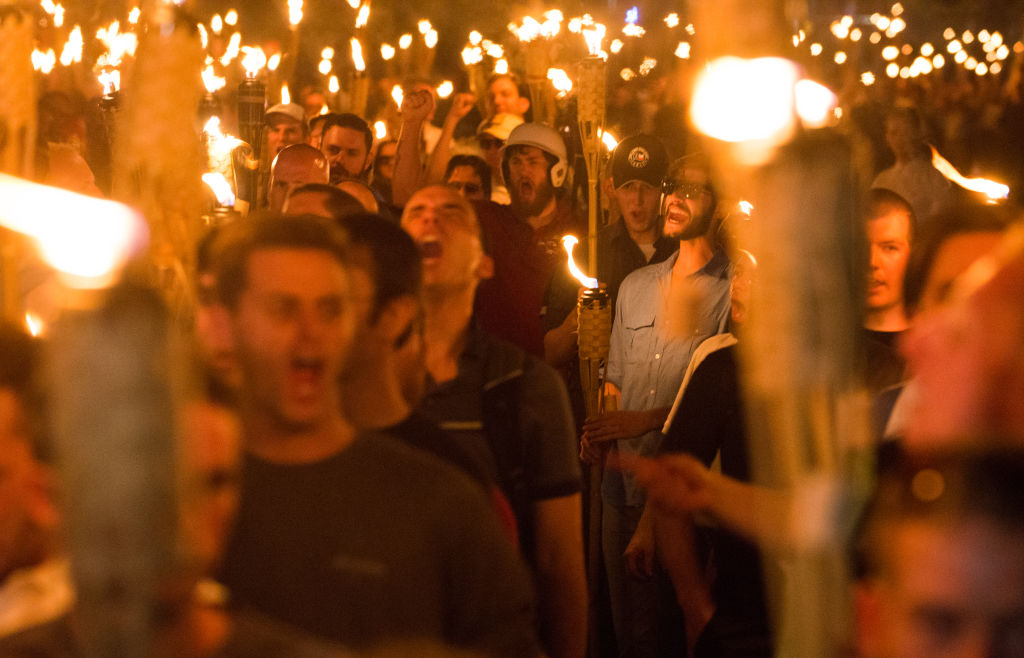 This article is part of our morning briefing. Click here to get it delivered to your inbox each weekday.
Five years ago, a rally cry of 'Jews will not replace us'
Tonight marks the fifth anniversary of the start of the 'Unite the Right' rally at which white supremacists, neo-Nazis and other groups gathered in Charlottesville, Virginia, to protest the removal of a monument to Confederate Gen. Robert E. Lee from a city park.
Two blocks away from the statue site was Congregation Beth Israel, a 400-plus family Reform synagogue led by Rabbi Tom Gutherz.

Being on the front lines of the mayhem meant that his community was forced to grapple with the role of antisemitism in white nationalism – a movement that broke into public conscious following President Donald Trump's election. It has continued to be buoyed by the mainstreaming of the "great replacement theory" and the attempt to overthrow the government on Jan. 6, 2021, at the U.S. Capitol – where some similar groups participated in the rioting.
Rabbi Tom Gutherz of Charlottesville's Congregation Beth Israel. (Eze Amos)
The Unite the Right rally "made us accelerate our self-reflection on the stories we have been telling ourselves," Gutherz wrote in an essay for the Forward in November, "and to look harder at the things we have not known or not wanted to see."
Our Arno Rosenfeld traveled to Virginia last year to cover the civil trial of 14 men and 10 groups accused of conspiring to commit racist violence at the rally. They were found guilty of conspiracy to commit violence, and are now liable for more than $25 million in damages to the rally's victims.
James Alex Fields Jr. is serving multiple life sentences for driving a car into a crowd of counter-protesters, killing 32-year-old Heather Heyer and injuring 35 others. Today, there is a memorial service at that spot.
But the wound remains fresh for many of those who were closest to the violence. "There's not going to be closure," Gutherz told Rosenfeld. 
Revisit some of our coverage of the event and its aftermath ➤
Michael Twitty speaks at the 2018 James Beard Awards. (Getty)
For cookbook author Michael Twitty, African and Jewish diaspora cuisines share a crucial bond: Twitty's first book, which reconstructed Southern cuisine as prepared by enslaved African American cooks, won the James Beard Award. His second, called "Koshersoul" and out this week, tackles another part of his identity: his Judaism. It features recipes for yam kugel, black-eyed pea hummus and kosher-Cajun rice dressing. The goal, he writes, is "to remove all the labels, not create another one." Read our interview ➤
Justin Bieber appeared to give a Nazi salute at a concert in Finland. The Council of European Rabbis said that Bieber "slapped the faces of millions of Jews across the world when he chose to perform the 'sieg heil' movement." But promoters in Israel, where Bieber will perform in October, say it was just an innocent dance move. "Not everything has to do with the Jewish people," they said in a statement. Read the story ➤
New York Gov. Kathy Hochul signed legislation Wednesday to provide financial assistance to the state's 40,000 Holocaust survivors and ensure schools provide high-quality Holocaust education. "I don't want the citizens of my state to live in fear ever," she said, citing rising antisemitism. Read the story ➤
A Palestinian comic who has denounced Israel as a "terrorist state" and "worse" than apartheid is slated to perform at a Brooklyn fundraiser next week for a congressional candidate. New York State Rep. Yuh-Line Niou is one of the top contenders in a crowded primary in a heavily Jewish district, and has previously sparked controversy for expressing support for the Boycott, Divestment and Sanctions movement against Israel. Read the story ➤

Ian Kinsler, a second baseman for the 2018 World Series champion Boston Red Sox, will manage Team Israel in the 2023 World Baseball Classic. Fans hope his name recognition will draw other Jewish major leaguers. Kinsler said he's assembling a coaching staff and will "put together the most competitive roster we can." Read the story ➤
Forwarding the News is now also available on our website. Share it on social media or with a friend simply by clicking on the blue button below.
WHAT ELSE YOU NEED TO KNOW TODAY
Joe Resnek was a White House speechwriter and a public defender. He's now a musician. (Courtesy)
🎸  Joe Resnek is a Harvard Law School grad who became a White House speechwriter. Nowadays you can find him in long dreadlocks busking on streets in his hometown of Chelsea, a hardscrabble little city across the Mystic River from Boston. His first album was released this summer. "Moving a crowd is the principle," Resnek said. "Obama was a rock star – and not because he sang." (Boston Jewish Journal)
🇺🇦  Two stories from the warfront: Despite the ongoing violence in Ukraine, Jewish life in Dnipro appears somewhat normal, with dozens of people attending morning prayers at the synagogue and kosher restaurants bustling. In Russia, however, the country's Jews feel trapped and unsafe. (Sapir, Common Sense)
🏀  NBA star Giannis Antetokounmpo, a power forward for the Milwaukee Bucks, became an investor in an Israeli telemedicine startup, the company announced Wednesday. "My siblings and I grew up impoverished and marginalized," said Antetokounmpo, the son of Nigerian immigrants in Greece, whose rags-to-riches story is the subject of a new film on Disney+. "Though we had the support of loving parents, getting healthcare was a struggle. That's why I empathize with the many Americans who can't pursue their dreams because they can't afford healthcare." (CTech)
📙  A new book explores how U.S. newspapers downplayed stories about the Holocaust until late 1943. "Few American journalists ever questioned President Roosevelt or his senior aides about their no-rescue policy during the Holocaust," said the book's author, Rafael Medoff. "That was both an abdication of their responsibility as journalists and a moral tragedy." (Times of Israel)
💻  Millennials have adapted to virtual worship, but still prefer in-person religious experiences, according to a study out of Canada. The findings offer some comfort to faith leaders concerned that technology will displace religious engagement. (Religion News Service)
🩺  Doctors prescribe fewer painkillers during night shifts than during the day, according to Israeli researchers. The study found that doctors showed more empathy for a patient's pain at the beginning of their shifts than at the end, when they were tired. (Forbes)

What else we're reading ➤  A kibbutz in Israel was featured on a recent episode of "The Simpsons" … New Frank Oz exhibit reveals "Muppet" co-creator's family history of fleeing Nazis … This Jewish entrepreneur wants Syrian string cheese to become an American staple.
Was this newsletter forwarded to you or are you reading it on our website?
Receive it in your inbox each morning by clicking the blue button below.
Ethel and Julius Rosenberg were sentenced to death for conspiracy to commit espionage for the Soviet Union. (Getty)
On this day in history (1950): Ethel Rosenberg testified before a grand jury while on trial for allegations that she committed espionage on behalf of the Soviet Union. Rosenberg and her husband, Julius, were each born to Russian-Jewish immigrant families in New York and married in 1939 after meeting at the Young Communist League. The couple was eventually found guilty and executed via electric chair on June 19, 1953. Thirty years later, Bob Dylan wrote a song called "Julius and Ethel." 

Last year on this day, we reported that Mayim Bialik was chosen as interim co-host of "Jeopardy!" Last month, her role on the show became permanent. 
Primary season: If you turned our candidate forum last night into a drinking game, and took a shot every time Suraj Patel used the phrase "generational change," you would have gotten very drunk. Ditto if the shots were for each mention by Rep. Carolyn Maloney of women's rights or abortion. 
It was the third and final face-to-face encounter among Patel, Maloney and Rep. Jerry Nadler, who are in a tight Aug. 23 primary race for a newly drawn Manhattan district. The candidates mixed it up a bit more than in the prior two forums; Nadler called Maloney "gullible," Maloney called Patel "a broken record" and said Nadler hadn't gotten much legislation through the Senate. 
Also, Patel managed to work both the Book of Exodus and Hindu scripture into his opening statement which, as our Laura E. Adkins noted on Twitter, might be a first. Watch the whole megillah on YouTube and check out Jacob Kornbluh's Twitter thread from the event. Spoiler alert: the two veterans who have each been in Congress for 30 years oppose Congressional term limits, and the guy trying to unseat them supports them.
–––
Play today's Vertl puzzle, the Yiddish Wordle
Thanks to Arno Rosenfeld, Jodi Rudoren, Rina Shamilov and Talya Zax for contributing to today's newsletter. You can reach the "Forwarding" team at [email protected].