Forwarding the News
Antisemitism takes center stage in Pennsylvania governor race
Non-traditional synagogue offers holy hikes with llamas, Trump contradicts Kushner's Mideast account, 'My Unorthodox Life' cast wins on 'Celebrity Family Feud,' and Israel's king of pop has died.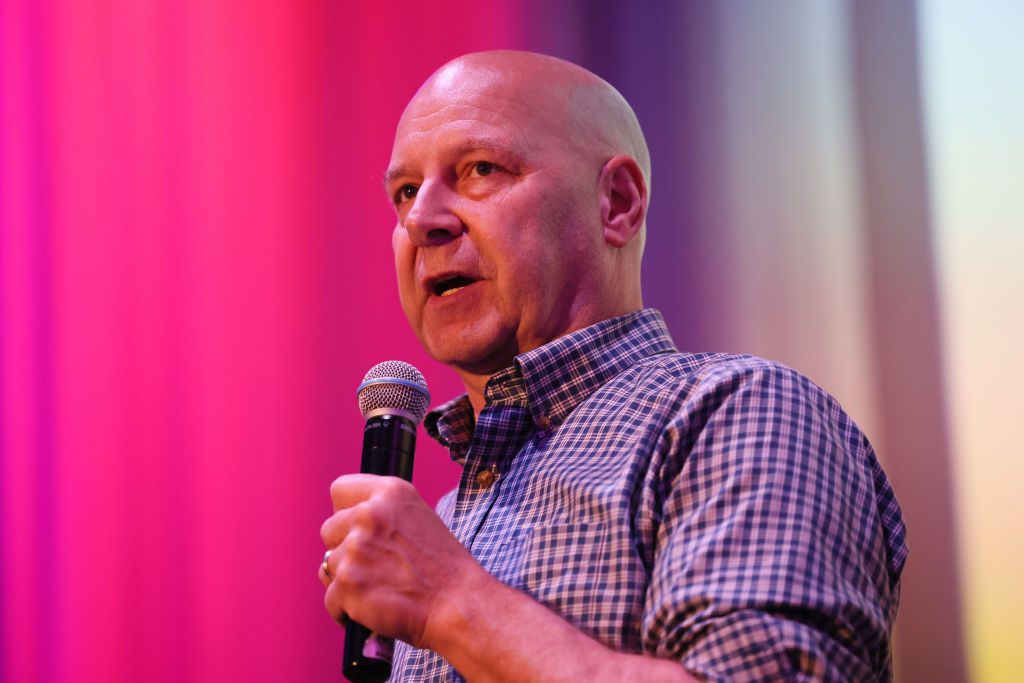 This article is part of our morning briefing. Click here to get it delivered to your inbox each weekday.
Our senior political reporter, Jacob Kornbluh, shares what's in his notebook…
Josh Shapiro, the Democratic nominee for governor of Pennsylvania, is launching two television ads focusing on his Republican rival's association with Gab, a social media platform rife with antisemitism. The 30-second ads highlight the fact that Gab was the social media platform used by Robert Bowers, the man who killed 11 Jews at the Tree of Life synagogue in Pittsburgh in 2018. Read the story and watch the ads ➤
Early voting kicked off on Saturday for the Aug. 23 primaries in New York. The coveted New York Times endorsement went to Dan Goldman in the 10th District, which includes Lower Manhattan and Brooklyn; and to Rep. Jerry Nadler in the 12th District, which includes Manhattan's heavily Jewish West Side and East Side neighborhoods. 
In an interview with the Times editorial board, Nadler mentioned his support for the 2015 nuclear deal with Iran as one of three policy differences with Rep. Carolyn Maloney, who voted against it. "I thought I was taking my political life in my hands," Nadler said. He added that he thought backing the deal was important, but "used the opportunity to get some guarantees from the president in terms of Israeli-American relationships." 
Assemblywoman Yuh-Line Niou, one of a dozen candidates in the Democratic primary for the 10th District, reiterated her support for BDS in her Times interview, saying the movement has a "right to exist." New FEC filings show Niou has received at least $4,000 in individual contributions from vocal anti-Israel activists. Meanwhile, Goldman earned the backing of a major Orthodox voting bloc in Borough Park. 

The campaign of Lee Zeldin, the Republican challenger to New York Gov. Kathy Hochul, released an internal poll showing him closing the gap ahead of the November election.  
A man looks at a bullet impact on a bus window after an attack in Jerusalem on Sunday. (Getty)
Four tourists from Brooklyn were among the eight people injured in an apparent terror shooting attack near the Western Wall outside Jerusalem's Old City early Sunday morning. New York politicians condemned the attack and offered their assistance. 
The Jerusalem Post reported Sunday that former President Donald Trump sent a letter to then-Prime Minister Benjamin Netanyahu agreeing to his annexation plan. The revelation of the three-page letter contradicts Jared Kushner's account in his forthcoming book that Trump was angry that Netanyahu mistook his peace plan as a green light for annexation. 
The United Nations has removed the head of one of its offices serving the Palestinians in East Jerusalem after she criticized the Palestinian Islamic Jihad's "indiscriminate rocket fire" on Israel during the recent Gaza flare-up and tweeted her support for the ceasefire. 
Race for U.K prime minister: Liz Truss, the leading candidate to replace Boris Johnson as the Conservative Party's leader next month, drew criticism for using Jews to make a political point when she pledged to protect Jews from "creeping antisemitism and wokeism" in the civil service.

And an update: Remember that Jewish doctor in Hawaii whom we featured in Friday's newsletter? He won the Democratic primary for governor this weekend.
Rabbi Julie Kozlow leads Shavuot service in Arizona's Prescott National Forest. (Courtesy)
This new congregation offers holy hikes with llamas. Will it last? Rabbi Julie Kozlow was ordained at 50 and spent the next 15 years at four different synagogues. The midlife career change was not what she'd hoped it would be. So Kozlow created her own congregation, unaffiliated with any denomination. It does not have a board or committees and is very untraditional. They meet up for around a dozen events each month. Programming includes gatherings at local coffee shops, "Jubu" (Jewish and Buddhist) meditation in the mountains and Torah study aboard kayaks. "To find God," she said, "you have to get out of the building." Read the story ➤
A new play, called "Two Jews Talking," features two stories that take place 3,557 years apart: one from the Torah and one from modern-day Long Island. It features Hal Linden, 91, best known for his role "Barney Miller," and Bernie Kopell, 89, who portrayed the doctor on "The Love Boat." It comes from the mind of Edwin Weinberger, who wrote and was a producer for "The Mary Tyler Moore Show," and was a co-creator of "Taxi." Read the story ➤
Artists in Uvalde, Texas, have painted 21 murals to memorialize victims of the Robb Elementary School shooting. One of those artists is Anat Ronen, an Israeli American and the granddaughter of a Holocaust survivor. "The whole idea was to bring out the victim with what they liked," said Ronen, "and literally paint a picture of them that represents them in more ways than just the portrait." Read the story ➤

And one more: Meet six Jewish teens out to change the world
Forwarding the News is now also available on our website. Share it on social media or with a friend simply by clicking on the blue button below.
WHAT ELSE YOU NEED TO KNOW TODAY
An Israeli flag on the rail tracks at the site of the Auschwitz-Birkenau concentration camps. (Getty)
🛬  Israel's Education Ministry announced Sunday that it was canceling organized Holocaust-education missions for Israeli teenagers to Poland this fall because the ministry and the Polish government could not agree on the educational content and security arrangements. It had previously nixed all of the summer tours. (Haaretz)
✂️  An Orthodox Jewish man was stabbed in the face with a pair of scissors on Thursday in Montreal. Local police say it's possible it was related to a work-related conflict. The suspect was arrested and appeared in court on Friday. (CTV News)
💻  Colorado is urging the U.S. Supreme Court to uphold its anti-discrimination law in the face of a challenge by a Christian web designer who does not want to create custom wedding websites for same-sex couples and claims the state law violates her right to free speech. (The Colorado Sun)
👍  A Dutch municipality has renamed a park that had been named for a mayor who helped the Nazis hunt his city's Jews. The latest move is part of a trend of cities around the world grappling with their Nazi monuments. In one example from 2021, local officials in a Belgian town voted to remove its memorial amid international pressure. (JTA)
✝️  Republican leaders are keeping mostly mum on calls to make the GOP the party of Christian nationalism. "When they fail to speak out against this, they're surrendering the future of their party to the Marjorie Taylor Greenes of the world," said Brian Hughes of American University's Polarization and Extremism Research and Innovation Lab. (Religion News Service)
Mazel Tov ➤  To the cast of Netflix's "My Unorthodox Life." They competed on Sunday night's episode of "Celebrity Family Feud" and won $25,000 for VOW for Girls, a charity that aims to end the child bride crisis. 
Shiva calls ➤  Svika Pick, a legendary pop singer in the world of Israeli music whose career spanned decades, died at 72. Pick was the father-in-law of director Quentin Tarantino … Zofia Posmysz, whose writings about her time in a concentration camp were turned into a play, a movie, an opera and a novel that was translated into 15 languages, died at 98.
What else we're reading ➤ The KKK once bombed this Mississippi synagogue. Now it's thriving … Ten Jewish baseball players from history whom you may not know but totally should … Debra Messing talks Jewish pride, her bat mitzvah and Netflix's '13: The Musical.'
Was this newsletter forwarded to you or are you reading it on our website?
Receive it in your inbox each morning by clicking the blue button below.
Judy Garland and Ray Bolger in a scene from 'The Wizard of Oz.' (Getty)
On this day in history (1939): The official premiere of "The Wizard of Oz" took place at Grauman's Chinese Theatre in Hollywood. While the film's star, Judy Garland, wasn't Jewish, one of her biggest mentors was actress Sophie Tucker (born Sofia Kalish), who played her mother in two films. Garland had romantic relationships with many Jewish partners, including two of her five husbands, and some of Garland's best-known songs were also written by Jewish songwriters, including those in "The Wizard of Oz." The film's soundtrack featured lyrics by Yip Harburg (born Isidore Hochberg on Manhattan's Lower East Side) and music by Harold Arlen (born Hyman Arluck, the son of a cantor). Read our secret Jewish history of Judy Garland ➤
Last year on this day, we reported that synagogues were planning for in-person High Holiday services. Then came the Delta variant.

In honor of National Relaxation Day, peruse our list of the 125 greatest Jewish movie scenes.
Israel's team competed in the Women's Artistic Swimming free combination final event on Sunday during the European Aquatics Championships in Rome. The team from Ukraine won the gold medal.

Department of Corrections: Our editor-in-chief, Jodi Rudoren, is extremely embarrassed to have reversed the bagel preferences of U.S. Reps. Jerry Nadler and Carolyn Maloney in her "Looking Forward" newsletter on Friday. It is Nadler who takes his poppy seed bagel topped with lox and tomato, while Maloney likes her poppy seed bagel toasted with cream cheese. Jodi's on (needed, apparently!) vacation this week, so "Looking Forward" will be back in your inboxes on Aug. 26.  
–––
Play today's Vertl puzzle, the Yiddish Wordle
Thanks to Jordan Greene, Beth Harpaz, Jacob Kornbluh and Talya Zax for contributing to today's newsletter. You can reach the "Forwarding" team at [email protected].