News
In New York's primaries, tough choices for many Jewish voters
At least two Democratic incumbents could lose their seats and New York City could lose its sole Jewish House member — or see its Jewish representation increase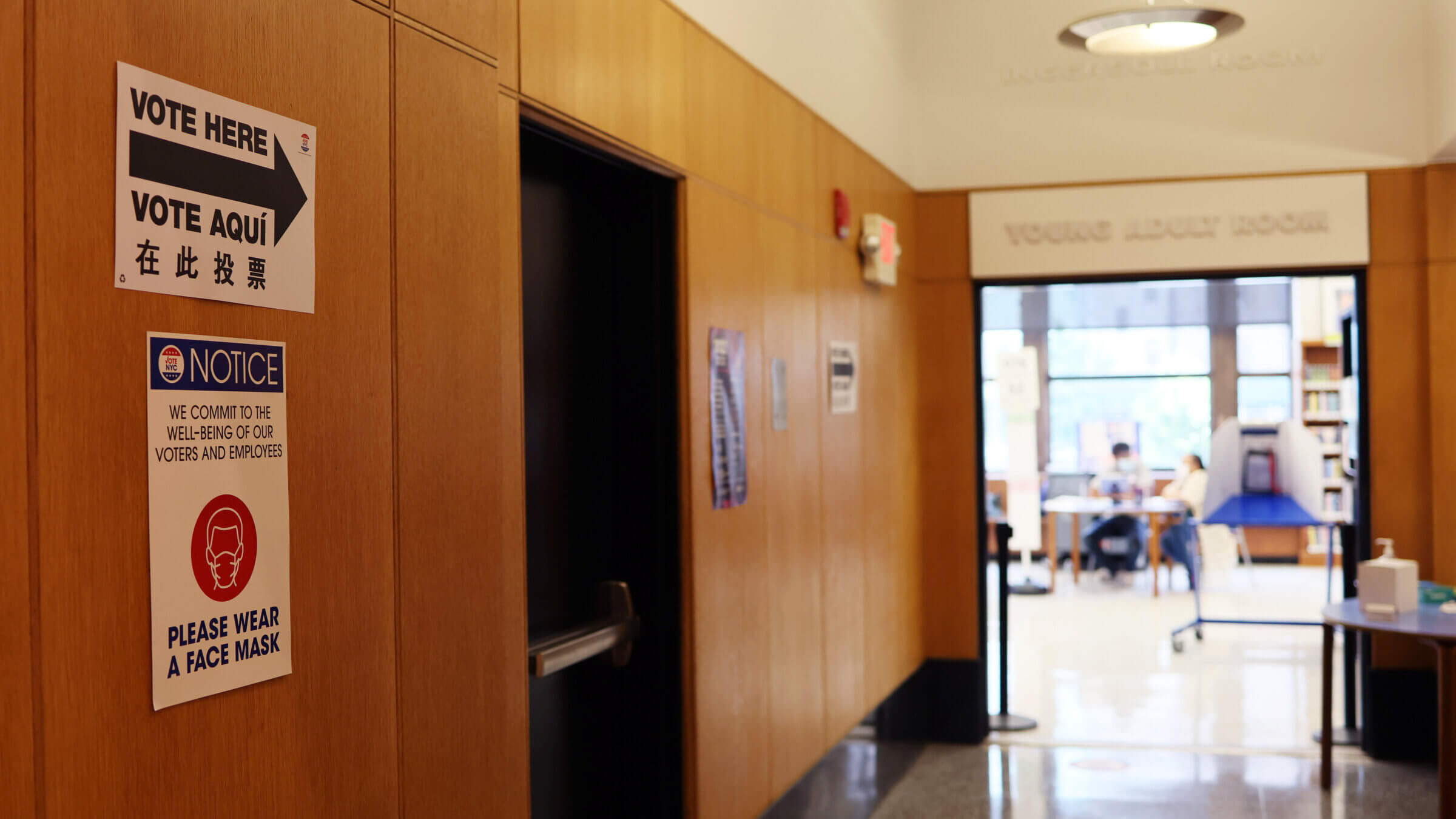 A mere three months after a court-ordered redrawing of New York's Congressional district lines threw the state into political chaos, New Yorkers will vote in Tuesday's primary. 
In two of the most competitive races, Democratic incumbents could lose their seats, and New York City could either lose its sole Jewish House member or see its Jewish representation increase.
Here are key races to watch: 
Nadler vs. Maloney vs. Patel  — the 12th District
In the most closely watched Democratic race for the redrawn 12th District, which includes the heavily Jewish neighborhoods of Manhattan's Upper West and East sides, at least one veteran incumbent will lose a reelection bid after three decades in Congress. Reps. Jerry Nadler and Carolyn Maloney, both with close ties to the pro-Israel and Jewish community, have traded personal barbs in recent weeks. Nadler's heavy focus on his status as the city's lone remaining Jewish House member, aided by the endorsements of Senate Majority Leader Chuck Schumer and Sen. Elizabeth Warren of Massachusetts, has given him an edge against Maloney. 
Meanwhile, political newcomer Suraj Patel, who pitched himself as a pro-Israel progressive and called for "generational change," is hoping for an upset, having already secured former New York Mayor Michael Bloomberg's vote.
Crowded race in heavily Jewish neighborhoods — the 10th District
A dozen candidates are competing to represent the open seat which includes the Brooklyn neighborhoods of Park Slope, Borough Park and a stretch of Lower Manhattan. A fifth of the population in the 10th District is Jewish.
Dan Goldman, heir to the Levi Strauss fortune and a former prosecutor, has maintained a slight lead over local lawmakers with more name recognition — and who have created an "anyone but Goldman" alliance in recent days. Goldman has been outspoken about his Jewishness and strong positions on Israel in a district that was previously represented by Nadler. 
His chief rival is Assemblywoman Yuh-Line Niou, who is backed by the Working Families Party, local Democratic Socialists and the progressive Jewish Vote. A newly created Super PAC has spent $225,000 attacking Niou, who supports the Boycott, Divestment and Sanctions movement and has associated herself with vocal anti-Israel critics. 
Rep. Mondaire Jones, a first-term congressman from Hudson Valley, who moved to Manhattan after redistricting to avoid an incumbent-vs.-incumbent race, has sought the support of progressives and Jews to win his reelection bid. 
The remaining candidates are former Congresswoman Liz Holtzman; who served in Congress from 1973 to 1980; Councilwoman Carlina Rivera, who has the support of veteran New York Rep. Nydia Velázquez and local unions; Assemblywoman Jo Anne Simon, who represents a sizeable Jewish constituency in Park Slope and Carroll Gardens; Maud Maron, a former public defender who converted to Judaism; and Brian Robinson, who founded a consumer-advocacy company in Manhattan and courted the Hasidic community in Borough Park. 
Former Mayor Bill de Blasio, who abandoned his campaign amid dismal polling and urged the candidates to speak out in opposition to BDS, didn't endorse a candidate in the race and didn't return a text inquiring about his choice.
Eyeing a comeback — the 11th District
In the Democratic primary for the 11th District, which includes Staten Island and parts of Brooklyn, Max Rose, a former Jewish congressman seeking to reclaim the seat he lost in the 2020 election, is competing with Brittany Ramos DeBarros, a former Army officer who has progressive support.
First reelection test — the 16th District
Rep. Jamaal Bowman, a first-term member of "The Squad" who defeated longtime Jewish congressman Eliot Engel in 2020, is facing his first reelection test — challenges from Westchester County legislators Vedat Gashi and Catherine Parker. 
Bowman, whose district includes Westchester County and the north Bronx, fielded criticism from his left-wing and Socialist allies over his support of Israel. But he also withdrew his support from the Abraham Accords; defended his support for the Palestinian Children and Families Act, which is legislation that prohibits Israel from using U.S. aid for the detainment of Palestinian children by Israeli security forces in the Palestinian territories; and co-sponsored a House resolution that called Israel's founding "a catastrophe" for the Palestinian people. He is backed by Sen. Bernie Sanders, his progressive allies, J Street PAC and The Jewish Vote.
Gashi earned the endorsements of Engel and former Jewish congresswoman Nita Lowey. 
The calm before the storm — the 17th District
Rep. Sean Patrick Maloney, a five-term Democratic incumbent in the Hudson Valley, is facing a primary challenge from a local progressive firebrand, State Senator Alessandra Biaggi, who ousted Jeff Klein, the New York Senate kingmaker, in 2018.
Maloney, confident about his position in the polls, has sought to stretch that lead by reaching out to Rockland County's sprawling Hasidic communities, which have made it the county with the largest Jewish population per capita in the nation. He is backed by the American Israel Policy Action Committee and the Democratic Majority for Israel, which has spent to date $53,000 on Maloney. 
Biaggi, who represents the Jewish community in Riverdale, has distanced herself from Ocasio-Cortez and her allies, expressing her support for Israel and opposition to BDS in a statement to the Forward. 
If he prevails, Maloney will face a tougher reelection bid in the general election against a possible Republican challenger with the financial support of the National Republican Congressional Committee. Michael Lawler, a first-term Republican Assemblyman whose district includes the Orthodox community in Ramapo, recently boasted about an internal poll showing him in a statistical tie for the seat against either Maloney or Biaggi. 
Open seat on the island — the 3rd District
In Nassau County, five candidates are competing to succeed retiring Rep. Tom Suozzi, a moderate pro-Israel congressman who ran for New York governor in the June primaries. 
The race to represent the Long Island district, which has a significant Jewish population, includes three Jewish candidates: longtime public relations executive Robert Zimmerman, who has racked up considerable support from the political establishment; former North Hempstead Supervisor Jon Kaiman; and county legislator Joshua Lafazan. Also running are Melanie D'Arrigo, a progressive activist, who is backed by the Working Families Party in her second bid for the seat; and Reema Rasool, an entrepreneur and community organizer who ran for Oyster Bay Town Council last year. 
An opening for Republicans and other races of note — the 19th and 23rd Districts
A special election to replace Antonio Delgado, who was appointed lieutenant governor of New York in May, will test Republican chances for a red wave in November in the wake of the overturning of Roe v. Wade and President Joe Biden's recent legislative wins. The National Republican Campaign Committee has spent $1.2 million to support Marc Molinaro, the former Dutchess County executive who ran for governor in 2018, against the Democratic candidate, Ulster County Executive Pat Ryan. The Capital Region district, the 19th, leans Republican, according to the Cook Political Report.
Ryan is also running in a Democratic primary for a full term in the new 18th District, which was represented by Rep. Sean Patrick Maloney, who now lives in the neighboring 17th District.
In Western New York, a Buffalo Republican who praised Hitler's leadership and suggested Attorney General Merrick Garland, who is Jewish, should face execution, is in a dead heat with the establishment GOP candidate in the 23rd District.