Culture
Finding out I wasn't genetically related to my father brought me closer to him
How a surprising discovery on 23andMe led to an even more surprising realization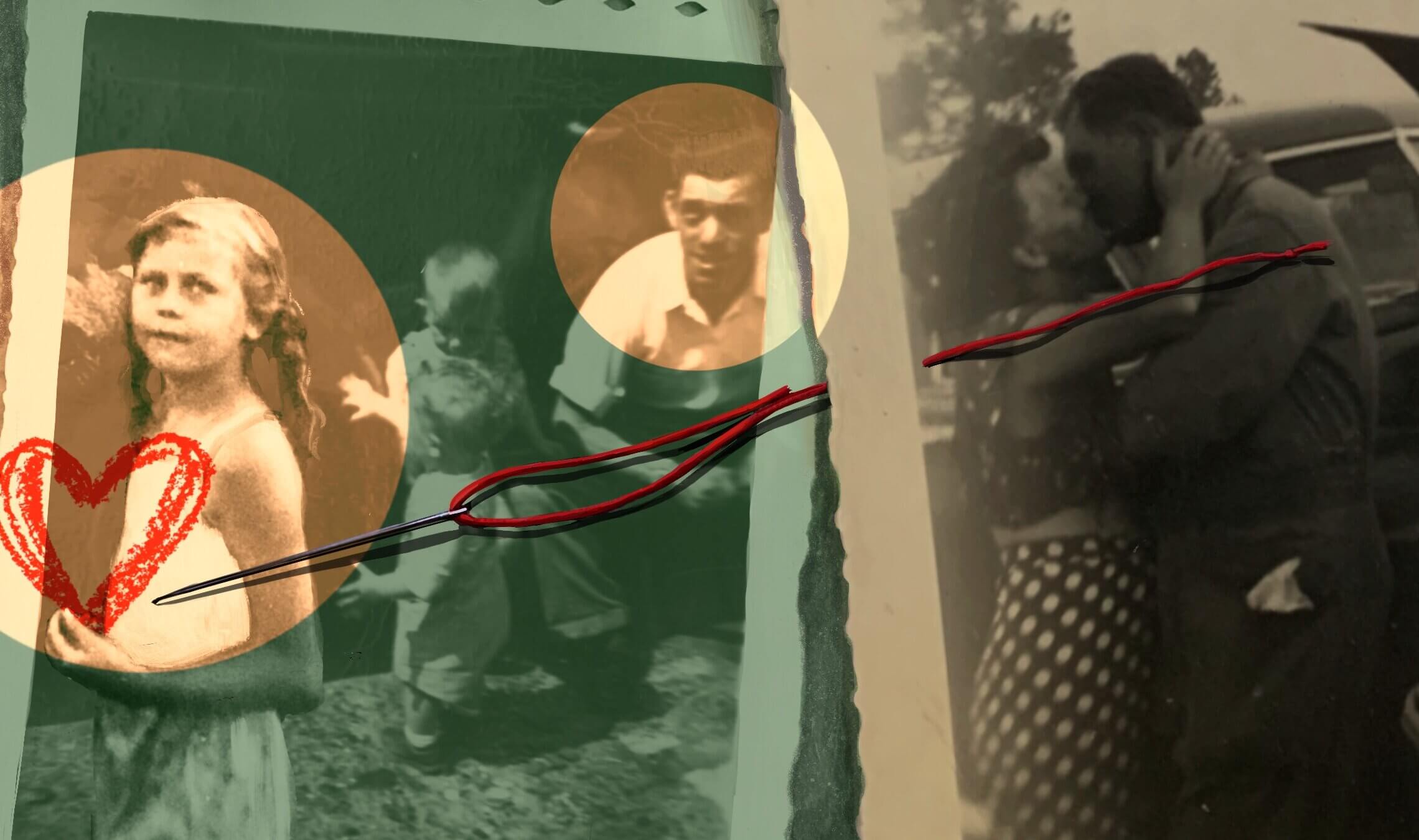 I mailed my saliva to 23andMe on a lark, never imagining I'd get a message telling me, "My grandfather was your biological father." It came from a woman named Ruth who had the same last name as my parents' close friend Sam.
I wanted to scream, "Mom, how can this be? You were involved with someone other than Daddy? How did you go through life with such a monumental secret?"
In our traditional home, everything seemed as kosher as the kitchen. At any age, this revelation would have been traumatizing. But at 79, with both parents, my twin brothers and Sam dead, there was no one to unpack the story. To calm down and fall asleep, I convinced myself it was a mistake.
When I woke up, I knew it had to be true. I'd seen on the site that Ruth and I shared 11.49% DNA. "The amount sounded insignificant," I told my husband Martin. I hadn't bothered to scroll down to a chart showing that Ruth and I were closely related. Another red flag I'd ignored was that, of the more than 1,000 people whose DNA overlapped mine, there was no Adelman, my father's family name.
"Your father's relatives all had similar features," Martin pointed out. "You don't look anything like them." He asked if I'd ever met Sam.
"He and his wife sometimes came to dinner," I said, "after we moved from Canada to New Jersey, but I was a kid. My only memory is that, when I was 9, I blurted out to him, 'your nose is big' and my mother took me into another room to scold me."
My big fear was that my father knew the truth and was pained by it. Scarlet fever had left him seriously hearing-impaired. I'd always felt protective of him, mistaking his sweetness for weakness, not recognizing until I was more mature that opening a supermarket despite having no experience in the food business and growing it to a chain of 14 stores required competence and courage.
I remembered teasing him on my 21st birthday, "You haven't talked to me about sex."
"Du hast tseyt," he said in Yiddish — You have time.
Pulling out a file with his memorabilia, I came across a letter from him thanking me for a Hebrew typewriter I'd given him. "I go to shul every Saturday morning and pray for your complete happiness," he wrote. "You deserve it."
There was a note he'd left in my mother's hospital room during her final days that read: "To my Dearest and most noble and sacrificing mother. May God keep us together for many, many years." I was comforted to see that. If they'd had problems, they'd overcome them.
My father was born in Russia, and he didn't conform to the mold of contemporary dads. Unable to find suitable Father's Day cards, I wrote my own. One he'd saved said: "The cards they sell have fishing poles, while I need one with Kaiser rolls. I have a 'tati,' not a dad, But I lucked out and I'm so glad."
His passion was writing essays, often about his early years in Ukraine or his love of Yiddish theater. A piece published in 1981 expressed his amusement that, when he was 8, an uncle took him to a theater in Winnipeg, and he decided when he grew up, he would go into "the exciting world of entertainment."
"I did become a Jewish impresario," he went on to say, "presenting famous cantors and stars from the New York theaters to Winnipeg."
As thrilled as he'd been each time a piece of his appeared in the local Jewish newspaper, he was proudest when I broke into comedy writing at 31 and I was introduced as the screenwriter at tapings of "The Mary Tyler Moore Show" and "Maude."
Though I felt slightly disloyal, after exchanging emails with my new half-niece, I called out to Martin, "I'm going to phone Ruth."
Our 37-year-old son was visiting. "Find out when Sam lost his hair!" he yelled.
Ruth and her husband lived near enough in New York to come over for dinner. I opened Champagne and offered a toast: "It's not a wedding, but two families are coming together." Ruth and I checked each other for similarities and noted we had the same wavy hair, and our teeth were identical. She felt like a hybrid, a mix of friend and family.
We were perplexed how her grandfather Sam, a New Yorker, met my mother, who was living in Canada then. Their relationship was a secret my mother took to her grave, unearthed 34 years later only because Ruth got 23andMe as a birthday gift from their kids.
"I wish I could talk to the dead," I told a friend.
"I have the number of a medium who's supposed to be incredible," she said. "I'll give it to you."
Martin scoffed. "Come on, you don't believe in that stuff."
"No, but maybe I can get my mother's borscht recipe."
Embarrassed to admit I'd scheduled a phone call with the medium, I joked to Martin, "I wonder if they have call-waiting on the other side."
Before I talked to the medium, I was prepared to hear generic things like, "They want you to know they're fine." I was surprised almost immediately when Bob said, "Your brother was very close to your mother."
That was an understatement. As adults, she and Jack, her favorite of the twins, had long, nightly phone schmoozes, danced the tango in our living room and vacationed together. I had the same reaction when the medium told me, "Your brother made sure you got everything you wanted." I was 17 and Jack was 25 when he bought me a car that my parents had promised but couldn't afford, the beginning of his unbounded generosity.
I kept quiet; I didn't want to give clues. Knowing I'd be invited to question the souls, as the medium called them, I phrased it carefully: "Ask my mother if there were things about her I didn't know."
"She had a love affair," he said. "Are you thinking one of your brothers wasn't your father's son?" He immediately corrected himself. "It's you," he said. "This doesn't change anything between your father and you, but you should have a DNA test."
If that had been the only story he hit on, dayenu. But he segued from one uncannily accurate fact to another with me taking notes and shaking the entire hour we were on the phone. He also shocked me by reporting the other secret I'd learned on 23andMe — that Jack, who'd never married, had a son.
Several years earlier, I'd gotten a message on the site from a man who'd written, "One of your half-brothers was my biological father. Would you be willing to explore it with me?" Not yet aware of my own complicated background, I'd responded that I didn't have any half-brothers. Later, when I contacted him on Facebook, he told me he'd found out who it was.
The session with the medium left me with much to process — too much. Trying to adjust to the new reality, I joked to Martin, "My mother's surely bragging to the other souls that she got a call from her kid after she died. That's a Jewish mother's dream come true."
"Are you sorry you know?" he asked.
"Either sorry," I said, "or sorry I don't know more."
There would be no clearer understanding of my mother's circumstances, which was frustrating. But searching for clues in that file revealed that my father's letters to my brothers were remarkably shorter and far less affectionate than those he had sent to me. Like my mother, he too had a favorite child — the one who shared none of his genes.
Finding out he wasn't my biological father, I felt even closer to him. If I were sending a card this year, it would say: "Zorgt zikh nisht (don't worry), Daddy dear, Though you are there and I'm still here, you're the one I miss each day, Love means more than DNA."