Forwarding the News
A very Jewish kidney-donation story + fallout for school with accidental swastika logo
Today: The end of the Alex Jones trial, a German university keeps honoring its antisemitic namesake, and a slew of right-wing attacks on George Soros.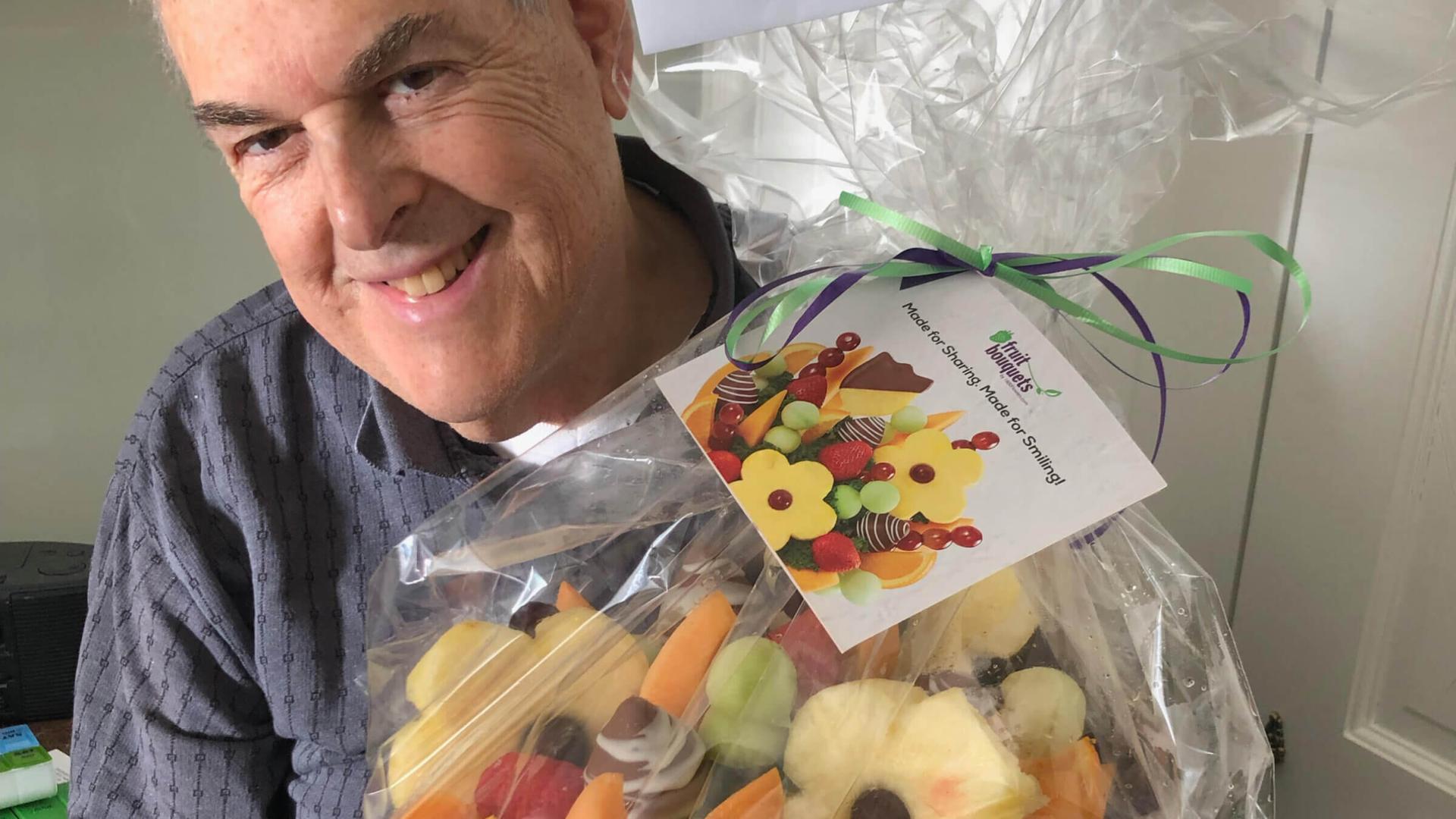 This article is part of our morning briefing. Click here to get it delivered to your inbox each weekday. It's the end of my week filling in for Benyamin Cohen on the Forwarding desk. We've kvetched, we've kvelled, we've questioned emoji choices — thanks for reading along.

She wanted to give me her kidney — and get home in time for Shabbat.
Stewart Ain got challenging news last June: With both kidneys failing, he would likely need a transplant. He knew who to call first: Renewal, a Jewish nonprofit in Brooklyn that he had reported on in the past. Stewart is a longtime Jewish journalist and a regular contributor to the Forward. In a new person essay, he describes the group's "extraordinary ability to pair altruistic donors with recipients." 
"Big-hearted, selfless:" With Renewal's help, Stewart and his family contacted a wide range of Jewish organizations seeking donors. One promising match fell through. Another was found, and surgery was scheduled for mid-March — early on a Thursday, so she could get home in time for Shabbat. In June, he and his wife met his donor.
"An instant connection:" She arrived with her husband and children. Stewart asked, tentatively, if they could hug. "Have you ever felt that you knew someone all your life even though the two of you had never met?" he writes. "That's how I felt; there was an instant connection."
"'I like to do what's right:'" The donor, who asked not to be identified, had considered donating a kidney before, but circumstances did not work out. Once she learned she was a match for Stewart, she didn't have any reservations. "After the surgery, a friend asked me, 'What organs are you donating next?'" she said. "I said I unfortunately didn't have any more to donate."
And here's some more on Jewish organ donation: 
•  What does it take to ensure donation is aligned with Jewish law? As is tradition, rabbis have engaged in years of debates. Here's a primer we published way back in 2005, and a 2011 follow-up. 
•  In 2016, two Orthodox rabbis donated kidneys. Here's their story.
•  Rabbi Moshe Tendler, who was instrumental in shaping the Orthodox approach to organ donation, died in September at age 95. 
George Soros, the target of antisemitic dog whistles yet again. (Simon Dawson/Bloomberg via Getty Images)

It was a particularly bad week of right-wing attacks on George Soros. Florida Gov. Ron DeSantis shocked political observers by suspending Attorney General Andrew Warren, a Democrat, on Thursday, mocking him as "Soros-backed." Kari Lake, who won Tuesday's Republican primary for governor of Arizona, and Georgia's Republican Attorney General Chris Carr, also invoked Soros — a billionaire philanthropist and frequent target of antisemitic conspiracy theories — to attack their opponents, in language reminiscent of troubling antisemitic tropes. Read the story ➤
Plus: Prime Minister Viktor Orbán of Hungary also brought up the Hungarian-born Soros in a speech at the Conservative Political Action Conference's annual gathering in Dallas. With Orbán having recently made a speech one of his own advisers decried as "worthy of Goebbels," it went about as you'd expect. Read the story ➤
Alex Jones' lawyer made a bizarre Holocaust reference to defend his client. The notorious conspiracy theorist finally admitted in a courtroom this week that the Sandy Hook massacre was real. Then his lawyer made a perplexing final plea involving a famous poem about the Shoah by German pastor Martin Niemöller. (The lawyer paraphrased it, saying "first they came for the communists, and I said 'I'm not a communist' and didn't do anything.") It was an odd choice to defend a man who has blamed "the Jewish mafia" — led by, who else, George Soros — for various schemes to ruin the U.S. Our PJ Grisar was, shall we say, unimpressed. "Is the right to listen to InfoWars really on par with the right to not be imprisoned in a work camp or murdered on an industrial scale?" he asks. Read the story ➤
And: A Brooklyn lawmaker who last month withdrew his endorsement from a Congressional candidate over her support for the BDS movement has now given it to a Jewish political newcomer. 
CAN WE ASK A SMALL FAVOR?
WHAT ELSE YOU NEED TO KNOW TODAY
Darren Bailey was endorsed by former President Donald Trump in June. (Michael B. Thomas/Getty)

👀  Illinois' Republican gubernatorial nominee faced backlash after Forward reporting unearthed his troubling suggestion that abortion is worse than the Holocaust. The nominee, Darren Bailey, said in 2017: "The attempted extermination of the Jews of World War II doesn't even compare on a shadow of the life that has been lost with abortion since its legalization." He struggled this week to explain the comments, which were widely denounced by Jewish leaders across the state. Gov. J.B. Pritzker, the Jewish Democrat Bailey is trying to unseat, called the remark "disqualifying." (NBC Chicago)
🙄  A Virginia school district apologized for adopting a logo that looks like a swastika. The Hanover County school superintendent said the district is working to remove all traces of the logo, which was designed by a teacher and used for a conference this week. This is the second recent school-logo-turned-accidental-Nazi-symbolism-scandal: Last month, a Georgia elementary school revealed a new logo that looked a whole lot like the Nazi eagle. (NBC, Forward)
🤨  A renowned German university considered ditching its antisemitic namesake — then thought, "nah." Eberhard Karl University in Tübingen was named for the 15th-century Count Eberhard Im Bart, who expelled Jews living in and around Tübingen. The institution brought together a panel of historians to figure out just how antisemitic old Eberhard actually was — let's start with, he expelled all the Jews! — and it concluded: "Eberhard is hostile to Jews and thus in no way differs from the vast majority of his contemporaries and peers." The university senate, apparently, thought "good enough." (Jewish Chronicle)
😒  Yeah, this definitely won't be controversial: A Banksy artwork created in the occupied West Bank 15 years ago has resurfaced in a chic Tel Aviv gallery. The work, a painting of a rat holding a slingshot, was removed by Palestinians from its original location years ago. How it ended up in the Urban Gallery is a mystery, although the art dealer who bought it insists proceedings were legal, and said he does not intend to sell the piece. (Associated Press)
🇮🇱  Israel rejected a United Nations official's apology for antisemitic comments he made on a podcast. Miloon Kothari, one of three investigators involved in a panel examining the 2021 conflict between Israel and Gaza, wrote in a letter to the president of the U.N. Human Rights Council that "It was completely wrong for me to describe the social media as 'being controlled largely by the Jewish lobby.'" But Israel's Foreign Ministry was unconvinced, slamming the letter as "hollow" and persisting in calls for Kothari's resignation. (Algemeiner) 
✡️  A new book examines the story of a Peruvian spiritual leader who challenged ideas of what it means to be Jewish. Segundo Villanueva, who eventually brought hundreds of followers from Peru to a settlement in the occupied West Bank, had been building that community for years before an encounter with a Lima rabbi led him to announce that they were Jews. Among the many factors making the story remarkable, writes author Graciela Mochkofsky: the community practiced "a Judaism with no past and no tradition, with no memory of persecution, the Holocaust or the struggles for Zionism." (New York Times)
Mazel tov ➤  To us! The Forward has four finalists for this year's Religion News Association Awards. PJ Grisar, culture reporter, is up for his deep dive into Leonard Cohen's "Hallelujah"; Arno Rosenfeld of the news team, for his coverage of antisemitism; Marie-Rose Sheinerman, a former intern who is now editor-in-chief of the Daily Princetonian, for a close look at what it's like to be LGBTQ at Yeshiva University; and our fearless editor-in-chief Jodi Rudoren, for a trio of columns: her abortion story, 'The Torah is not a parenting manual' and why she wants nothing to do with Christmas. Winners will be announced in October. 
What else we're reading ➤  "In Ukraine's Donbas, the Jews are gone but memories remain" … Big changes to what was once Hitler's favorite cultural spectacle … the Forward's Adam Langer on "the novels we wrote when we were 17."
In this week's edition of our print magazine: The 13-year-old Seattle native whose bat mitzvah was interrupted by a mob of angry ultra-Orthodox men tells her story; American Jews were not always focused on abortion rights — here's what shifted; these German Jewish refugees changed American music through a small jazz label with a big cultural influence; and much more. Get your copy now ➤
Harry Houdini before jumping off the the Harvard Bridge in Boston in 1908. (Wikimedia)
On this day in history (1926): Harry Houdini stayed underwater in a coffin for nearly 90 minutes before escaping unharmed. The famous escape artist and magician was born Erik Weitz in Hungary in 1874, and moved with his family to the United States two years later. His father, a rabbi, subsequently lost his job at a Reform synagogue in Wisconsin, and the family fell into poverty. Houdini began his career as a magician in 1891, and did not find immediate success. But he eventually gained international recognition as an illusionist for stunts including escaping from the belly of a whale. Although some popular legends about Houdini are myths, here are some incredible true facts about him.
Last year on this day, as the Delta variant swept across the globe, the Jewish Federations of North America canceled its in-person General Assembly. This year's gathering, set to begin on Oct. 30 in Chicago, will be the group's first in-person conference since 2019.

On the Hebrew calendar, it's the eighth of Av, when spies dispatched by Moses returned from scoping out the land of Israel, as described in the Bible.
Tisha B'av, a fast day commemorating disasters including the destruction of the two Jerusalem temples, begins Saturday at sundown. Learn some essential Yiddish terms used to discuss the day.
–––
Play today's Vertl puzzle (aka the Yiddish Wordle)
Thanks to Sarah Nachimson for contributing to today's newsletter. You can reach the "Forwarding" team at [email protected].
Support Independent Jewish Journalism
The Forward is a non-profit 501(c)3 so our journalism depends on support from readers like you. You can support our work today by donating or subscribing. All donations are tax-deductible to the full extent of US law.
"America's most prominent Jewish newspaper" — The New York Times, 2021