News
Preview: The midterm election that could increase Jewish representation
The balance of power in the U.S. Senate hangs on the outcome of a number of battleground states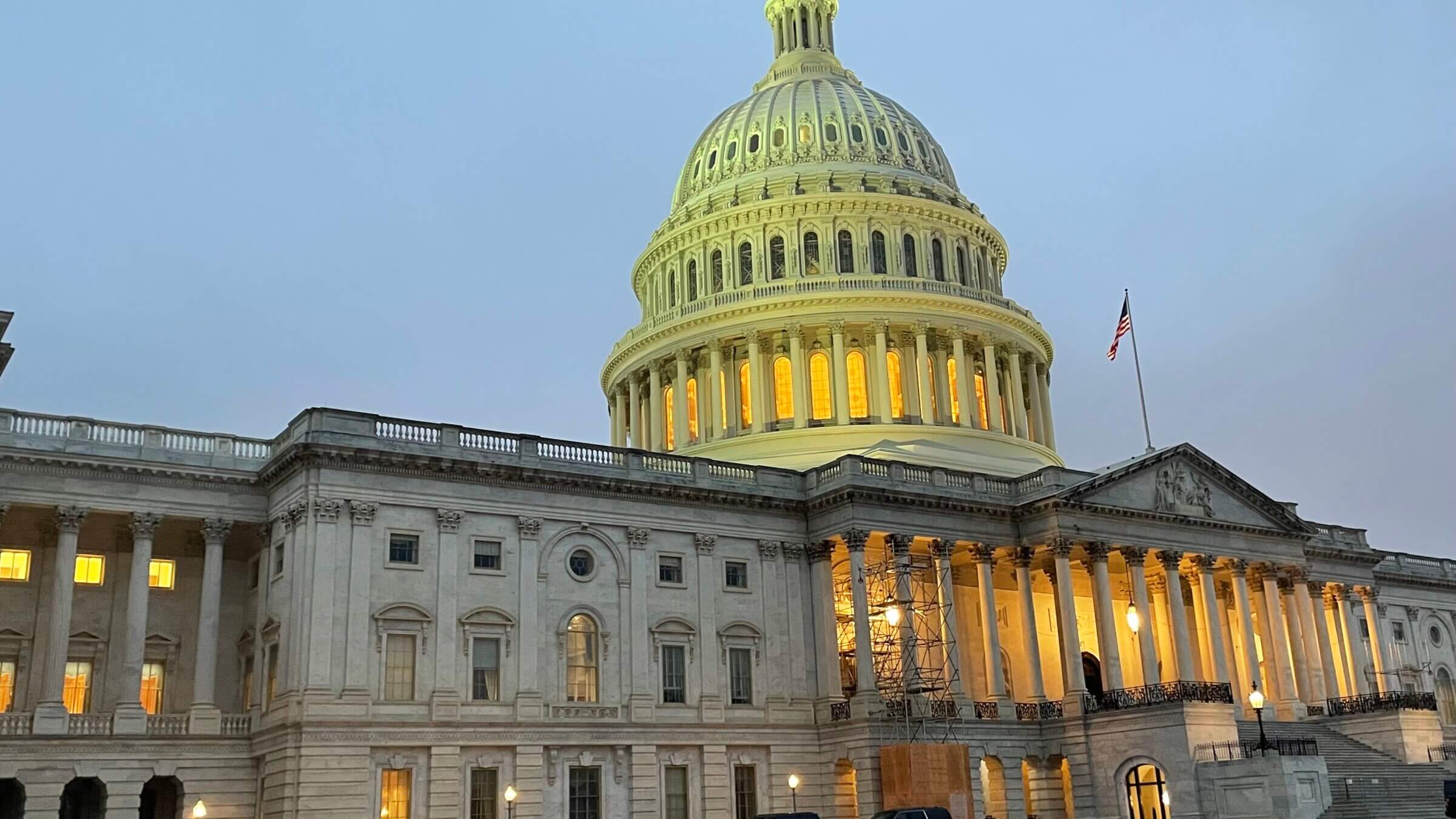 Voters are headed to the polls Tuesday in a consequential election that will determine which party controls Congress and whether Chuck Schumer will remain the majority leader of the Senate. 
While Republicans are favored to win a majority in the House of Representatives, the balance of power in the U.S. Senate hangs on the outcome of a number of battleground states. The elections may also see the rise of white nationalists and an increase in Jewish representation. 
Here are some of the races we are monitoring:
Control of the Senate 
The close contests in Arizona, Georgia and Pennsylvania could give Republicans the majority they lost in 2020 with the election of Jon Ossoff from Georgia that elevated Schumer as the highest politically ranking Jew in America. 
Jewish groups are heavily invested in these races and Jewish voters – estimated between 1% to 3% of the electorate – could prove to be critical.  
In Pennsylvania, the Republican Jewish Coalition spent $1.8 million in attack ads to boost Dr. Mehmet Oz, while the Democratic Majority for Israel and Jewish Democratic Council of America spent a combined $500,000 in support of John Fetterman, the state's lieutenant governor, according to new FEC filings. Recent polls show Oz with a slight 1- to 3-point lead. Jewish Democrats have criticized Oz for refusing to disassociate himself from the GOP gubernatorial candidate, Doug Mastriano, a Christian nationalist who has repeated antisemitic tropes on the campaign trail in recent weeks.
In Arizona, which President Joe Biden won by 10,000 votes, Sen. Mark Kelly, the husband of former U.S. Rep. Gabby Giffords, who last year celebrated her bat mitzvah at the age of 51, has a 1-point lead over Blake Masters, a young Republican who once cited favorably a Nazi official, and is backed by Andrew Torba, the founder of the Gab, a social media platform rife with antisemitism.
Georgia Sen. Rev. Raphael Warnock, who leads Martin Luther King Jr.'s Ebenezer Baptist Church in Atlanta, is locked in a close race with Herschel Walker, a former University of Georgia football star who's not Jewish but who has a Jewish-sounding name. Walker has come under fire from past romantic partners accusing him of abuse and paying for them to get abortions. Walker's public stance is staunchly anti-abortion.
JDCA is targeting Jewish independent voters in Georgia and Arizona, who are evenly split when asked if they lean toward the Democratic or Republican parties.
Regardless of the outcome, Schumer, who has a comfortable lead over his Republican rival,  Joe Pinion, is expected to become the longest-serving senator from New York. 
Jewish Democrats from New York
Longtime U.S. Rep. Jerry Nadler, dean of the informal Jewish caucus, is likely to be joined on his 16th Congressional term in Washington by at least two Jewish Democrats from his home state. In the August primary against his Democratic colleague, Carolyn Maloney, which he won resoundingly, Nadler played up his status as the last remaining Jew from the New York delegation. 
Dan Goldman, heir to the Levi Strauss fortune and a lawyer who prosecuted President Donald Trump's first impeachment, is almost guaranteed to win his first bid for elective office after winning a competitive Democratic primary in a Manhattan-Brooklyn seat with a large Jewish population. At a recent breakfast in Brooklyn, Goldman told Nadler he's looking forward to joining him in D.C. and would seek his mentorship. 
The New York Jewish delegation is likely to grow with the addition of Robert Zimmerman, a member of the LGBTQ community who was active in the early 1980s movement to free Soviet Jews. Zimmerman is competing for the open seat vacated by Rep. Tom Suozzi in Nassau County. "It'd be a great honor for me to be in Congress as a Jew standing up aggressively against antisemitism and to support a strong and secure Israel," Zimmerman said in a recent interview. The district is now considered a toss-up given the rise of Rep. Lee Zeldin, a Jewish Republican, who is locked in a close race for New York governor. 
Former Rep. Max Rose, a Democrat who has been targeted with antisemitism in the run-up to the election, is also seeking a comeback in his Staten Island district. Rep. Nicole Malliotakis, a Republican who beat him in 2020, has the strong support of former President Donald Trump. Malliotakis said in a recent tele-town hall that she would uphold "Judeo-Christian principles." 
The Jewish Republican caucus
Zeldin, who is one of two Republican Jews in Congress along with David Kustoff from Tennessee, will depart in January. But that vacuum will be filled with the expected election of Max Miller, the scion of a well-known Jewish family from Cleveland and a former aide in the Trump administration. 
The Republican Jewish caucus may grow to three if Lisa Scheller wins the competitive race against Rep. Susan Wild in Pennsylvania's Lehigh Valley. 
Vulnerable Jewish Democrats
There are currently 26 Jewish Democrats in the House and nine in the Senate. 
Several House members who were elected in the 2018 Democratic wave are facing tough reelection challenges. Five Jewish incumbents have retired or lost a primary this year. 
Rep. Elaine Luria, a Democrat whose district includes Virginia Beach, is a member of the House committee investigating the Jan. 6 insurrection of the U.S. Capitol, and locked in a dead heat with Jennifer Kiggans, a nurse practitioner and a former Navy pilot. The district is considered a toss-up, according to the Cook Political Report.
Rep. Josh Gottheimer of New Jersey is facing off against his Republican challenger, Frank Pallotta, for the second time. The district is labeled "likely Democratic." 
Rep. Elissa Slotkin, a Democrat from Michigan and a former CIA analyst, has received the endorsement of defeated Republican Rep. Liz Cheney from Wyoming in a tough reelection bid against Tom Barrett, a state senator and a veteran of the war in Iraq.
Rep. Mike Levin, a Democrat from San Deigo, CA, is looking to defend his seat for a third term. And Kim Schrier, a Democrat from Washington, is in a tough race against Republican Matt Larkin.
In the Senate, Republicans are hoping to unseat Michael Bennet of Colorado.
The freshman class 
Other Jewish candidates who are expected to win include Becca Balint, president pro tempore of the Vermont Senate and the granddaughter of a Holocaust victim, who is seeking to represent Vermont's sole House seat; and Jared Moskowitz, Florida's former director of emergency management, who will likely succeed former Rep. Ted Deutch, who retired last month to head the American Jewish Committee. 
In Cincinnati, Ohio, Greg Landsman, a city councilman, is the favorite to defeat GOP incumbent Steve Chabot after the district lines were redrawn. 
Adam Frisch, a Democrat and former member of the Aspen City Council, is tied with Rep. Lauren Boebert from Colorado, who supported Trump's efforts to overturn the 2021 election and has expressed admiration for the QAnon conspiracy theory. 
Eric Lynn, a former Obama administration official who was behind the U.S. funding for Israel's Iron Dome defense system, is locked in a tight race for the St. Petersburg district in Florida that was represented by Charlie Crist, who is running against Florida Gov. Ron DeSantis. Lynn's Republican rival, Anna Paulina Luna, described herself as an "anti-globalist" during a campaign rally hosted by Trump on Sunday.
Another Florida Democrat, Alan Cohn, a former journalist, is trailing his GOP rival, Laurel Lee, within the margin of error. 
In Rhode Island, Seth Magaziner, the state's general treasurer, has been gaining on his GOP rival, Allan Fung, who's hoping to flip the open seat red. 
Jan Perry, a former Los Angeles councilwoman, is hoping to become the first-known Black Jew elected to Congress, in a race with fellow Democratic state senator Sydney Kamlager for the open seat of Karen Bass, who is running for Los Angeles mayor.
What else we are watching…
Competition for New York's Orthodox vote
In a highly competitive race between Democratic Rep. Sean Patrick Maloney and Republican Assemblyman Michael Lawler for an open Hudson Valley seat in New York, the candidates are seeking the support of Rockland County's sprawling Hasidic communities, which have made it the county with the largest Jewish population per capita in the nation. 
Maloney, who is also head of the Democratic Congressional Campaign Committee, recently secured the endorsement of the Skver Hasidic sect in New Square – with some 3,000 votes – following a phone call between President Joe Biden and Rabbi David Twersky. House GOP leader Kevin McCarthy met with the rabbi last week but failed to have him reconsider his support. 
On Sunday, an anonymous robo call pretending to be a Hasidic rabbi was made to voters across the district in what the Maloney campaign described as an attempt to scare people from voting for the incumbent because of his outreach to the Orthodox community. "This robocall was not connected to or authorized by our campaign in any way," Mia Ehrenberg,  a Maloney campaign spokeswoman, said.

Rabbi Brian Leiken, senior rabbi at Temple Beth Sholom, shared in a Facebook post that he received the robo call which he said was "trying to demean" Maloney. "Wherever we may stand politically, let's all accept that this call is undoubtedly antisemitic and aimed at fear-mongering," Leiken wrote. 
Lawler called it "total nonsense" and insisted the message was not on behalf of the campaign. "I don't condone it," he said. 
Incumbent vs. Jewish Republican 
In the closely watched contest for New York governor, incumbent Kathy Hochul is attempting to stop the bleeding by shoring up support among Orthodox voting blocs, an influential group that is flocking to her Republican opponent, Lee Zeldin. In the background is an intensifying campaign to hold yeshivas accountable for their students' poor performance on standardized tests.
Zeldin, the great-grandson of an Orthodox rabbi, gained traction in the Hasidic neighborhoods with a pledge to fight the recent state Board of Regents vote to strengthen oversight of secular studies at Orthodox schools. 
Christian nationalist vs. Jewish attorney general
Josh Shapiro, the Jewish attorney general of Pennsylvania, is comfortably leading his Republican rival Doug Mastriano, a state senator and a Christian nationalist who has repeated antisemitic tropes on the campaign trail in recent weeks. 
Invoking George Soros
Three GOP candidates running for secretary of state in Minnesota, Michigan and Nevada have promoted the conspiracy theory about Jewish billionaire George Soros being a puppet-master controlling their Democratic rivals. 
In the race for attorney general in Arizona, the GOP nominee, Abraham Hamadeh, has repeatedly assailed Soros, and was criticized for invoking antisemitic tropes in past online posts. His Democratic rival, Kris Mayes, said it's "deeply troubling that this person could come anywhere close to being the attorney general of Arizona." 
AIPAC makes rare entry in the general election 
The American Israel Public Affairs Committee's super PAC, United Democracy Project, is facing backlash for a $1.2 million investment against Summer Lee, the Democratic nominee for Pennsylvania's 12th District, which includes the city of Pittsburgh. AIPAC spent $2.7 million against Lee in the May Democratic primary. Steve Irwin, Lee's one-time Democratic challenger who was boosted by AIPAC's spending, said on Friday he's supporting Lee. 
AIPAC also spent close to $600,000 to boost Kevin Mullin, speaker of the California State Assembly, who is running for an open seat in San Mateo County.
Correction: This article has been updated to correct the spellings of the names Anna Paulina Luna, Jared Moskowitz, Alan Cohn and David Twersky.